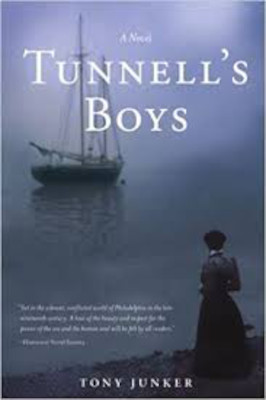 Brutal storms, fair winds, tyrannical captains, mutinous crew, ample danger and suspense. All of these classic elements of a seafaring tale are found in Tunnell's Boys by Tony Junker. Also to be found are love and friendship, soul-searching discourses on the Spanish-American War, insight into Philadelphia Quaker lifestyles and beliefs, elaborate accounts of the lives of pilots on the Delaware Bay and River, and even a hurricane — all combined into one engaging sailing yarn.
This historical fiction is set in the last decades of the 1800s, the waning days of commercial sailing and during the buildup to the Spanish-American War. It recounts the story of Peter Long, a young aspiring writer who signs on with the pilot schooner Ebe W. Tunnell (an actual pilot boat of that era) as an apprentice pilot on the Delaware Bay and River.
The story is told from the perspective of Long in 1898, some ten years after his apprenticeship. Pilot Captain Long is assigned to pilot the schooner Hannah, and discovers her captain to be none other than Ebenezer Soule, a friend and rival from his apprenticeship days on the Tunnell. When a growing storm causes Long to miss the take-off boat at the mouth of the Delaware Bay he is forced to continue on with the Hannah and her mutinous crew on their sail to Barbados, right through the war zone of Spanish Cuba.
The book often reads like two stories in one. Its author jumps back and forth between the 1898 Hannah voyage and the apprenticeship years of 1888-92. The majority of the book is the story of Long and Soule on the Tunnell during their apprenticeships. The forced trip on Hannah quickly takes second stage and becomes a platform for Long's recollections of the past…while also throwing in its own interluding plot twists. Though I found this jumping back and forth between past (1888) and present (1898) a little disconcerting at first, the plot lines did eventually mesh together into an enjoyable story.
This book is clearly written by a sailor, for sailors, and any novice would be more than a little confused by all the nautical terms. Even many knowledgeable sailors could find some of the archaic and regional terms a little confusing. One might wish for a small glossary, and maybe even a schematic drawing of a schooner's floor- and sail plans.
Anyone looking for an entertaining sailing yarn with which to pass a few hours, or looking for a little insight into the world of Quaker Philadelphia and Delaware Bay pilots in the late 19th century, will find that Tunnell's Boys serves either purpose.