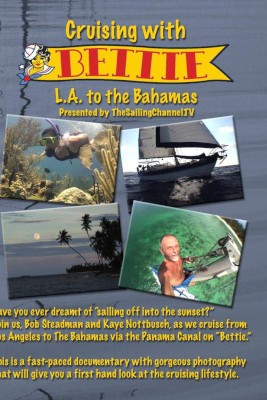 Good Old Boat writer, Bob Steadman, and his partner, Kay Nottbusch, want to share their cruising adventures with the rest of us…those sailors who are dreaming, but not yet experiencing, the cruising lifestyle. Since leaving Los Angeles three years ago, they've cruised with a video camera or two, taken delight in experiencing new cultures and activities, and made good use of Bob's experience as a professional cinematographer. This 54-minute DVD, supplemented with a visually rich slideshow, is a real treat for armchair sailors.
In 10,000 miles, Bob and Kay take us to the offshore islands of the Baja; to the mangroves of Bahia Tenecatita; to the Gulf of Tuantepec and beyond to El Salvador. They go hi-lining in Costa Rica, and dine in a restaurant full of monkeys and a tiki bar that is a swimming pool. They dive in Costa Rica, transit the Panama Canal, explore the Caribbean coast of Panama, and visit the San Blas Islands. They motor up jungle rivers and explore the Third World from a floating home.
By capturing just the highlights of 10,000 miles in 51 minutes, this professionally produced DVD takes the viewer on a fast-paced tour of the places visited and written about by many cruisers. But now the sights and sounds are available in a richer and moving medium. The final cruising destination on this DVD is the Bahamas.
The photographer in me is always aware of the trouble anyone must go to in order to capture images from several points of view. As is the case in any good film, Bob makes it look simple, but the tuned-in viewer will be aware that filming your own experience takes planning and execution, both before and during the experience. For some, trying to enjoy the moment while actually working to record it for the enjoyment of others may very well take away some of the joy of the experience. Bob has indeed sacrificed so that others of us may sail, dive, and beachcomb with the crew of Bettie. He may enjoy operating in this dual mode, but I don't envy him.
The cruise of Bettie continues and the camera is never far away from Bob's capable hands. Watch for more DVDs in the future by this dynamic duo. There's a whole world out there waiting to be explored and photographed, edited, and shared with the rest of us. In addition, stay tuned for more articles from Bob Steadman in Good Old Boat.
Cruising with Bettie by Bob Steadman and Kay Nottbusch, DVD (produced by Bob Steadman, 2007; 51 minutes)