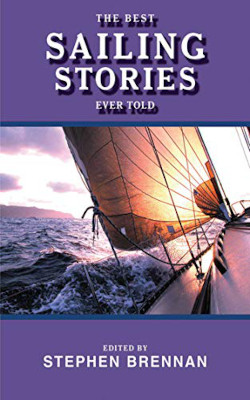 As the old saying goes, variety is the spice of life. That's why I try to listen to different types of music and eat different types of foods. But I definitely have my favorites: listening to classic rock while sipping a cold beer with a good pizza, or a nice lean steak smothered in onions in the company of good friends is hard to beat. When I read I like to have some Beethoven or Mozart playing softly in the background. I also try to vary my reading material, but I have my favorites there too. I read some biography and other non-fiction, some light sci-fi, but I tend to gravitate toward historical fiction and nonfiction and action/adventure with a nautical theme. I've read several works by James A. Michener, Herman Wouk, and William Manchester and I'm currently working my way through Patrick O'Brian's Aubrey/Maturin series. Years ago I read the Horatio Hornblower saga and revisit it from time to time.
With that in mind it didn't take me long to get into Stephen Brennan's The Best Sailing Stories Ever Told. Brennan has done a wonderful service to those of us who enjoy reading stories by the masters, including Jack London, Herman Melville, Joseph Conrad, and many more. He has compiled 44 stories, including a 13-page sailor's glossary to help when you come across some unfamiliar terms used in some selections.
Many of the selections are short stories that stand alone, while others are excerpts from longer works that I recognize from Moby Dick, Two Years Before the Mast, and more.
I've been an avid reader for many years. Consequently, I have acquired several anthologies of short stories and many of them have an introductory paragraph to each selection and/or a brief statement about the author. The Best Sailing Stories Ever Told doesn't do this, which is a shame because a little background information on the author or the work would make it more interesting. But if that's the only complaint, it's a minor one. I truly believe that most readers of Good Old Boat will find The Best Sailing Stories Ever Told a welcome addition to their library.
The Best Sailing Stories Ever Told edited by Stephen Brennan (Skyhorse Publishing, Inc., 2011, 566 Pages)