Self Sufficient Sailor, by Lin and Larry Pardey (Pardey Books, 2019; 332 pages)
There's no questioning or disputing the sailing (and writing) creds that made Lin and Larry Pardey household names among sailors and dreaming-to-be sailors. Their successes—in both sailing and writing—have been huge and enduring. They've earned the respect of all sailors, including the vast majority who do not sail engine-less, who do not sail simply, and who do not go small (and thus, in not a few cases, don't go). And even the vast majority who don't follow the Pardey ethos and approach have long nonetheless found relevance in the books they've written, on subjects ranging from provisioning to storm tactics.
But over the past few years, Lin has voyaged like she never has before, aboard a larger boat with an engine and many of the electronics and amenities that were never aboard the two cruising boats she and Larry built and sailed so many miles. In short, she's recently been sailing in the way that most of her readership has for a long time. The revised and expanded edition of Self Sufficient Sailor is the product of her past couple years cruising.
This edition is 40% bigger than the previous edition. The themes of the book—cemented in the first 1982 edition—are unchanged. In fact, the original material is all there, revised and updated, but then enhanced by the addition of new material borne from Lin's exposure to and perspectives on her recent experiences. In this edition, she offers her take on the advantages and disadvantages of this equipment; some of her thoughts might surprise readers. The sailboat cruising world continues to evolve and Lin is on top of it all.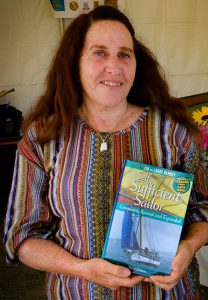 I had breakfast with Lin in October, at the Annapolis sailboat show. We sat outside eating crepes and the septuagenarian told me about her fountain of youth: young sailors. She engages with them at every opportunity. They challenge her, keep her sharp. She is encouraged by all the young cruisers—sailing the boats they've got on the budgets they've got—with whom she's crossed paths on her recent Pacific voyaging. In November, I invited Lin to offer words of wisdom (in writing) to a young couple I know who were traumatized by a near-death (and near boat-loss) experience. They were defeated and I didn't have much to say to help them gain perspective on the incident or resolution of their feelings. Lin responded with words that were sensible and compassionate and empathetic. Here letter was both instructive and encouraging. It was true and perfect. It was evidence of the value of both her experience and her ability to communicate it.
It's the same value Lin offers in a big heaping portion in this new edition of Self Sufficient Sailor. Even sailors who have read a previous edition of this book, should read this edition. It's a chance to be reminded of all that made it an enduring classic, and to discover all that makes it better than ever. This isn't a half-hearted, publisher-requested update of a title, it's a revision and expansion of a beloved book by a woman driven to share what she knows will make it better and more worthwhile and more relevant.
Michael Robertson is editor of Good Old Boat magazine.
Good Old Boat uses affiliate links and may earn a small commission if you make a purchase after clicking one of our links. This comes at no additional cost to you.