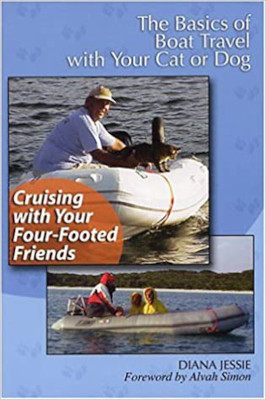 If you currently have a dog or cat or are considering getting one as a pet on board, this book is an insightful, well-organized collection of short stories and useful information to help you make the decision. What could be a list of dos and don'ts is a collection of real-life examples of cruisers who are out there living the cruising lifestyle and have incorporated pets into their lives aboard.
Diana Jessie covers all the basics including what are good choices for pet size and breed based on your itinerary and boat type. She also discusses different types of care and upkeep, feeding, and one of the biggest concerns: what to do about the bathroom situation. Also included are good examples of setting up a place for your pet to call its own. This is very important for your pet and can be a simple as an old blanket.
She includes helpful animal regulations information when clearing in and out of other countries and tips on how to get your paperwork in order just as you would with the vessel's documents. She includes what vaccines are needed for various countries and islands as well as what additional clearance fees are warranted. Just like our choice of boats, everything is a compromise, but the joys of having your pet along can far outweigh any slight inconveniences. Dogs and cats seem to adapt much more easily to the minimalist cruising life than we do. They also have the ability, when we humans fall short, of providing unconditional love. As I read this book, I could relate to the special bond that comes with living on board with your pet. After living aboard for more than 10 years with my cat, Motorboat, I know it would not be the same without my faithful companion.
Lord Byron said it best about our animal friends: "Near this spot are deposited the remains of one who possessed beauty without vanity, strength without insolence, courage without ferocity, and all the virtues of man without his vices. This praise, which would be unmean flattery if inscribed over human ashes, is but just a tribute to the memory of Boatswain, a dog."
Diana uses examples of traveling with pets on board culling this information from logs and interviews with cruisers. Robin Lee Graham and Tania Aebi both completed teenage circumnavigations with feline companions along. Alvah Simon's Arctic survival tale, North to the Night, gives credit to his cat, Halifax, who helped him through the long cold dark winter with companionship and even helped alert him when there were polar bears about.
Next time you ask who is on dogwatch or whether there is enough money in the cruising kitty, remember your furry friends. Pick up a copy of this book to help you enhance your cruising adventures.
Cruising with your Four-Footed Friends: The Basics of Boat Travel with your Cat or Dog by Diane Jessie with Forward by Alvah Simon (Seaworthy Publications, Inc., 2003; 148 pages)