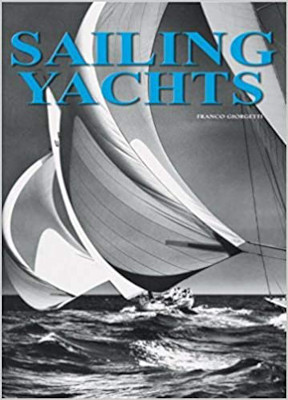 Lovers of sailboats, the shapes of their hulls, and the shapes of their sails (no matter how many masts or how the sails are cut) . . . people who are caught immobile in contemplative reflection at the silhouette of a sailing vessel or the lines of one at anchor . . . sailors whose hearts sing at the sight of a sailboat, whether lighted or muted by any of nature's moods . . . these connoisseurs will be captivated by this new book.
Mystic Seaport is home to the Rosenfield Collection, an archive of nearly a million treasured photographs focusing on boating throughout the 20th century as father and son, Morris and Stanley Rosenfield, photographed recreational and competitive boating and collected the images of other nautical photographers. Devoted to sailing images only, this book captures the history, the exuberance, and the beauty of North American sailing in 85 images both breathtaking and insightful.
This new arrival to an exclusive group of coffee-table masterpieces, Sails & Sailing is lavish without pretentiousness. Its gorgeous black-and-white photos are subtly touched with amber in a duotone process – a printer's rich understatement of classy good taste. While it looks like a historical collection of black-and-white images, do not be fooled. No expense was spared in selecting these images and publishing them as powerful expressions of the photographic art.
Sailing Yachts itself is a work of art because of the quality with which it was crafted and the images on which these crafts are focused.
Sailing Yachts by Franco Girgetti (Mystic Seaport Museum; 1999; 175 pages)