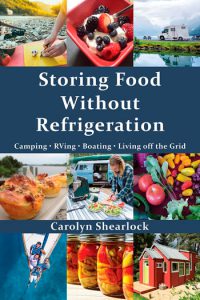 On day 20 of a Pacific Ocean crossing, having long-since raided the fresh-food stores, my husband and I were subsisting on cans of chicken and "vegetable medley." I know now that if I'd read Storing Food without Refrigeration before departure, I might have saved myself some heart ache (and heart burn!).
For most of us, the idea of living without a fridge evokes an unappetizing tableau: powdered milk, flaccid carrots, Spam…but Carolyn Shearlock's book elucidates that you can in fact go sans-frigo and still relish your repas. Not only does she provide direction for provisioning, she goes a step farther and explains how to cook with preserved foods such that you don't end up with a gray blob on your dinner plate. Though written with the fridge-less in mind, this book will hold equal appeal for fridge-havers who'd like to reduce power consumption or provision with more than their fridge can hold.
If you've spent much time in a galley, chances are you've come across Carolyn Shearlock before. She's been cruising for over 11 years (10,000 miles) and become the go-to expert on cooking aboard. She's co-author of The Boat Galley Cookbook and the creative force behind The Boat Galley website.
For the squeamish, Storing Food without Refrigeration tackles food fear head-on. From hot-button questions (Can mayonnaise be stored out of the fridge?), to debunking food labels, to providing safe food storage temperatures, she takes the guesswork out of, "Do you think these leftovers are still good?" Shearlock seems to have not only researched safe food handling, but also personally trialed all her recommendations.
Shearlock writes in a down-to-earth and personable manner, hitting just the right balance between conveying information and sharing personal anecdotes. Her recipes reflect the same no-fuss air. Unlike some boat cookbooks, which titillate with exotic adjectives and impossible-to-pronounce ingredients, Shearlock's recipes are approachable and inspire confidence in the novice chef. Meal suggestions like Salmon Quiche, Chicken Paella, Oyster Jambalaya, and, my personal favorite, "Hobo dinner (sautéed ham, potatoes, carrots, and onions)", will appeal to both water- and land-based vagabonds alike.
Being a cruiser and a food-lover, I've read a few books on provisioning and attended a couple of seminars on the topic. When I picked up Storing Food without Refrigeration, I didn't expect to find much in the way of new information. I was pleasantly surprised! Shearlock reveals techniques that I've yet to see anywhere else: how to make ricotta, brine butter, and whip cream (all without refrigeration!). Even the most intransigent off-gridder is likely to learn something new.
Storing Food Without Refrigeration, by Carolyn Shearlock (Blue River Press, 2019; 160 pages)