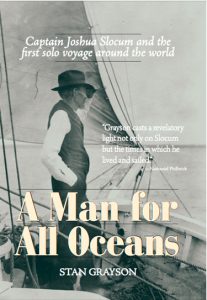 Sometime in the late 70s or early 80s I became obsessed with the idea of owning a sailboat after seeing one on a trailer with a "For Sale" sign hanging from the bow, and soon found myself reading everything I could get my hands on related to sailing. Then Time magazine had a little blurb about the upcoming BOC Challenge, a single-handed, around-the-world sailboat race, and mentioned that Joshua Slocum was the first man to pull off a single-handed circumnavigation. Naturally, I went to the library and read his book, Sailing Alone Around the World. A few years ago my daughter bought me a copy for Christmas and I read it again with a greater appreciation for what Slocum accomplished, no doubt because by then I had my own boat and some sailing experience on Lake Michigan. That's a rather long introduction to a book review, but it's my background that caused me to jump at the chance to review this book..
The author follows Slocum's life and family tree beginning in 1701, when Captain John Simon Slocumbe (sic) arrived in Boston and settled in Nova Scotia. Joshua was born on February 20, 1844, began his sailing career in 1863 and spent the rest of his life at sea, right up until his death in 1909, when, according to Grayson, he was run down by a steamer somewhere in the Caribbean. In addition to biographical information, Grayson catalogs several of the vessels Slocum either crewed on or captained, often times with his family accompanying him, as well as information on Slocum's Spray and her various sail plans. There's also a comparison of Slocum's Sailing Alone Around the World to Thoreau's Walden, and brief biographies of Slocum's children. The book finishes with Slocum's own recipe for fish chowder which appeared in a Good Housekeeping article on Slocum in February, 1903.
I've let books sit on my shelf for months before I get around to reading them, but this one I got into right away, and enjoyed every page. If you're interested in learning more about a man who many of us look to for inspiration, or if you're simply interested in the history of the era when men switched from sail to steam, A Man For All Oceans will prove to be a valuable asset to your personal library.
A Man For All Oceans; Captain Joshua Slocum and the First Solo Voyage Around the World by Stan Grayson (Tilbury House Publishers with the New Bedford Whaling Museum, 2017; 400 pages)