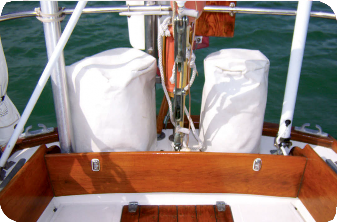 A fresh-air solution for a boat that lacks a locker
In the 1970s and '80s, a lot of production sailboats were equipped with alcohol-fueled galley stoves. Accordingly, there was no need for the boats to be fitted with lockers for storing propane tanks. Over time, though, many sailors replaced their alcohol stoves with propane stoves, raising the question of where to store the propane tanks. Many simply hung them off the stern or tied them to stanchions. This works, and the tanks are certainly well ventilated, but to our way of thinking, tanks mounted this way are ugly and unseamanlike. We found it hard to imagine them surviving big seas, and sought a better solution aboard Endeavour, our Tartan 34.5.
We learned while cruising Endeavour that 20-pound tanks were too big to hang overboard and too big for the space available for making a vented locker in the lazarette. We also determined that a 10-pound tank would serve our cooking needs for about four weeks.
American Boat & Yacht Council (ABYC) safety standards recommend that propane tanks be located where any of the heavier-than-air propane gas that leaks will vent overboard and not enter the boat. The plumbing must be made with propane-approved tubing and fittings and with as few connections and bends as possible.
I identified a spot on the aft deck where two 10-pound tanks could sit upright, leaking gas would vent overboard, and I could easily move the tanks to refill or exchange them.
I cut round bases from a ¾-inch teak board and then used a router to cut a 3⁄8-inch groove in each base to fit the bottom rim of a 10-pound tank. I secured each of them in place with four eye bolts fastened through the deck, and strapped the tanks to their bases with shock cord hooked into the eye bolts. As a safety feature, the teak base for the in-use tank has a 12-volt solenoid gas valve attached to it operated by a switch in the galley.
When done, to enhance the appearance of the installation and protect the tanks, I had covers made. Now we refer to the tanks as "white lumps."