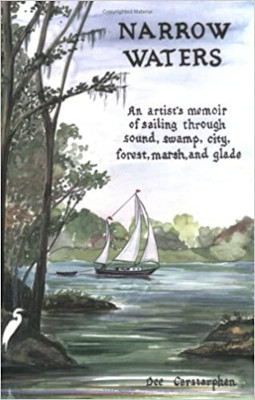 A camera is probably the only tool that Dee Carstarphen and her husband, Stu Hopkins, don't use in telling the tale of a trip down the Intracoastal Waterway. Dee's book, Narrow Waters: An artist's memoir of sailing through sound, swamp, city, forest, marsh, and glade, was created with pen and ink and colorfully illustrated on every page with lovely watercolors and other media. Most amazing it in the rare and unusual class.
Yet the snapshot analogy is the best way to describe the book. It is a compendium of snapshots recording moments in time on their journey. In one small book Dee captures the essence of the cruising lifestyle as she and Stu experience it with their Allied Seawind, named (would you believe?) Sea Wind. Dee provides brief notes of what they eat and how they store food without an icebox. She gives a glimpse — a snapshot really — of their activities as they travel. Their fondness for remote anchorages, taking walks (often in search of wood for their woodburning stove), and observing wildlife is just as obvious as their interest in the history of the communities through which they pass, the fun they have in people watching (rubbernecking as they call it) in the populated areas, and the routine and emergency boat maintenance which must continue as they travel.
With a few strokes of the pen and paintbrush and a couple of descriptive words, Dee describes the boats they see along the way and offers snapshots of people they meet. For instance, just this is offered about a boat they pass: "Sea Wind carries on, however, past the Hobucken Swing Bridge. Here are docks where working shrimpers and small freighters tie up. One old dear named God's Mercy catches our eye." That's it! That's all she says. It's enough, however. A drawing of the "old dear" at the bottom of the page fills in any detail missing in that brief mention. In this case, a picture truly is worth a thousand words.
People get the same brief treatment, although at least one couple merits a couple of sentences: "Nearby powerboat with exotic couple living aboard. Man sports lavender pants, yellow shirt, and captain's hat. His lady with a long gown and braid. Boat's name Bismi Ilahi R-Ahmani R-Ahim, port of Pashtuniston. A large black bug insignia, a black flag, and black dinghy."
In the same compressed prose, reminiscent of a jotted note, Dee shares snapshots and snippets of local history, a touch of the local tourist information, and a chance to appreciate local color. When their journey ends, a mere 131 pages later, following a circumnavigation of South Florida, the brief snapshots have melded to provide a rather detailed portrait of the author, her husband, their Allied Seawind, their cat, and their cruising lifestyle. They are people I'd enjoy cruising with. My kind of people. Maybe yours also.
Although the beautiful illustrations on each page may remind you of a children's book, make no mistake: this is a waterway guide in a class all its own. It is a glimpse of coastal cruising at its best, supplying in painting and prose the reasons we're all out there sailing and gunkholing with our good old boats.
This little illustrated book should be presented as a gift to anyone heading down the ICW. It is a treasure.
Narrow Waters: An Artist's Memoir of Sailing through Sound, Swamp, City, Forest, Marsh, and Glade  by Dee Carstarphen (Pen & Ink Press, 1999)