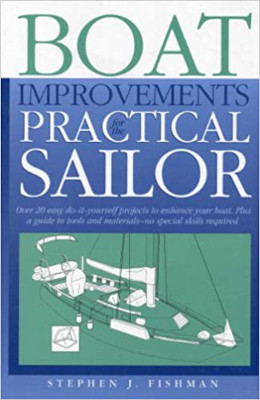 I purchased my good old boat at the end of the 1997 sailing season. As a first-time boat owner I knew that what I didn't know was what I needed to know the most, but I didn't yet know what that was. I immediately went in search of materials that could educate me. One book that would not have found its way into my reference materials is Boat Improvements for the Practical Sailor by Stephen Fishman.
When I first saw the cover, I thought, "Great! This is a book that will give me direction on how to make accessory covers." Instead, it simply told me what they are used for. Disappointment aside, I started looking for information that would benefit a first-time boat owner. Many chapters started out with helpful information but fell short of making me feel I had learned something.
Stephen spent time creating a helpful-tools-of-the-trade list, but he stopped short of completing it. Spare parts are equally as important in the toolbox as the tools. A novice needs to know the importance of both. Seasoned owners already have their tool needs figured out.
The few pages dedicated to weighty topics such as refrigeration, moving/adding a radio, or adding more power were not enough to begin or finish the project for the average boat owner. And, when it comes to spit-and-polish or wood refinishing, it only glosses over what is necessary to make a boat shine. The book seems to be written for the first-time boat owner. The information for the novice is good, but it lacks completing details. The seasoned sailor already knows much of what is covered.
His book would have served the reader better by following a clearer path. In an attempt to cover too many topics and too many levels of boat maintenance skills, it falls short of meeting most readers' needs.
Boat Improvements for the Practical Sailor by Stephen Fishman, (Sheridan House, 1999)