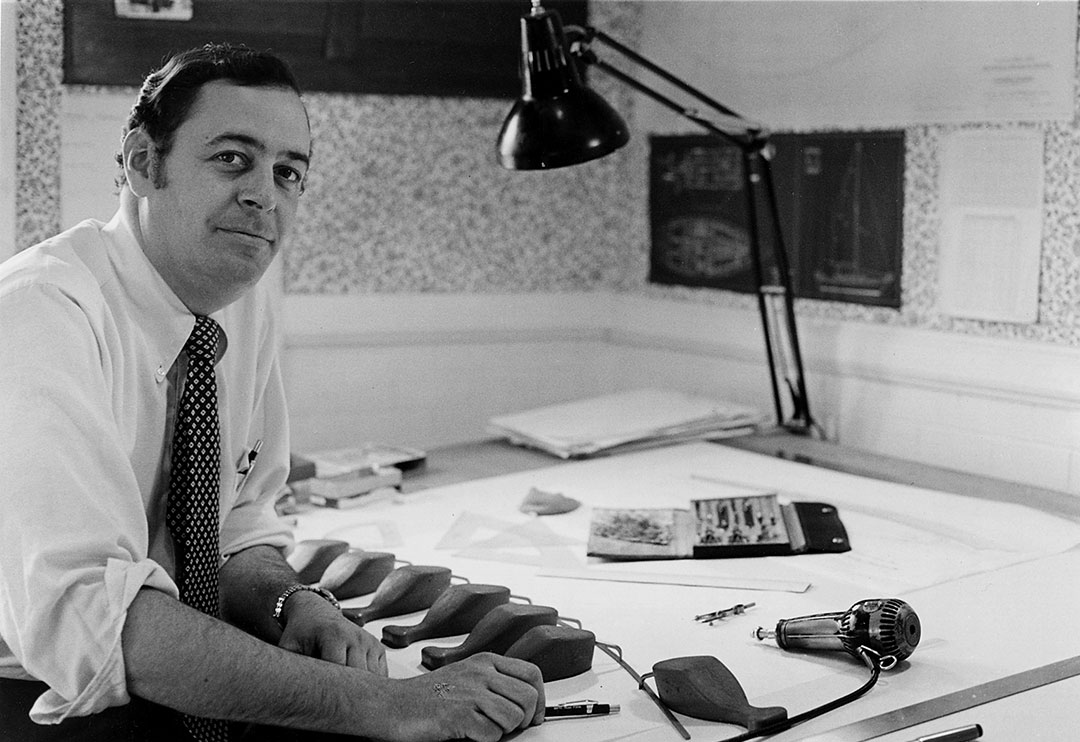 Mark Ellis, the energetic designer of the Niagara 35, Nonsuch 30, and many other handsome production and custom boats, is a New York Yankee who moved to Canada as a member of George Cuthbertson's court — and stayed.
Perhaps you've seen him at a boat show greeting the public in the cavernous cockpit of the Northeast 400 motorsailer or, some years past, in one of his best-known designs, a Nonsuch catboat. More likely, you saw him flying by with leather briefcase in hand, headed for who-knows-where. Mark doesn't sit still long. Always nattily attired and going to windward at 30 degrees apparent, Mark Ellis short- tacked through an impressive string of design houses in becoming one of Canada's premier yacht designers.
Mark was born February 4, 1945, in Watertown, New York; that's "upstate," not far from the eastern end of Lake Ontario. His father owned a department store in which Mark worked as a boy. This was his first exposure to retail and to business, and the experi-nce still serves him well.
The Ellis family was a sailing family. In 1930, Mark's father had an Atkin yawl designed and built. This was kept and cruised on Lake Ontario. Later the family bought an island on the St. Lawrence River, one of the Thousand Islands. Mark learned to sail there aboard what he calls "an overgrown Lightning" and a small frostbiter.
At the Clayton Yacht Club in Clayton and the Crescent Yacht Club in Chaumont, both in New York, he raced a wickedly fast Dragon-class boat, the 29-foot keelboat sailed with a crew of three. He also taught sailing at both clubs. Spending so much time around boats, it's no wonder he developed an interest in design. Some see the form, some don't. Mark did.
One year off
His first year of college was spent not far away at Syracuse University, followed by a year off when he worked first at Bob Derektor's yard in Mamaroneck, New York, followed by the Minneford yard at nearby City Island. Paul Coble, the famed sur- veyor, was at the Minneford yard at the time and rotated Mark through "every gang in the yard," beginning with cleaning boat bottoms with "witches' brooms" and progressing up to rigging and planking. The yard had just gotten the contract to build Constellation and a big motorsailer for Henry Morgan called Dajinn. Soon, Minneford would turn to aluminum construction, but Dajinn was wood. "The gang came from the old Nevins yard," Mark says. "I watched one guy sight a plank, run it through the planer two times, and then fit it. They were that good."
After the year was up, it was time to return to college. With the thought of pursuing a degree in naval architec- ture, he applied to the University of Michigan and was accepted. But the more he learned about the program, the more Mark realized it involved a lot of marine engineering and big-ship work, when his love was always for smaller boats. So he declined and stayed on the East Coast to take a degree in business administration from Boston University.
While attending school he worked part-time and during summers for C. Raymond Hunt & Associates. At that time, Ray Hunt was in the process of turning over the business to John Deknatel, who moved the office from Padanaram, Massachusetts, to Cambridge. "I was a so-so, self-taught draftsman," Mark says. "I was a reasonable sailor and had run a lot of powerboats, but I didn't know enough to help them much. They helped me a lot more than I helped them."
Looked for work
In 1968, Mark graduated with a bachelor of science degree and began look- ing for work. "I never answered a newspaper ad," he says. "I just walked in the door and said, 'This is what I can do.' "
The next door he walked through belonged to none other than Philip Rhodes, a well-known yacht designer and marine engineer in New York City.
"Phil's son, Bodie, and Jim McCurdy had just left," Mark remembers, "which left a sort of vacuum that worked out well for me. I was fortunate to work right under Phil."
Rhodes had three boats abuilding in Germany, and 23-year-old Mark was made project manager, where his business acumen helped enormously with accounting, purchasing equipment, and handling overseas shipments. These were no mean projects: two 67-foot ketches and a 98-foot ketch. He made three trips abroad working out details. "The designer is the arbiter between the yard and the owner," he says.
In 1969, his first child, Joe, was born, and he and his wife decided they did not wish to raise him in New York City. So Mark next walked through the doorway of Ted Hood's Little Harbor Boat Yard in Marblehead, Massachusetts. Dieter Empacher and Walter Wales were on the design team. Mark, who had worked drawing powerboats and managing projects, now was assigned to sailing rigs. Under the tutelage of engineer Walter Wales, he also developed accommodation and deck plans for the various heavy, whale-bottom, centerboard boats Hood was having built at the Frans Maas yard in the Netherlands. "Again," he says, "they were nice people, and I learned a lot. I used to race Sundays with Ted on one of his Robins, a 52- foot centerboard yawl."

Bright young group
Before coming to Little Harbor, he'd written a query letter to George Cuthbertson at C&C Yachts, where a bunch of bright young designers were churning out dominating racers and popular performance cruisers and George C. was king of the court. A year later, in 1970, he got a call from Cuthbertson asking if he was still looking for work. A sponge who'd soaked up all the information he could in Marblehead, Mark headed west to Oakville, Ontario.
"I knew the area," he says, "and just at that time the amalgamation [of the four founding companies, Belleville Marine Yard, Hinterhoeller Yachts, C&C, and Bruckmann Manufacturing; see Good Old Boat, September 2002, was taking place. The company's prospects were looking up. Henri Adriaanse, who'd worked for E. G. Van de Stadt, and I were the only ones who'd worked in an outside design office. The others, like Rob Ball and Rob Mazza, all grew up there.
"It was the hot place to be in the early 1970s. We were working on pretty exciting stuff. Since I was now a rig specialist, I did the rigs, beginning with the C&C 61, Sorcery, and then the 43. I did all sorts of general stuff, too, but eventually drifted into the business end. They didn't really have a strong business orientation . . . boats would leave without being paid for, that sort of thing. I began selling boats for the Bruckmann custom boat division and sailing a lot with clients — club races, the SORC, the Bermuda Race. I pushed the whole yachting establishment onto C&C, which was good.
"At C&C," Mark continues, "the development of a new model began with George Cuthbertson's preliminary drawings. He'd then send them to Henri Adriaanse, for the lines, and Rob Ball, who did all the technical stuff. George Cassian did the rigs, decks, and detailed metal pieces, and I was second to Cassian."

Always learning
As he had everywhere else he worked, Mark learned a lot — about yacht design, construction, and sales. But in 1975 it was again time to move on. C&C's decision to open plants in Germany and Rhode Island, at a time when the industry was in one of its periodic downturns, was "more eager than sense," Mark says.
He took the next step in a logical staircase and opened his own company, Mark Ellis Design Ltd. His first commission was the Aurora 40, but it was the second that really put his name in lights, the Nonsuch 30.
This unusual cruising boat was the brainchild of Canadian yachtsman Gordon Fisher, a friend of Mark's who had owned a series of C&Cs, co- skippered Red Jacket in her circuit victory, and co-skippered Manitou in her winning of the Canada Cup. "Gordon was," Mark says, "a very knowledgeable yachtsman. He wanted to do a fin-keel, spade-rudder catboat."
Gordon, Mark says, was tired of big boat racing and all that went with it — the care and feeding of crews, maintenance, and expense. What he wanted was a simple boat that could be raced singlehanded or perhaps by two people. Fisher wanted a Ljüngstrom or una rig because he didn't want a boom. Mark wanted a wishbone and, after much conversation, eventually convinced Fisher to go with it.
The catboat concept was taken to George Hinterhoeller, who also had left C&C to again start his own boat- building company. George was not in favor of the catboat, believing it had no chance of selling. But when Fisher said he not only had orders for four hulls, but would put up the money for the tooling, too, George couldn't lose.
First in the water was the Nonsuch 30, followed by the 26, 22, and 33. In all, more than 1,000 were built, surprising everyone, but none more than George Hinterhoeller. Mark says, "It just took off."
Weird wishbone
Dick Barton, onetime head of the Chesapeake Bay Nonsuch Association and winner of more than 70 club trophies, told Soundings some years ago that the wishbone boom was "weird. But I'm not afraid of weird, and I soon found out that it works." Off the wind, the rig becomes self-vanging, which simplifies sail handling.
Jim Eastland, a dealer who eventually sold hundreds of Nonsuchs, says some customers "couldn't abide the look. Sometimes people would get angry at the idea of being offered one of 'these things.' I didn't have too much of an opinion on the boat myself until I started sailing it," he told Soundings. "The traditional catboat's weather helm wasn't there, there was no barn-door rudder hanging off the transom, and it went pretty fast. That's when we realized that the boat was something special."
Unlike some other yacht designers, Mark always retains ownership of his designs. "I get paid by the boat," he says, "I never sell the plans." While some designers have difficulty getting royalties paid, Mark says his business background has enabled him to write contracts that protect his interests. "From a business standpoint," he says, "I've put together agreements that have worked very well. Usually I retain some sort of control over the tooling."
His first power- boat design was the Limestone 24 for Fred Eaton, built by Hinter-Hoeller, which was followed by the Limestone 20 for the Medeiros Boat Works of Oakville, Ontario. Because he'd worked for
C. Raymond Hunt & Associates, who pioneered the deep-V hull form, and spent so much time driving power-boats, Mark says he felt more confident about his ability to design a good powerboat than he was of the Nonsuch's cat rig with wishbone. Other builders did 17- and 22-foot versions.
Over the next few years, all but Medeiros went out of business, so Mark recovered the tooling and gave it to Medeiros, who then produced the entire line under the Limestone name. Mark is quick to point out that this was only possible because his contracts with the other builders had provisions concerning his rights to the tooling.
Aboard for the ride
During the last 10 years or so, a number of high-end sailboat builders have started building classy power- boats, many styled after Downeast lobster boats, and Mark Ellis hopped aboard for the ride. The Legacy 40, built by Freedom Yachts in Middle- town, Rhode Island, was tooled by Bruckmann in Ontario and later sold to Freedom.
"I was after something that would operate in the mid-teens, plane at 12, and top out at 20 to 21," Mark says. "We developed a hull form that's a deep V forward, and as it comes aft there's a lot of rocker and a large chine flat. That's what makes the boat go. You sort of envision what's going to work. In this business, you go straight from the drawings to the plug to the mold to the boat without testing. The 40 was introduced at the 1994 Newport boat show, and I made Mark Bruckmann launch the boat just before it so we could show that it works. People were telling the man who put up the money for the tooling that a single engine might not be enough power. Of course I knew the boat could handle twin engines, but because these boats appeal to sailors I thought it was important to also offer the economies of a single engine. During sea trials it ran right in the numbers, planing at 12, topping out at 21."
The Legacy 34 was added later, and similar designs are being built by Bruckmann (a 56-footer) and Barrett Holby (the Pilot 19 and 24).
Mark's versatility extends to the motorsailer genre as well. His friend Jim Eastland, a former C&C dealer, presented him with his first motorsailer design commission. "Jim has a good design sense," Mark says. "He came to me with the idea of a motorsailer, saying he really thought there's a place for this. Sailors were dropping out to trawlers, but Jim thought they'd stay with sails if they could still have the trawler comforts. I've always admired the motorsailers of Phil Rhodes and William Hand and thought that with a fin keel we could really improve performance.

Flattened out aft
"Originally the boat was to be a 36, but it was stretched to 371⁄2 feet," he adds. "The basic concept of the Northeast 400 was a Nonsuch except that it was flattened out aft so it wouldn't dig in the stern at speed. And we had to make sure that when the boat heeled it would still balance. In flat water it does 10 knots with its 100-horse- power four-banger Yanmar."
The Northeast 37 is built by Cabo Rico in Costa Rica. Mark has visited the yard there and is impressed with the facility and staff. A similar motorsailer design is under construction at Bruckmann Manufacturing in Oakville, the Bruckmann 480.

Design philosophy
When asked to describe his design philosophy, Mark says, "There are really two sides to it. One is aesthetics, which is very important to me. There's a classic line that lasts; 20 years later it still appeals. I don't like trendy, boxy boats, though I can see the reason behind them, like stretching waterlines, but I've never liked bad aesthetics for no good reason.
"From a performance standpoint," he goes on, "I've done enough racing to like a boat with a nice motion. Balance is key. I could never go along with boats that are odd-shaped and have a cranky motion." Among his contemporaries he admires the work of Chuck Paine, Bob Perry, and Dieter Empacher.
When one runs down the list of Mark Ellis-designed production boats, first to mind may well be the Niagara 35 and 42, both built by Hinterhoeller and excellent cruising boats. In many ways they typify Mark's artistic tendencies and design beliefs. Both have strong, masculine looks with generous freeboard, sweeping sheer- lines, and classic ends. The coachroof is low in profile and flat with fairly small portlights. Underwater, the keel is a long cruising fin and the rudder a balanced spade.
But when asked which of his many designs is his favorite, Mark quickly mentions Volunteer, the custom 47- foot day sloop built in 1996. In her, one sees a somewhat truer picture of Mark's style, a style from a bygone era when yachts were long and lean with graceful overhangs, low freeboards, and powerful rigs. Not that his other designs, especially those produced as series, are unfaithful to this style, just that commercial enterprises are by necessity closely governed by consumer demands. In Volunteer, Mark and owner Fred Eaton were free to express them- selves, and what a lovely expression she is!
Mark Ellis lives and works in Oakville, where he manages a successful design office. He enjoys dual citizenship with the U.S. and Canada. An active yachtsman, he enjoys sailing and powerboating, often from his vacation home in the Thousand Islands area.