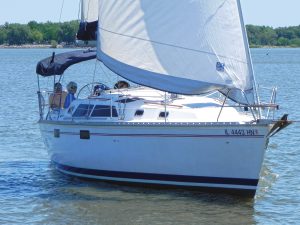 A well-planned economy cruiser
Rich and Carolyn Sutorius of St. Charles, Missouri, sailed a Seafarer 26, Manana, for more than 30 years. We reviewed the boat in the July/August 2019 issue. In 2021, with Rich now retired and Carolyn's retirement approaching as well, she thought they should move up in boat size when they are able to spend more time aboard at their slip in Boulder Marina on Carlyle Lake in southwestern Illinois.
This request caught Rich by surprise, but he was not about to argue. They searched around the country for a Hunter in the 33-foot range. Most were iffy prospects and somewhat pricey, considering the difficulties in getting it to their landlocked lake. On my advice (we are friends) he asked several Hunter owners at his own marina if they'd like to sell, and as luck would have it, one said yes, even though it wasn't technically for sale. Rich and Carolyn renamed the boat Pura Vida and launched her the following spring.
History
The Luhrs family built boats, both power and sail, for decades. Warren Luhrs, son of Luhrs company founder Henry, began the sailboat company in the early 1970s. He became a long-distance ocean racer with boats like Thursday's Child, incorporating some of his ideas, like B&R rigging, in the production models. With his passing, the brand was bought by Marlow and the boats are marketed as Marlow-Hunters.
Design
The Hunter 33.5 was built from 1987 to 1994. Some know the 33.5 as the model 335, as there is a follow-on version designed by Rob Mazza called the Hunter 336 that has considerable updating starting in 1995. One can also find a very similar Hunter in the 34. One review, pre-336, says there were some 600 of the 33/33.5s built.
Several keel configurations were supposedly available: fin keel, bulb wing, elliptical wing, and Collins tandem keel. However, it is believed that nearly all of the 33.5s were built with the shoal draft (4 feet 6 inches) bulb wing keel as the review boat has.
Construction
Hunter Marine employed standard materials and construction methods in line with the boats' intended price points as economy yachts. The hulls were hand-laid E-glass with polyester resin. They were solid, meaning no core material, with a skin coat behind the gelcoat of chopped strand mat sprayed with a chopper gun to help reduce print-through from the fabrics, such as 24-ounce woven roving, that followed. Decks were cored, some with 4-inch squares of plywood, others with sheets of end-grain balsa. Ballast was external.
Deck
On my arrival at the marina, Pura Vida was tied stern-to at the dock, which enabled boarding via the transom opening as the humped helm seat had been removed and stowed. Getting around is very easy given the wide, clear sidedecks and the uncluttered cabintop that is ripe for sunbathing and lounging. Adequate handholds are available going forward to handle the anchor from a built-in locker.
The cabin trunk is relatively low, facilitating good forward visibility underway. Aluminum toerails edge the deck, with stainless steel pulpits at both ends and double lifelines between them.
There are two small lockers on the transom swim platform and two in the cockpit in each aft corner, which house the batteries. There is only one big cockpit locker, to starboard, and it's not all that big or deep.
Engine gauges are to starboard of the wheel, but oddly and inconveniently, the engine cut-off knob is located at the top of the companionway steps. Aft of the wheel is
access to an emergency tiller connection and a large removable panel for service to the steering system. Between the mid-boom traveler just ahead of the companionway and the mast is a flat area clear of hardware that is perfect for lounging and sunbathing, as Carolyn demonstrated.
Rig
The rig is a ⁷/₈ fractional sloop, with double swept-back spreaders, double shrouds, and lowers from inboard-mounted chainplates. The backstay splits to free the helm of interference. Although sometimes reported as a B&R rig, it is not a B&R rig. Nonetheless, the swept spreaders do limit how far out the boom can be swung. Pura Vida sports a full-batten mainsail with lazy jacks and a roller-furled 110% headsail. Hunters in general lean toward tall main-driven sail plans with smaller, easier-to-trim jibs, and the 335 is no exception.
Accommodations
Going below, the first impression is a lot of wood and a lot of light. There are plenty of opening hatches that let in light, as well as windows on the cabin trunk sides. The first step is on top of a hinged cabinet/step that has a small handy tool bin under it. This makes a secure place to stand under sail as well. The hatch overhead is a dark acrylic plastic that slides into a sea hood. The way forward unfortunately is not endowed with overhead handholds. A light cream-colored padded vinyl covers non-wood surfaces that lend to the airiness of the cabin.
The forward cabin has a generous V-berth with cabinets and door—no need for an insert. I found it adequate for changing
clothes with the door closed. The aft "guest" cabin has a larger berth, but it suffers from being athwartship under the cockpit and if two are in bed, it makes the aft person in for the night. Couples may wish to split up and take separate cabins. The aft cabin is a great place to recline and read a book. Below the cushions is access to the engine-cooling through-hull, water strainers, fuel filter, prop shaft, and stuffing box. Other cabinets and engine access are found here as well.
The saloon features a wraparound dining table, which lowers to create a berth for two, while the port settee makes a berth once the back cushions are removed. Storage is abundant. The U-shaped galley takes up the aft star- board area, with plenty of workspace. The head/shower is to starboard with a vanity opposite. The head itself has a big lid over it, which Rich fitted with a hook after it fell on a male friend while sailing.
Pura Vida is equipped with a water-cooled marine air conditioner that has ducting to all three cabins.
Under Sail
The Hunter 33.5 handles quite well under sail and under power. With a shoal draft fin/bulb-winged keel and spade rudder, it turns quickly. We managed some tacks to windward quick enough that winching in the sheets was unnecessary. The main is a tad oversized and needs to be reefed early to prevent excessive weather helm. In average conditions there was a hint of weather helm and the helm feel was on the light side, but not quite fingertip control. The split backstays are completely out of the way while you are at the helm and there are many places to sit and steer. My favorite spot on most wheel-steered boats is to recline on the leeward seat snugged up against the coaming and steer with an up-and-down motion on the wheel. Some boats can even be steered with your feet, and this Hunter is one of them. Pura Vida has plush pulpit seats that are comfy for passengers, but they are a bit out of reach for a helmsperson.
The cockpit seats are comfy, with adequate width and height. The tops of them are chamfered and blend into the sitting space. However, they are spaced just a bit too far apart to make for comfortable bracing while heeled. As for napability, I give these seats a 3.5 on the Penticoff Napability Index (PNI) of 1-5, with 1 being terrible and 5 being great. The 33.5's seats are fine for reclining or curling up, but like many smaller yachts with a wheel, the cutout to get around the wheel takes away some of the napping comfort.
Having sailed downwind the length of the lake, we'd been planning to reef for the windward beat back to the marina as whitecaps were running the length of the lake now. However, we decided to take it even easier. We furled the main and then proceeded under jib alone. It was a pleasant sail. Handling was very neutral and light, with tracking spot on. Heel was minimal while pointing to 50 degrees and making 3.5 knots. It was so pleasant that as we came abeam the marina, Carolyn requested we continue for a while longer.
There are no surprises to sailing the Hunter 33.5 downwind or under power— standard stuff. However, Pura Vida's folding prop has the usual lag when going from forward to reverse.
For PHRF racing, in fleets around the country most 33.5s rate 144–147 seconds per mile.
Conclusion
There are many good old boats to choose from in this size range. Many of them are Hunters. Hunters have long been value-oriented production boats rather than top-of- the-line, spare-no-expense boats. Where some find fault with them, others find more boat for less money. I have not sailed a Hunter that I disliked or thought was inadequate for the sort of inshore sailing we usually do.
Listings for the Hunter 33.5 as of July 2022 ranged from $15,000 to $50,000.
There is a very large Hunter owners group online at shop.hunterowners.com for all things mechanical and technical.
Owners' Comments
Points high and sails well on all points. I thought the hull and rigging were quite good for a relatively low-cost production boat. However, I was very disappointed at the quality of some of the components. The manual bilge pump was the cheapest one they could possibly buy and I had a catastrophic failure the first time I needed to use it. Also, the packing gland housing was made of a plastic material. Apparently, nearly all of the hatches had leaked since the boat was new. Sleeping accommodations were not great. Access to the rear of the engine was difficult.
—John Streatfeild, Guntersville, Alabama
Very small water intake regularly catches weeds and fish and plugs up at the hull. Walk-through and lockers in the swim step on stern are great—but this is still a narrower cockpit that fills up with four people.
—Andy and Sarah Reimer, Nanaimo, British Columbia
This boat is small enough to singlehand and big enough to take on moderate coastal seas. Downwind sailing is better on the B&R rig found on the 335 vs. the Selden rig seen in later models because the spreaders have almost no sweep. There's a chart table, room for a 16,000 BTU marine A/C, a refrigeration box, and room on the forward bulkhead in the saloon to mount a modern, large flat-screen TV. There is not an option for an anchor roller, nor is there a way to install one on the 1990 335. The plumbing  used Qest fittings, which are not readily available today. The standard Yanmar 2GM20F seems to be underpowered.
—Colby Whitfield, Kemah, Texas
Solidly built, set up for singlehanding, and comfortable belowdecks. Especially like the open transom design. I stow my 7.5-foot dink up against the stern. Passageways belowdecks are narrow/tight. Engine access is a bit awkward.
—Jim Mosher, Chesapeake Bay, Maryland