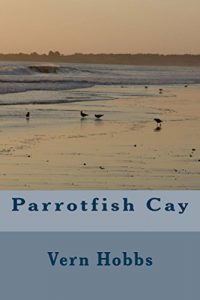 Vern Hobbs' third novel is his best one yet, and the other two are very good. An artist and contributor to several sailing magazines, including Good Old Boat, Vern began his journey as an author in 2010 with Flying Fish, a detective work focused on a Florida fishing community harmed by political whims in Tallahassee and a large firm seeking to develop a local casino. From there, Vern's readers were captivated by the live-aboard community described in Mudfish Creek, published in 2013. This time the characters (and an interesting collection of salty caricatures they are) are brought together by the mystery left behind in the will of one of their former dockmates.
Unlike many authors, Vern is not creating a series of related novels focused on one character, who moves along from book to book. Instead, Vern lets his imagination run wild until, I suspect, the next book topic captivates him and the characters begin to write their own story and he must sit down at the computer and join in. (Or so I imagine it anyway.)
This third book, Parrotfish Cay, focuses on the loss of a loved one and the positive response that can occur. Of particular interest to sailors everywhere, the protagonist's reaction to the sudden loss of his wife is the discovery of a new lifestyle. Ryan Davenport happens upon a sailing magazine in an office waiting room and is captivated by the cruising life depicted there. He leaves the traditional and predictable lifestyle he has been pursuing as a successful accountant in Cincinnati and sets off to buy a boat and to learn to sail, in that order. Of more interest to sailors is the description of life's stages, not of mourning (although that is covered) but rather the stages of becoming a sailor. We've all been there and can chuckle at the milestones and setbacks. As part of his journey, Ryan visits the library for books and magazines for tips and inspiration. Once he becomes a boat owner, he even refers to the DIY content in Good Old Boat. Could this be our first cameo appearance in a sailing novel?
As soon as he has the cruising dream, the boat, and the skills, Ryan heads, as a single-hander, toward the Bahamas and the Caribbean and beyond, driven by nightly visions of his now-deceased wife, Kelly, who urges him onward. His boat is dismasted along the way and Ryan is cast ashore on Parrotfish Cay. This interrupts the from-the-grave urgings of Kelly to sail ever onward. Or was Parrotfish Cay the target location all along?
In each of his books, Vern has impressed us greatly with his characters' dialogue and also with overall character development. These are not cardboard characters, but rather the multi-faceted people you know on the docks. This is not what you expect from a guy who writes articles for Good Old Boat on subjects such as dealing with drawbridges (March 2006), navigating locks (July 2006), sailing off the anchor (January 2008), vessel documentation (January 2009), keeping your diesel engine cool (September 2009), ground wires (May 2010), and managing seasickness (July 2011).