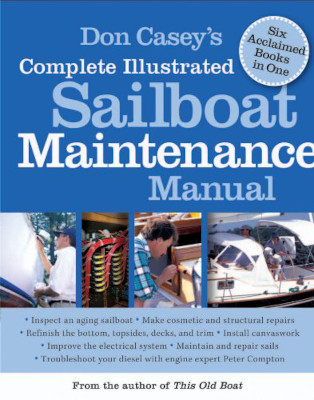 This is really six books in one. Five of them represent Don Casey's considerable expertise in inspecting, maintaining and enhancing the mechanical and electrical systems of a sailboat. The sixth, a 160-page book on troubleshooting marine diesels by Peter Compton, was added for completeness. All in all, it makes a great addition to any sailor's library.
Appropriately enough, the first "book," titled "Inspecting the Aging Sailboat," concludes with a nice recap on how to be your own surveyor and how to choose and work with a professional if you decide to proceed with a purchase. I really like the content and presentation of this book; it would have helped us to be better prepared for the first inspection of our boat, even though she was relatively new.
The next "books" on hull and deck repairs and refinishing are quite complete and very well illustrated. They should help give any owner the confidence to take on more and more boat projects. We all expect some age-related deterioration in our vessels and thus will expect to benefit from the sections on refinishing. We may not expect to need the stuff on major repairs to hull and deck, but it's all there if and/or when needed.
The "book" on electronics is appropriately called "Sailboat Electrics Simplified." Don leads off with a good note on safety and then delivers a fine primer on the basics. He continues with more details on batteries, wire and circuits, troubleshooting, charging systems and, finally, AC systems.
Peter Compton's "book" on Troubleshooting Marine Diesels is as comprehensive as one could ever expect in a 160-page treatment. He begins with a short section on surveying the engine that will again be a great help to a first time boat buyer. The basic sub-systems of the engine are nicely treated and integrate well into the section on routine maintenance. The section on troubleshooting includes some very helpful flow diagrams to guide the reader through a logical work process.
Since the focus is on sailboats, Don finishes off with a nice section on canvaswork and sail repair.
This book will be a great addition to any sailor's reference library. It will help any first time boat buyer be better prepared for that first detailed inspection. The clarity of writing and excellent illustrations will be appreciated by owners who want to take on more of their boat's maintenance needs. By giving an owner a good understanding of all the steps involved in a project, this book may also help some owners decide which tasks they would prefer to hand over to a professional.
Don Casey's Complete Illustrated Sailboat Maintenance Manual by Don Casey (International Marine/Ragged Mountain Press, 2005; 896 pages)