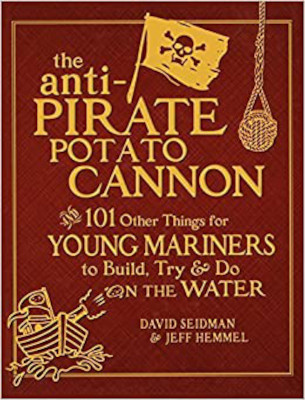 I would recommend the book The Anti-Pirate Potato Cannon: And 101 Other Things for Young Mariners to Build, Try, and Do on the Water to kids 12 and even up to adults who have experienced or like sailing or being on the water. This book covers many of the safety skills needed on the water, including how to escape a rip current, weather safety, rescues, sun calculations, taking boating safety exams, and many more. It would also be helpful for kids interested in being around or in a water sport like paddling a canoe, learning to waterski and barefoot waterski, and sea kayaking. Another way this book is helpful is the lesson on how to tie knots. This skill would be handy on any boat. I would recommend this book because of the fun projects to make, like making a paddle, rope swing, boat, weather glass, and many more. The fun facts in the book are very interesting and information that most kids don't know.
The only thing I did not like was that it was hard to pick up and read from cover to cover in one sitting. This book would be a great resource to find out information on boating fun. I also wanted to do the projects on my boat but we did not have all of the supplies on hand. I am planning on continuing to read this book as a resource and as I want to look up information on water activities.
Thank you very much for allowing me to read and review this interesting book. I enjoyed the opportunity to read it this summer while on my boat.
The Anti-Pirate Potato Cannon: and 101 Other Things For Young Mariners to Build, Try, and Do on the Water By David Seidman and Jeff Hemmel (International Marine/Ragged Mountain Press, 2010; 272 pages)