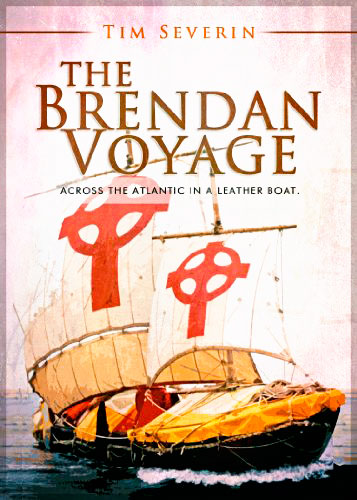 When Tim Severin died at 80 in December 2020, I thought, "I know that name. He wrote stories about the sea." The particular book that came to mind was this one, The Brendan Voyage, which recounts an Atlantic crossing he made to prove that Saint Brendan, born in Ireland's County Kerry in the late 5th century, could have "made an ocean voyage in a boat of leather" with a crew of Irish monks. 
Good Old Boat uses affiliate links and may earn a small commission if you purchase anything after clicking through one of them. This comes at no cost to you. 
The book, a remarkable tale of twentieth century survival at sea, is the work of a man who billed himself an explorer/traveler and earned degrees in history and geography at Oxford during which he traced Marco Polo's caravan route on a motorcycle. He made a life of recreating and then writing/filming historical explorations.
Saint Brendan the Navigator's original voyage is told in the Navigatio Sancti Brendani Abbatis, a Latin text written somewhat after the fact that has been the subject of much speculation. Severin, along with his wife, a medieval scholar, thought the trip could have been possible and wanted to prove it. In his book he recounts the years spent acquiring materials (including 49 oxhides which had to be stitched together with flax) and details of boat design based on the traditional curraghs of the West Irish coast, which are still in use.
If Severin's book were simply his descriptions of building the Brendan and recreating Saint Brendan's voyage, I would not be writing this review. Instead, The Brendan Voyage is one of the more swashbuckling sea stories I've read, describing in vivid language gales along the North Atlantic "stepping-stone" route through the islands off Ireland and Scotland, Iceland, and Greenland to the coast of Newfoundland, a route Severin notes sailing yachts stay away from. Life on the 36-foot Brendan is degrees harder than anything most modern sailors encounter on the ocean. The longest stretch encountered by the four-person crew, fifty days, took them into the ice pack west of Greenland where there was a real risk of losing the boat and their lives, even though they had a life raft, the conditions being so extreme. As part of his proof that Saint Brendan could have done the trip, Severin points to several periods of climate warming in the medieval ages when there would have been little or no sea ice.
The reader develops a visceral sense of the open leather boat which had a sea motion "more like a life raft than a conventional vessel. She heaved and swayed, then bobbed, swayed and heaved…" Brendan was covered more or less successfully with tarps, and her sides were low enough that the crew were almost eyelevel with the whales that visited on many occasions.
Whether indeed Saint Brendan and his Irish monks made the voyage, Severin and the Brendan's safe arrival in Canada shows that a leather boat could. For me it was an interesting revelation that Irish people explored far and wide on the northern seas, like the Polynesian navigators in the Pacific helping to expand the world long before the Vikings and the Europeans and showing my own ancestors to be great explorers.
The Brendan Voyage: Sailing to America in a Leather Boat to Prove the Legend of the Irish Sailor Saints, by Tim Severin (Modern Library, 2000)