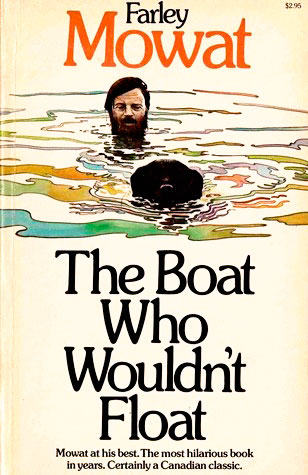 This classic nautical book is aimed squarely at Good Old Boat readers, despite being written decades before Good Old Boat magazine came to be. The Boat Who Wouldn't Float is not so much a tale of man and boat against the sea, but rather a tale of man against his own boat. Throughout the book Mowat struggles with determined perseverance to keep his leaking little wooden schooner, Happy Adventure, floating, off the rocks, and moving on. How he does so is nothing short of extraordinary. Most of us would have thrown in the towel and scuttled her quite early on.
Good Old Boat uses affiliate links and may earn a small commission if you purchase anything after clicking through one of them. This comes at no cost to you. 
The setting for this tale of woe is the fog-bound, rock-filled, south coast of Newfoundland, during times when small working fishing villages still dotted its remote rugged shoreline. Mowat came to visit many of these villages—and fell in love with some—out of extreme need to go to ground with his willful sinking boat.
Farley Mowat was a prolific author of books about the north country of Canada. His style is that of a humorous storyteller. While this book was sold as non-fiction, I got the impression that the facts may have been enhanced to make for a better story. It is hard to tell. It would be difficult to create fiction with so much detail. All the places he visits are on the map and are worth a look online to see what Mowat, crew and Happy Adventure were up against.
Mowat's prose is sprinkled with spicy archaic words. Jaunty lines are at once humorous, instructional, and highly descriptive in an uncommon turn of delightful phrase. Nearly every sentence is a joy to read. Following is an excerpt that shows Mowat's talent for describing a scene, this one at a St. Pierre boat yard:
"The yard was decrepit, sprawling, and unbelievably cluttered. On one of its two slipways a Newfoundland schooner, the Sandy Point, stood high and dry, while the other slip was occupied by a seaworn Spanish dragger. The whole place smelled of a mixture of old wood, sun-heated iron, Stockholm tar, engine oil, and black reeking coal smoke coming from a ramshackle building that housed a massive and antique steam engine and winch, by means of which the ships were hauled up on the slips."
At the time of this book's first publication in 1969, the story was based on his experiences of the mid-1960s, a time when Mowat would have been about mid-40s in age. He lived in Newfoundland for six years, so the reader will learn much about Newfoundland and its history. Later in his life he would have a summer home on Cape Breton Island and more permanent roots in Port Hope, Ontario, where he would pass on to the next world on May 6, 2014 at the well-earned age of 92.
The Boat Who Wouldn't Float received a literary humor award, but generally was not considered his best work. It would be his only book about his affair with boats, but highly popular among sailors, boaters, and travel readers. A second printing came out in 1970. It was serialized in Yachting magazine in 1970 as well, then printed as a paperback in 1981 and 2004. I have a copy of the latest version, but have had my hands on a 1970 hardbound copy as well. Any are highly recommended as a permanent addition to your nautical bookshelf.
The Boat Who Wouldn't Float, by Farley Mowat (first published in Canada by McClelland and Stewart Ltd.; 1969)