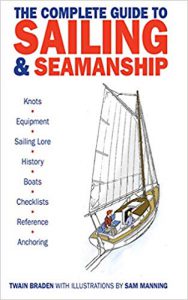 This Complete Guide just might surprise the word-weary voyager. Described as "An illustrated guide for beginner and expert alike," a cursory glance could relegate it to the shelf of innumerable other books on learning to sail. That would be a mistake.
Like a buffet of information, what the reader finds in this book . . . and what they take away . . . is directly related to what interests bring them to the table. This is truly an enjoyable feast of a read for every sailor of any skill level.
Not only enjoyable but logical, understandable, and filled with real substance, the Complete Guide is that rare medley of artful words and well-crafted content to be consulted time and again. The forces that drive a sailboat are explained along with the techniques to accomplish them. How techniques evolved through painfully acquired knowledge and tradition is explained. Examples are offered from the author's experiences as well as sailing giants like Pardey and Chapelle. Illustrations are clear and invaluable.
Equally important are threads of the author's philosophy that weave through this unique book, contributing to a cohesive work. One is that the essence of sailing is a mindset different from life ashore. It is the acceptance of the wonderful yet unforgiving water world and the required outlook to become part of it.
A second thread is that all sailing is local. Sailors should understand that conditions and the necessary preparations for cruising or racing off New England are vastly different from the Chesapeake Bay, which is different from Bora Bora.
There is very little to fault with this book. I would perhaps disagree with radar being the most essential of electronics aboard a small sailboat. But if I were sailing off the Maine coast, as the author does, my priorities might change. The only handicap could be its size. At 8 ½ by 11 inches, it may exclude itself from many small boat bookshelves.
This is a solid treatise on a very large topic. It handles an amazing amount of detail and explanation in a concise and readable manner. And upon second thought, you can always stow this jewel in the chart drawer. The Complete Guide to Sailing & Seamanship: don't leave port without it.
The Complete Guide to Sailing & Seamanship by Twain Braden, with illustrations by Sam Manning (Skyhorse Publishing, 2013, 189 pages)