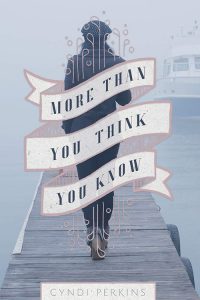 Not in all the years that hundreds of sailing books have landed on my desk for review have I thought that a novel was destined for the leap from boating literature to mainstream reading and popularity on the big charts. This vault above all the rest of the books I've reviewed is all the more amazing because it is a first novel by a woman who has been a writer all her life but never the author of a book.
Cyndi Perkins' More Than You Think You Know, is a novel by a woman, about women, and for women (primarily), but since women make up at least half the population and the majority of book club members (or so I assume), Cyndi's novel has the ability to touch (down to their very marrow) a large segment of the English-speaking population. I stand in awe.
Three women and a dog share a journey down the Illinois, Ohio, Mississippi, Cumberland, and Tennessee rivers, and the Tennessee-Tombigbee waterway (that together with the run down the Tombigbee make up the inland part of America's Great Loop). Each of these women is lost, running away, finding herself, or challenged in one way or another. Yet as the journey progresses, each evolves toward a new-found sense of self.
Their light banter is excellent, funny, and sometimes ribald. The characters are fully developed three-dimensional women in their 40s dealing with serious events in their lives such as abusive partners, debilitating chronic illness (lupus), rape, and of course menopause. They also battle an assortment of histories including dysfunctional families, promiscuity, alcoholic binging, earning a living in one of Nevada's legal brothels, overnight jail time for a DWI arrest, and more. They are a hilarious group of honest women hurtling toward independence, warts and all. Thelma and Louise, perhaps?
The reader doesn't have to be a boater to read and appreciate this tale, but anyone who has been a boater will be particularly tuned in to Cyndi's descriptions of the Loop: transiting river locks, avoiding large tugs and tows, managing a boat in heavy current, remaining alert for floating debris, and dealing with a scarcity of anchorages. Not to be overlooked are their fellow boaters — characters all — whom they meet along the way. Cyndi has run this Heartland River route many times and pulls no punches. If you've ever thought of floating downstream on the rivers from Chicago to Mobile in the belief that this might be a romantic way to travel, add this book to your pre-voyage reading list. Cyndi's realistic descriptions of life afloat will be as enlightening as any guidebook.
Over the years through Good Old Boat, I've had the pleasure of meeting Cyndi and we've exchanged email messages regarding articles she's published with us. So, while she numbers among my acquaintances, I cannot say that our casual friendship causes me to blurt out this high praise. On the contrary. Cyndi has earned every ink jot. She created an excellent first novel. She sold it right off the bat to a publisher who chooses only four to six books a year. And she may be on the verge of national recognition.
She has created a possible runaway bestseller with this first novel and I'm proud to add my own thumb to what probably will be a multitude of raised thumbs and attagirls. Bravo Zulu, Cyndi Perkins!
More Than You Think You Know by Cyndi Perkins  (Beating Windward Press, 2017; 215 pages)