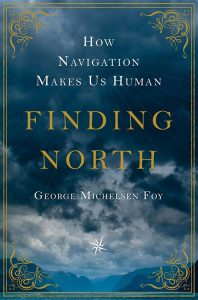 In the wake of his brother's recent death, George Michelsen Foy becomes interested in the fate of his great, great grandfather, Capt. Halvor Michelsen, lost aboard the Norwegian packet Stavanger Paquet when she went down under Havlor's command in 1844. Hoping to understand something of the Stavanger Paquet's loss due to a navigational error, Foy plots a course offshore from Hyannis, Massachusetts, to Maine aboard Odyssey, his aging Morgan 35 sloop, employing the same sorts of navigation tools and strategies his great, great grandfather would have used.
Over a winter spent readying Odyssey and himself for the voyage, Foy finds himself drawn deeper into the art and science of navigation, and the ways in which it informs and is in turn affected by almost all of our daily activities. In between dusting off his old sextant and making necessary repairs to Odyssey, he travels to the Caribbean to sail with a Haitian skipper who carries no compass; journeys to the Greek island of Samothrace to visit the "shrine of the megaloi theoi, the great gods," where the ancient Dioskuri initiated would-be navigators in the magic art; consults with neuroscientists mapping those areas of the brain involved with navigation; and visits the "Dark Heart" of today's GPS at Schriever's AFB in Colorado. All the while, Foy finds himself navigating his own memories as well, especially those that now make up his relationship with his brother.
When it comes to what matters most in life, Foy realizes that "navigation and the disorientation that's part of it have taught me: that we cannot live without loss." And that when we lose those things that make us who we are, "we are forced to look hard around this world" to find our way, and ourselves, again.
Every sailor who's ever looked at a chart, tried to take a sight with a sextant, wondered how GPS works, or had to rely on dead-reckoning out of sight of land will enjoy Foy's examination of navigation's many fascinating aspects in Finding North. Those who have ever looked in the mirror, or into their heart, or the heart of another, to locate a different sort of fix, will discover even more.
Finding North: How Navigation Makes Us Human by George Michelsen Foy (Flatiron, 2016; 291 pages)