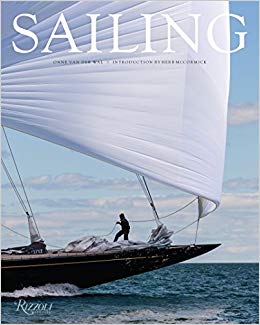 This is probably the most difficult book I've ever been asked to review — three hundred pages comprised of two hundred stunning photographs. What can one say, especially when I cannot show you any of the photographs in this review? Onne van der Wal, the Dutch-born, South African-raised award-winning nautical photographer has won wide-ranging and prestigious recognition for his work. He has travelled the sailing and yachting world for well over 30 years, and now works out of his studio in Newport, Rhode Island. His photographs are characterized by steady composition, whether shot — as so many are — from the masthead or the end of a spinnaker pole, from a precarious perch at the door of a helicopter or from a jostling, spray-laden chase boat.
Onne learned to sail in the coastal waters of South Africa, first on small hard-chined, Bermuda-rigged dinghies called Dabchicks, from which he graduated to keelboats and, ultimately, ocean racers. As seasoned sailor and nautical writer Herb McCormick says in his brief introduction to Sailing, Onne "sipped beers and swapped notes with fellow sailors" all across the world, from Rio de Janeiro to New Zealand, the North Sea to the Caribbean. Along the way, a bunkmate on an ocean crew introduced him to a single-reflex camera and he was mesmerized by it. Soon after, with photographic gear and film provided him by Olympus Cameras, he got his start in nautical photography as a member of the 1981-82 Dutch Whitbread Round the World Race team crew on their winning boat, Flyer. His work from this race around the world, now known as the Volvo Ocean Race, launched his career in photography. Now shooting with Canon 1-Ds digital cameras — almost all the images in this work are digital — Onne's work is regularly seen in sailing magazines.
Sailing is a wonderful collection of photographs. Comprised primarily of action shots of racing yachts, it also has lovely photographs of pleasure sailboats and some remarkably beautiful shots of sunrises, sunsets, and nautical landscapes. I was especially drawn to photographs of the 12-meter yachts Freedom (US30) and Intrepid (US22) crossing tacks off Newport and of the 1907 gaff yawl Veronique at the Veteran Boat Rally in Sardinia. Aerial shots, such as that of the racing yacht Nimbus on her side, with the crew fighting to get her keel back under the boat, are quite remarkable. You can almost feel the elements as you digest the photos. But perhaps my favorite was the thumbnail index image of the Alerion-Class sloop Owl pounding upwind in the Nantucket, Massachusett's Opera House Cup. The full two-page photo is wonderful in itself, but in the thumbnail, one can almost imagine looking directly at Winslow Homer's magnificent painting of a little New England Catboat, Breezing Up.
Rizzoli International Publications gives us a truly wonderful book of photography in Onne van der Wal's Sailing. It is divided into 10 chapters, moving from photographs taken on the New England Coast to Northern Europe, the Mediterranean, the Caribbean, South Africa, Chili, the Pacific Coast, the Southeast U.S., Australia and New Zealand, and the South Pacific. It perhaps gathers the best of Onne's work from an archive of more than a million images and contains both an informational thumbnail index of the two-hundred photos and an index of camera information for each photo. I found the seven completely blank pages scattered through the work a bit incongruous, and I wished that the description of each image had included the date it was taken. Nevertheless, these are minor quibbles. If you like classic images of sailboats, you might consider this a gift to yourself or your favorite sailing partner: birthdays, Christmas, Hanukkah, or the anniversary of your first sailing adventure — it's sure to please!
Sailing, by Onne Van Der Wal, Introduction by Herb McCormick (Rizzoli International Publications, 2013, 304 pages, 200 color photographs)