ED CUTTS: DESIGNER, BOATBUILDER AND "CUTTS METHOD" INVENTOR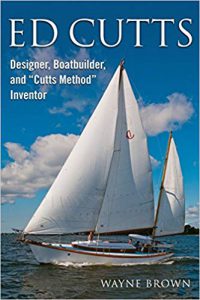 BY WAYNE BROWN (LEEWARD PUBLICATIONS, 2014, 296 PAGES, $19.95)
REVIEW BY CHAS. HAGUE
DES PLAINES, ILLINOIS
Edmund A. "Ed" Cutts was an exceptionally single-minded individual. As a very young child, he watched boats off Long Island. He took his first boat ride when he was 8½ years old. When he was nine, he told his father, "That's what I want to do in life—build wooden boats." Practically everything he did for the rest of his life was focused on that one goal. He attended the New York Maritime High School to learn how to build wooden boats. He worked at the Brooklyn Navy Yard, then in the Navy as a machinist, because they needed precision workers more than wooden boat builders. (He wanted to build Admiral's Gigs.)
After the war, he made the rounds of the boatyards on Long Island, working for one, then another, as long as they built wooden boats. In 1965, he moved his family to Oxford, Maryland, where he had purchased a boatyard of his own. From then until his death in 2008, Cutts designed, lofted, built, and repaired wooden boats, sail and power, ranging from 14 feet to 65 feet in length.
Through historic references, stories from friends and relatives, and many interviews with Mr. Cutts himself, the story of his remarkable boatbuilding career is told. Some of the yarns are pretty good — there is the story of his disagreement with Adolph Egli, Director of Applied Research for the Ford Motor Company, himself a yachtsman, over the displacement of the boat Ed built for him. And there is a description of the ingenious method used to test for crawl in the Kevlar-in-the-notch basis of the Cutts Method.
Although he despised fiber-reinforced plastic molded hulls, he wanted to improve the construction of small yachts. Running his own research and development program, he developed the "Cutts Method,"a technique of building a hull that sandwiched Kevlar embedded in epoxy between layers of wood. Using no frames or fasteners, the hulls are said to be lighter, stronger, and not subject to fastener corrosion.
The book goes into great detail on many aspects of Ed Cutts' life, including his mentors, the places he worked before opening his own yard, and his boat designs — sometimes in too much detail. At the same time, the description of the Cutts Method of boat construction is only about two pages long and not very comprehensive. It is as if the writer thought the reader already knew how the boats were built and only needed to describe how the method came about. One good picture of the technique would have explained much.
This heavily anecdotal biography about Ed Cutts and his boats gives great insight into the work of the last custom boatbuilders working in the 1960s. Their creations that have survived are treasured Good Old Boats.