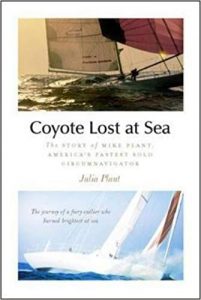 When Mike Plant was 8, he learned to sail on Minnesota's Lake Minnetonka. By 11, he'd designed and built his own boat. By 14, he was hiding bottles of bourbon. By 25, he was on the run for drug smuggling.
We learn this by way of Julia Plant, whose book about her older brother is, while no rose-colored memorial, still imbued with affection.
Plant was an internationally renowned sailor who died at 41, washed overboard in the North Atlantic sailing to his fourth solo race around the world. His sister recounts the less-than-heroic facts of his life with a pragmatism he'd likely have appreciated. Not that he'd admit it.
In an especially cogent passage, she writes of Plant's failure to thank friends and family when they sprang him from a Portuguese prison: "Mike said nothing," she wrote. "Thanking people meant acknowledging that he had screwed up, and he didn't want to do that."
You want to smack him, yet not hard enough that he can't raise a sail. The chapters about racing the southern oceans, drawn from his journals and radio transmissions, are spellbinding.
Sailors who followed his circumnavigations likely never caught a whiff that he was anything less than a boyishly handsome daredevil. His sister, writing because "he truly was the most alive person I had ever known," said the book took 20 years because she was afraid to embrace "the parts that showed what a schmuck he had been at times."
The result is a credible account that leaves you admiring his tenacity, his skills, his respect for fellow sailors and, in the end, his relationship with himself. The risks he took, whether driven by lack of money or his own demons, cost him. Yet Julia Plant resists suggesting there's a lesson here, because only a thimbleful of people live such a life.
Coyote Lost at Sea: The Story of Mike Plant, America's Daring Solo Circumnavigator by Julia Plant (International Marine/Ragged Mountain Press; 2013; 256 pages)