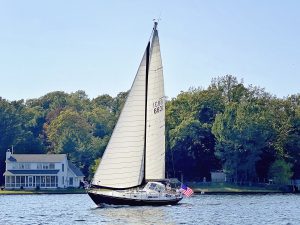 A Canadian Classic with a Racing Pedigree
As I walked down the dock at the Ludington Yacht Club, racers milled about, flags snapped in the breeze, and halyards clanged against masts in a chaotic tempo. Out on Lake Michigan, the late summer wind was churning the typically blue waters white, and I was eager to get out racing on the 1968 C&C-designed Redline 41 Mk I Condor. It was a moment I had been waiting for since I first stepped aboard the boat decades ago.
Co-owned by David and Kris Bluhm, and Stephen and Jennifer Bluhm, Condor is one of the first racer/cruisers designed by the now legendary Canadian team of George Cuthbertson and George Cassian. With its distinctive black hull and red boot stripe, it's a boat I've watched sail around Pentwater, Michigan, since I was a kid.
I have fond memories of being invited aboard Condor at a yacht club party for Chicago-Mackinac Race finishers. I was in awe. It was the largest boat my young sea legs had ever been on, and nearly every summer since I've admired it tugging at its mooring and sailing on Pentwater Lake and Lake Michigan.
In the summer of 2020, I found myself dockside at a yacht club event, once again fawning over Condor's shiny black hull while chatting with owners Dave and Kris Bluhm. They invited me aboard for a tour and a tip of Mount Gay, and before I knew it, we were making plans to sail later in the summer.
History and Design
In 1965, Canadian yachtsman Perry Connolly commissioned Cuthbertson and Cassian to design a custom 40-foot racer that was to be "the meanest, hungriest 40-footer afloat." The result was a boat named Red Jacket. Built by Ontario's Bruckmann Manufacturing, it's believed to be the first sailboat engineered with a balsa-cored fiberglass hull.
Launched in May 1966, Red Jacket won 11 of 13 races that she started that summer on Lake Ontario. Following her success, Red Jacket headed south and in 1967 almost won the famed SORC (Southern Ocean Racing Circuit). She returned in 1968 to win the SORC overall, competing against more than 85 of the hottest racing boats of the day and becoming the first Canadian and first non-American boat to win the regatta.
The Redline 41 was born riding the wake of Red Jacket's success—and along with it, C&C Yachts. Bruckmann Manufacturing built at least four Redline 41 Mk Is in 1967 and '68. The next iteration came quickly thereafter in the Redline 41 Mk II, also designed by C&C and built by Bruckmann. The Mk II prototype was Bagatelle, built as one of three Canadian contenders for the 1969 Canada's Cup.
Bagatelle's modifications included a slightly more swept and deeper keel, slightly enlarged rudder, and the addition of a "bustle" just forward of the rudder. Thirty-five hulls were built until 1972 when sales slowed, and the model was discontinued.
Despite reports that Lindsay Plastics then purchased the molds and started producing the Newport 41 in Harbor City, California, under the name of Capital Yachts, recently discovered correspondence between George Cuthbertson and a yacht club commodore reveals that the Newport 41 was a similar but "separate and distinct" design that was "a ton lighter" with a "considerably shallower hull."
C&C's original Mk I design was envisioned as a racer/cruiser that could excel at both, and every subsequent version fits this brief. Condor's first owner, Hill Blackett, a well-known and successful racer from the Chicago Yacht Club, was said to be sailing with his two sons past Florida towards the West Indies when they made the snap decision to compete in the SORC. It turned out to be a wise move, as Condor went on to capture the SORC title in 1972. Her win even garnered attention from the likes of Sports Illustrated and The New York Times.
The boat returned to Lake Michigan where she won several Chicago-to-Mackinac races in the 1970s and early '80s. In 1983, Bill Bluhm bought Condor and moved her to Pentwater, Michigan. Along with his sons Dave and Steve, Bill successfully raced the boat throughout Lake Michigan until 1988 when he and his wife headed out on an extended cruise. They traveled east through the Great Lakes to the Erie Canal, then down the Intracoastal Waterway, and on to the Bahamas. After a season of cruising, Condor was trucked back to Pentwater where she continued racing and daysailing and still resides today.
A Born Racer
My first sail on that blustery late summer day began as we pushed away from the dock and Condor steadily nosed forward against the protests of the wind and waves. When Ludington's iconic North Breakwater Lighthouse came into view, so did frothing whitecaps.
Fortunately, all hands aboard weren't shy about sailing Lake Michigan in such a state, and Dave rightly called for one reef in the main. With the northwesterly topping 20 knots and frequently gusting higher, we also took a couple turns on the furling genoa. The racecourse was set as a large, one-lap triangle with a beat, a reach, and a run.
Tacking back and forth in the pre-start sequence, I could feel the power in Condor's double-spreader rig transfer to the hull as she punched through the raucous sea. After a lively start and a bit of close action with a few other competitors at the westerly end of the line, we were off like a shot, trimmed tight and sailing upwind.
The C&C Redline 41 quickly showed what this venerable design was built to do: sail fast. We brushed off a couple boats that fell to leeward and then passed underneath another comparably rated boat. Even with a partially furled headsail, Condor was close-winded and relatively dry—at least for those in the cockpit. As bowman farthest forward on the rail, I was getting a proper dousing. Condor took the seas in stride, not bucking or pounding in the waves.
We tucked in a couple smooth tacks, and with the upwind leg coming to an end, we cracked off and headed for the reaching mark. The crew rolled out the rest of the genoa, trimmed for speed, and Condor stayed hot on the heels of her closest, and only, remaining competitor. Most boats come into their own on a reach in fresh breeze, and the 41 is no exception. Throwing a wake and bounding across the waves, we made quick work of the second leg.
Jibing smoothly at the next mark, we seemed to come out of the maneuver without losing any speed. From there we headed low to a deep broad reach and run. Tempting as it was to fly the chute, there was no need given the wind strength, our position in the fleet, and the distance to the finish. Accordingly, I kicked back, dried out in the sun, chatted with my foredeck mates, and reveled in the smooth ride across the line. I thought, "Wow, what a feeling it would have been to cross the finish line on this boat in one of those SORC or Chi-Mac wins." To be sure, her timeless pedigree was alive and well.
As a point of reference, Condor's PHRF number is 105 seconds per mile, the same as the early-'70s, S&S-designed Tartan 41. But just to illustrate how much design has evolved, the J/35, introduced in 1983, rates just 72.
A subsequent sail in champagne conditions of 12-17 knots on a bluebird day gave me a chance to spend more time at the helm and in a cruising perspective. With older cruising sails bent on, Condor still showed a good turn of speed and sailed at about 40 degrees off the apparent wind close-hauled. Her helm was light yet responsive, with just the right touch of weather helm. The performance- oriented sailor in me appreciated that I could quickly and easily adjust the traveler from the helm if she started to round up too much.
And as we engaged in a friendly duel with a newer, similar-sized performance cruiser inside Lake Pentwater, I got a feel for how simple it was to actually sail the 41-footer. I was also impressed with how we performed against the other boat; here we were, a 52-year-old racer/cruiser favorably trading tacks and jibes with a considerably more modern design.
Rebuilding a Classic
While I didn't find a history of blisters in the Redline Mk I or II, normal problems with wet and rotten balsa core in the decks are likely for vessels of this vintage. Due diligence should also be given to the boats' spade rudders. Like the decks, these balsa-cored rudders probably need some attending to in the way of general maintenance, rebuilding, or even replacement.
Like many of the Mk I's counterparts, from the C&C Mk II to the various Newport models, Condor needed work in many of the aforementioned areas and more. Thankfully, she got it, and her rehabilitation process offers a blueprint for those looking to buy and restore one of these C&C classics.
In May 2012, brothers Dave and Steve took over Condor's ownership from their dad, Bill, and immediately put the boat inside dry storage at Snug Harbor Marina in Pentwater. The goal was to put her into racing, cruising, and daysailing shape for the future. The bones that C&C and Bruckmann had given Condor back in the late 1960s were still good, she just needed some modern love to keep going.
An open-ended spa treatment commenced by stripping Condor down to her bones—just the hull, deck, and engine remained. After removing all deck hardware, Dave and crew jumped into fiberglass work by reconstructing large portions of the rotted core in the cabintop and deck. They dropped the rudder and peeled off the fiberglass skin, hogged out all the bad balsa core, rebuilt it with closed-cell foam, and put the top skin back on.
The brothers treated Condor to all new AC and DC electrical systems, along with a suite of new Raymarine instruments and a NavPod at the helm. They upgraded interior and exterior lighting systems to LED, rebuilt all seacocks, and installed new plumbing systems, along with a new water heater and a fully reconstructed head. They upgraded tankage to include 18 gallons of diesel under the cockpit, 25 gallons of water in a tank under the port settee, and an 18-gallon polyethylene holding tank on the port side under the V-berth. The small tank capacities indicate the owners' racing priorities.
They reconstructed the main bulkhead and cabin sole and built and installed new cabinetry, along the way rehabbing or replacing every hatch and portlight. New cushions and upholstery iced the cake, and Condor shows in a condition that would have been similar to, or even better than, when she left the factory in 1968.
The steering systems on these boats are wire and chain with an aluminum quadrant, so solidly built, Dave says, that "you could steer an aircraft carrier with it." That said, the brothers installed a new steering pedestal. As work on the cockpit continued, they rebuilt all the cockpit seating and, as one would expect, freshened the exterior brightwork. They rebuilt all winches, converting the primaries to self-tailing. They repainted the double-spreader, keel-stepped mast and replaced all the lifelines.
No restoration of this proportion could go without attention to the hull and topsides. Condor got new topside gelcoat gleaming with black Awlgrip and an epoxy barrier coat and bottom paint below the waterline. More than four years after coming out of the water, a much improved Condor splashed in July 2016.
A Boat for All
While the lineage of the C&C Redline 41 decidedly skews towards the performance end of the spectrum, its original racer/cruiser brief means it can be a boat for all purposes. If you're able to find any of these models on the market today, yes, you'll likely be getting a project that breeds many other projects (just ask Dave). But you'll also be getting a fast cruiser that knows its way around a racecourse and can be outfitted for coastal or offshore voyaging.
Want to set it up as a daysailer that is quick to get out of its slip or off its mooring, hoist the sails, and enjoy an afternoon on the water with friends or family? Yep. Have aspirations for distance or round-the-buoy racing with a full crew or shorthanded? Go for it. Looking for a platform to turn into a bluewater cruiser that can happily tick off the miles at sea or swing comfortably at anchor in an idyllic bay? Let your dreams be your guide.
After all, dream boats don't have to be shiny and new to be fast, fun, and safe. And while they'll undoubtedly take work, oftentimes it's boats like the C&C Redline 41 that are worth the most. Not monetarily, perhaps, but in appreciation by a family who has owned it for decades; by those of us who admire it sailing in the same place every summer; or by a kid who steps aboard and then years down the line achieves sailing dreams of his own.
Comments From an Owner
Last year we purchased Minnie, a 1969 Redline 41 Mk II. I've enjoyed her responsiveness at the helm and overall speed. Her traditional rig is straightforward and simple to sail. We are currently updating Minnie, and even though most systems are original they are functional. We are replacing batteries, halyards, sheets, seacocks, drains, wiring, hoses, etc. The hull is ½-inch solid fiberglass, with some additional coring added above the waterline towards the bow. Large frames support the 9,000-pound keel; bolts and washers are stainless steel and look perfect. The only issue we've found is rotted wood from a leaky seacock under the head sink and leaky mast boot. Her large wooden hatches have surprisingly not leaked. The hull-to-deck joint is solid  from what I can tell. There is a wood rubrail. Minnie has been repowered with a 4JH5E Yanmar. What  we like most about Minnie is her solid construction, low freeboard, and classic lines. She has a large cockpit with comfortable seating, huge ice box converted to refrigerator, and a Lake Michigan PHRF rating of 108. Our plans are to daysail, occasionally race, and family cruise.
—Frank and Lisa Cobb,  Muskegon, Michigan