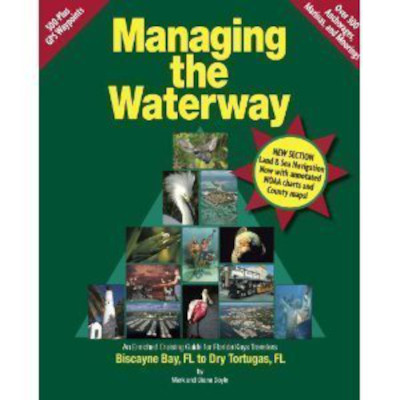 Mark and Diana Doyle, authors of Managing the Waterway: Biscayne Bay, FL to Dry Tortugas, FL, point out that no less than 882 islands make up the Florida Keys. There have probably been just as many cruising guides written about this alluring chain of islands, but this one offers a fresh, new approach.
Mark and Diana address the mariner's needs with their innovative "cruisers' triangle," a concept derived from the theories of famed psychologist, Abraham Maslow. Safety issues such as navigation, weather, and availability of anchorages and marinas are addressed first, at the bottom of the triangle. Comfort concerns, such as provisioning, follow at the next level as the triangle is ascended. Finally, tips on how to gain an appreciation of the locale through which you are sailing are detailed at the top of the triangle.
To achieve these objectives, Managing the Waterway employs an unconventional format. A rolling header across the top of each page lists pertinent navigational information, including the nearest Coast Guard station, the NOAA weather broadcast channel with the strongest signal, towboat operators in the proximity, and a synopsis of piloting details presented on the page. The outermost column of each page provides a highly detailed navigation log, designed to be followed from top to bottom by southbound voyagers, and bottom to top by those heading north.
The remaining columns satisfy the comfort and appreciation aspects of the cruisers' triangle, with precise directions to shoreside services including markets, chandleries, banks, post offices, and medical and veterinary clinics. Also included is a wealth of information about local historical sights, cultural events, and the native wildlife.
Throughout the text, small lightbulb icons annotate helpful tips. Some are regionally specific, such as cautions about anchoring near coral or sea-grass beds, while others offer general maintenance suggestions or product endorsements.
Over forty pages of NOAA chart reproductions, with overlays of navigation data, are mirrored by county land maps denoting useful shoreside amenities. To ensure this constantly changing material stays fresh, the publisher offers bi-annual e-mail updates.
Managing the Waterway is not an armchair book. It is an essential cockpit reference, which combines, in one easy-to-use guide, the necessary information required for safe passage, while also providing a fount of local knowledge often omitted from more traditional publications. This marriage of convenience is well-designed and certain to ensure a far richer experience cruising the Florida Keys.
Managing the Waterway: Biscayne Bay, FL to Dry Tortugas, Fl by Mark and Diana Doyle (Semi-local Publications, 2006; 220 pages)