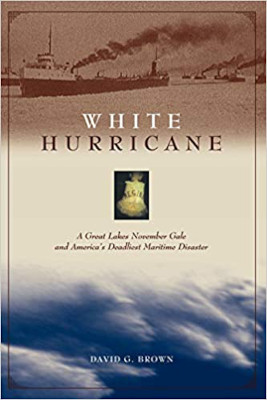 Beware of the gales of November. Those who sail the Great Lakes — especially Lake Superior — take that admonition seriously. Recreational boaters have the luxury of hauling boats out in October and tucking them away for the winter, then smugly checking the Great Lakes weather from warm homes. They congratulate themselves that they don't have to deal with 20-foot waves and gale-force winds. Commercial shipping doesn't have that luxury. These ships navigate until the upper lakes shut themselves down as ice chokes harbors, locks, and rivers. They face the gales of November year after year.
The first gale of the season came early in 1913, and his father's story of jumping from second-story windows into snow banks captured the imagination of David Brown. From an early age, he eagerly accumulated all the information he could find about that storm. This fascination culminated in a book published this year named White Hurricane, as the storm of November 1913 came to be called.
David dug into meteorological records of the day, and enlisted present-day meteorologists in reconstructing the storm as it unfolded over several days. In 1913 there was no knowledge of weather fronts or jet streams. Nationwide weather reports were collated by hand in a national weather map in Washington, D.C., and telegraphed for local weather offices to reconstruct.
The author uses old newspaper accounts to take us back to 1913 as he weaves a series of vignettes describing events on specific ships as the storm progressed day by day. It is confusing to follow the sequence on any single ship, but there is a great sense of storm continuity. Ships were not fitted with wireless radios so, other than warning flags, captains were left to their own devices. The reader is made to feel concern growing into terror as ship after ship is lost.
A dozen ships were lost in the White Hurricane. Probably 250 sailors died, and many more ships were driven aground as 90-mph winds built 35-foot waves. The reader is reminded of knowledge and inventions that have been gained since that time. We also learn of bureaucratic bungling and finger pointing in the storm's aftermath as shipowners, the weather bureau, and even Congress try to assign blame for the terrible loss of ships and life. Even the definition of a hurricane was questioned. Some things never change.
The author has given us a very readable account of the most devastating storm to hit Great Lakes shipping. He brings history to life in a book as readable as an adventure novel. The book is a very nice addition to any nautical library — but you will want to read it before it goes onto the shelf.
White Hurricane by David G. Brown (International Marine/Mcgraw-Hill, 231 pages)