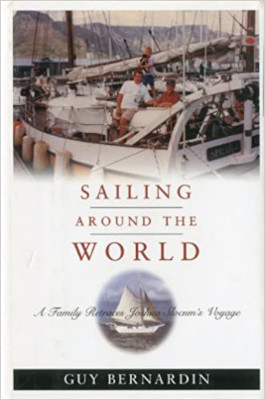 "Sailing a replica of Spray isn't as simple as it might seem, " writes Guy Bernardin. "I had to very quickly forget completely my years of racing, learning everything over again . . . It was a new style of sailing, a different philosophy. I had to discover it little by little, learn it, and absorb it, not without some bouts of temper."
Guy Bernardin purchased Spray of Saint-Briac in 1992 in Camden, Maine, and named her after Joshua Slocum's celebrated ship and the place in Brittany where Bernardin first learned to sail. He sailed her around the world in tribute to the legendary Slocum and to mark the centennial of his historic solo circumnavigation completed in 1898.
Guy didn't make the pilgrimage alone as Slocum had done 100 years earlier. Not that Guy, a bluewater sailing veteran who has participated in two OSTARs, two BOC Around Alone races, and the Vendee Globe single-handed race, lacked the credentials for such a challenge. But he took his wife, Annick, and their young son, Briac, as crew. Throughout the book, the reader witnesses a father's pride at watching Briac's development and emerging love of sailing and the sea.
There was more to this acquisition than honoring Joshua Slocum and commemorating the anniversary of his historic trip, however. Guy longed to learn whether this ship was everything the famous seafarer claimed. Although it took some time and patience to unlock the boat's mysteries and learn her ways, the French-American skipper quickly adjusted to Spray's peculiarities and found his answer. She more than lived up to Slocum's accolades.
He writes with glowing respect of the boat's beauty and sailing qualities, especially her ability to sail a course unattended for long periods of time. That was a characteristic that also impressed Slocum and actually enabled his single-handed journey in a time before windvane steering and autopilots.
The circumnavigation began and ended in Newport, Rhode Island. Departing in 1995, the Bernardins returned in 1998 just in time to be the centerpiece in festivities in Newport and Fairhaven marking the 100th anniversary of Slocum's original attainment. Although traveling more or less in the wake of the first Spray , the journey was more a paraphrase than a literal re-enactment.
Not exactly a page-tuner, Sailing Around the World is a well-written tale told warmly and winsomely by an unpretentious and unassuming sailing superstar. His admiration of Joshua Slocum is unmistakable and, in the spirit of the man he sought to honor, he made the journey look easy which, of course, we know it wasn't. You will enjoy this book, especially if you're a Joshua Slocum aficionado.
Sailing Around The World: A Family Retraces Joshua Slocum's Voyage by Guy Bernardin (Sheridan House Inc., 2002; 235 pages)