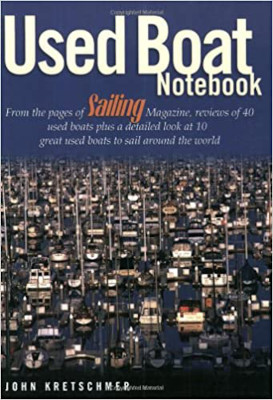 John Kretschmer has just published a new book of interest to good old boaters, Used Boat Notebook, offering 40 reviews of good old boats which have been published in Sailing magazine over the past six years and reviews of 10 more which he considers to be great bluewater cruisers.
John begins the list of 40 with a 23-footer, moves through many of our favorite 27- to 30-footers, and winds up with the Whitby 42. His list of 10 great used boats to sail around the world goes as small as the Camper Nicholson 35 and as large as the Gulfstar 50. The list of 10 bluewater cruisers averages more than 41 feet. Clearly there is some bias here.
John states: "The choices for the 10 Best reflect the changing nature of cruising. Boats are getting bigger. Recent surveys show that the average bluewater cruiser is more than 40 feet long. It is easy to conjure up the dream to sail around the world, and rather straightforward to put together a plan to accumulate the funds for the voyage. Choosing the right boat to head off into the blue unknown, however, can be most confusing. The task is easier if you have 20 years of hard-won experience and an unlimited budget. While this book won't offer investment advice to enhance your budget, it can hasten your exodus if you are willing to consider an affordable boat instead of waiting for that perfect, yet more expensive, boat."
In discussing the selection criteria, John notes that he's talking about fiberglass cruising sailboats and states, "Most sell for less than $100,000 and some even sell for less than $10,000. Naturally some of the boats larger than 40 feet and some of the higher-quality boats sell for more. The bulk of the reviews, however, examine boats in the 30- to 40-foot range, with prices falling from $30,000 to $70,000."
Since it's unreasonable to review a book of reviews, I'll instead list the boats covered. If you're interested in seeing John's review of one or several of these, this is a book for you. His sections in each review called "Things to look for," discussing possible problem areas, will be particularly valuable.
20- to 29-footers
O'Day 23, Stone Horse, Cal 25, MacGregor 25/26, Contessa 26, Tartan 27, Pearson Triton, Sabre 28, and S2 9.2.
30- to 34-footers
Catalina 30, Olson 30, Cape Dory 30, Nonsuch 30, Pearson 30, Gemini 3000, Island Packet 31, Allied Seawind II, Westsail 32, Ranger 33, Irwin Citation 34, and Beneteau First 345.
35- to 39-footers
Niagara 35, J/35, Bristol 35, Ericson 35-II, Islander 36, Columbia 36, Tartan 37, Tayana 37, Endeavour 37, Swan 38, Baltic 38 DP, Morgan 382, and C&C 39.
40- to 42-footers
Valiant 40, Cal 40, Hunter 40, Bermuda 40, Morgan Out Island 41, and Whitby 42.
10 great used boats to sail around the world
Camper Nicholson 35, Alberg 37, Shannon 38, Fast Passage 39, Beneteau First 38, Tayana 42, Mason 43, Peterson 44, Stevans-Hylas 47, and Gulfstar 50.
Used Boat Notebook by John Kretschmer (Sheridan House, 2002; 240 pages)