For this couple, one time around with a special boat just wasn't quite enough.
It had been a rather sad Christmas; my husband and I had not yet hit on a way to resolve some tensions between us, and the cat peed all over the presents under the tree. One gift survived the piddle attack: Tania Aebi's Maiden Voyage, which had just been published.
In the decades since, I've liked to say that Aebi's 1989 book was the impetus for my husband, Tom, and I setting sail soon after, and that's correct. But that story sidesteps what I then knew inside, that we wouldn't survive as a couple unless something came along to jolt us. Why not buy a boat and sail around the world?
Then my aunt died, leaving us enough money to do just that. We were young—I was 36, he was 43—and we could rejoin our careers or pick up something new when the money ran out.
The first item of business, of course, was to find a boat suitable for offshore cruising, and to do that we needed to know what to look for. I'd been inspired by Robin Lee Graham's Dove as a child; I followed his story in National Geographic, I knew about circumnavigating, and I knew that I wanted a strong sailing boat in the 30- to 35-foot range. We bought John Rousmaniere's Desirable and Undesirable Characteristics of Offshore Yachts and other books popularized by the 1980s cruising boom.
We didn't get very far until we called a yacht broker about a boat in Annapolis. Tom and I drove down in the morning, ate lunch in the parking lot listening to squawking seagulls, and watched a man whom we guessed was our broker eating his own lunch. He wore khakis and a blue button-down shirt and boat shoes, and we wrote him off, too slick.
But, he turned out to be a good guy, and once Todd learned about us and our cruising boat needs, he led us to a slip and showed us a boat that looked something like a Westsail 32, but with a squared-off transom. She was a Gale Force 34, and she would soon be ours.
The Gale Force (like the Westsail 32, Alajuela 38, Ingrid 38, and others) is inspired by the double-enders designed by Colin Archer in the late 1900s, deep, heavily ballasted boats with full bows and fine sterns built as rescue vessels for the stormy North Sea (critical considerations when there were no weather forecasts or distress signals for the fishing fleets). But unlike the Westsail, Alajuela, and Ingrid—all designed by William Atkin—the Gale Force 34 is a branch of this lineage.
In the early 1960s, John "Rex" Kaiser, a lawyer in Wilmington, Delaware, collaborated with Thomas Gillmer, a retired Naval Academy instructor and boat designer, on developing the 30-foot Allied Seawind, the first fiberglass sailboat to circumnavigate. The two then went their separate ways and Kaiser started building his own line of boats, all of which have long keels and heavy displacements, but with squared-off transoms instead of canoe sterns.
I fell in love with the boat when I looked down at her from the dock. She sat gently on her springs. Her broad bow platform (much more sensible than a bow sprit) pointed toward me. She looked like an offshore boat, and her classic interior, though dated, could be easily unscrewed in panels or pieces for hull access or repair. She had many of the desirable features that Rousmaniere listed and she wasn't highly personalized, giving us a chance to make her our own.
The sellers, Dick and Anne, were Kraken's original owners. They'd watched her being built at a Delaware Bay yard, and they were deeply attached to her. During the sea trial, Anne sat before the mast and cried.
I came to understand why they felt as they did after we bought her and began sailing. Kraken thrilled us. She was responsive, maneuverable, comfortable, and seakindly. We had a lot to get used to, as we'd never sailed anything remotely like her. It wasn't long before we were laying down the miles, not exactly circumnavigating, but enjoying cruising Florida, the Bahamas, and the Eastern Caribbean.
Two-and-a-half years after buying Kraken, we were cruising the Virgin Islands and running out of money. It was either sell t-shirts to tourists on the beach or join the migration of cruisers who return to the States to fatten up the cruising kitty more efficiently.
We left from Fajardo on Puerto Rico's east coast, sailed west over the top, dropped a penny into the 25,000-foot-deep Puerto Rico Trench, and motored on glassy blue seas under hot summer skies. Then came the clunk under the cockpit sole, the whine from the engine, and silence. Kraken slowed to a stop, and Tom climbed down to look.
"Two of the engine mounts are broken and the prop shaft's snapped," he called up.
We looked at each other. We talked. We drifted in our own world; not even the fishing boats that dogged us off the mouths of Puerto Rico's harbors sailed these waters.
When a breeze finally started up at daybreak, we sailed Kraken up the passage north of Hispaniola and then across the Caicos Bank. Eventually it blew us into the anchorage at Sapodilla Bay, and heads popped out of companionways, no doubt wondering who the showoffs were.
After fixing the mounts and replacing the prop shaft in Turks and Caicos, we continued to Florida. And, by the time we landed in Cape Canaveral, we were ready to get off the boat. Planning our cruise had been an intense and complex process that required we cooperate and share an eagerness. The adventure itself, taking place in close quarters and with regular doses of stress, could have torn us further apart. But while we often fussed at each other, the few years of boat ownership and cruising had healed our relationship.
Back in Annapolis, we heeded the pressures of bigger-boat-itis and sold Kraken. I was surprised by my reluctance to go on the sea trial and realized then what Anne had felt so many years before. Despite reminding each other that Kraken was too small, too heavy, and that her 9-foot tiller was awkward, we pined for her. Later, cruising again on a bigger boat, we saw her at anchor in the Bahamas. She was still beautiful.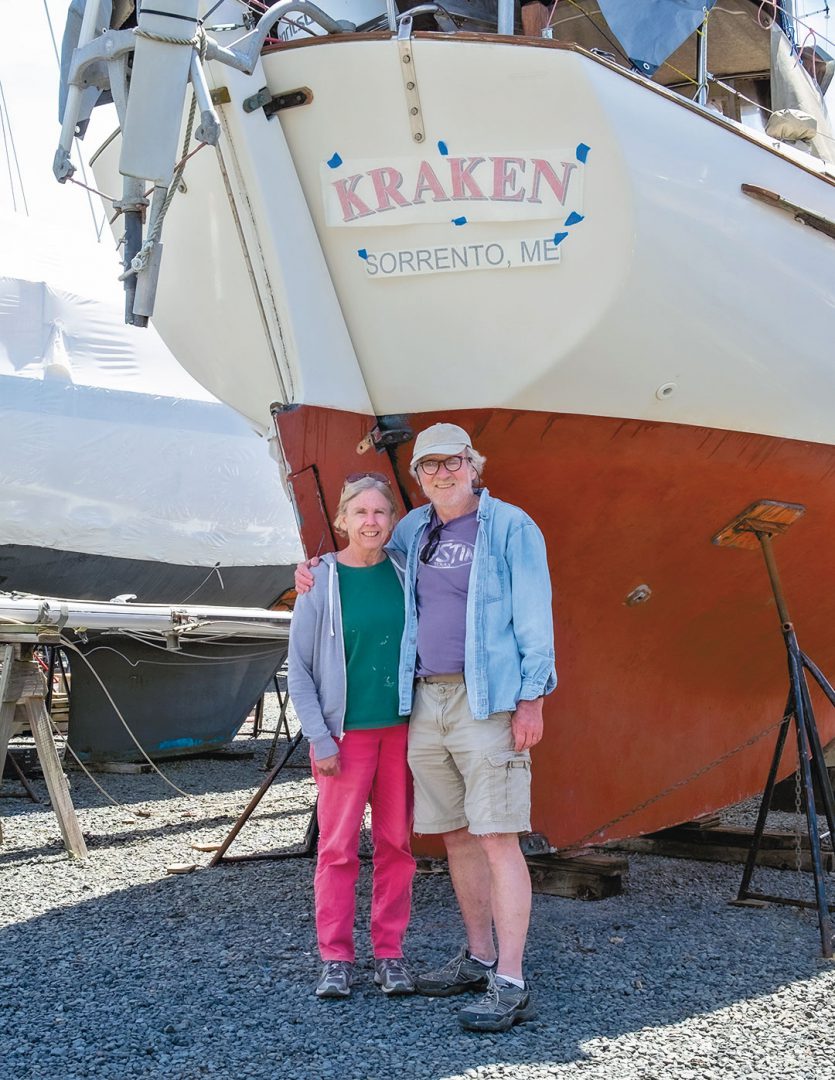 Last year, more than 20 years after we'd last seen her, Todd, the broker who sold us Kraken and who had since become our good friend, sent us a boat listing via email. "Isn't this your boat?" he wrote.
She was. And so we bought her again, this time from Canadian owners. We trucked her to New Jersey where, after a refit, we plan to get her sailing this year.
I've known a lot of sailors who've owned a lot of boats, but I haven't met anyone who bought back their first cruising boat. When we initially bought Kraken, we were looking for a second chance, and she delivered. This time, though our cruising goals are less ambitious, we're ready to leave land and get going again. And it feels fitting that Kraken is the one who's carrying us, full circle.
After a winter spent rebuilding the boat's soggy rudder, Ann Hoffner and her husband, photographer Tom Bailey, again launched their Kaiser Gale Force 34, Kraken. Along with freelance journalism, Ann has been a marine product and writing judge.