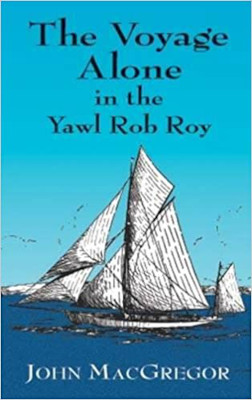 HISTORICAL REVIEW
Readers of this magazine generally agree on the virtues of small boats, modest budgets, and sailing trips that may start out less ambitious than Cape Horn voyages. Seamanship, simplicity, and self-reliance are the guiding principles; the Pardeys, Annie Hill, and Don Casey might be the guiding authors. But from where did the tradition of modest yachting begin? Salty workboats? The fiberglass revolution of the 1950s? The singlehanded lunatic fringe of the 1960s?
John MacGregor's yarn The Voyage Alone shows us that the tradition reaches back at least to the middle of the 19th century. MacGregor — also a mountain climber, founder of the Royal Canoe Club, and a full-time self-promoter — undertook a singlehanded pleasure cruise in his 21-foot yawl from the Thames across the English Channel, up the Seine to Paris, and back. It was 1867 and although all the other boats in each harbor were workboats, his cheerful, colorful story describes the same objectives and ideals of today's good old boater.
This coastal voyage offers a colorful snapshot of 19th-century coastal Europe. Fishwives haul him from a harbor, a bizarre array of power vessels tow him up rivers, and the captains of locks dally and drink. And some things apparently never change, as when MacGregor describes a beach town "just in the delicate stage of existence, when it has been found out and admired, but not yet spoilt."
In addition to the scenic vignettes, The Voyage Alone offers practical lessons and perspective on seamanship. The author offers minutely detailed descriptions of the layout, accommodations, stores, and rigging. He details daily reorganizations of the little ship for sailing, cooking or sleeping. We realize that our "modest" 30-footers are vastly more spacious than the Rob Roy (MacGregor, moving up from a canoe, finds the Rob Roy spacious). His practical seamanship is also instructive in reminding us that sailing doesn't always follow the clock. His opportunism in waiting for tides, willingness to kedge from difficult spots, tolerance for running aground and into piers, and patience in navigating without aids reminds us that cruising requires patience and improvisation as much as gear and crew.
The voyage of the Rob Roy is not the story of a voyage of a grand yacht, a crazed loner, or a crusty fisherman. It is the story of a seamanlike but leisurely pleasure cruise, written when yachting was still the exception, not the rule, on waterways. Two centuries ago, MacGregor was writing about the coastal passages most us will undertake: modest, usually stopping at night, and with amenities more like those of camping. Voyages like these are still the escape and challenge most of us seek today. The Voyage Alone is in print in paperback.
The Voyage Alone in the Yawl Rob Roy by John Macgregor (Dover Publications, 2001; 214 pages)