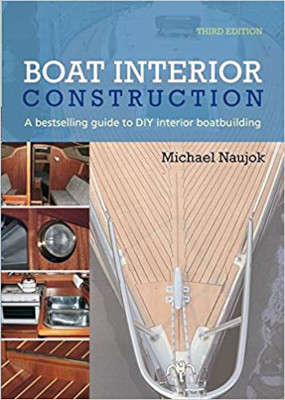 Have you dreamed of laying your own teak deck, installing a holding tank, or sprucing up your boat's interior with new vinyl headlining but lack the know-how to achieve these dreams? If so, Boat Interior Construction will certainly help.
Author Michael Naujok begins the book by cautioning readers not to do their own fitting out solely for the sake of saving money. He states that those who do ". . . won't even get as far as the launch before suffering shipwreck. However, if you see building the boat as a labor of love, you should make it to the slipway."
Naujok's love for boatwork is obvious as you thumb through the pages of this DIY book. Thirty-six chapters filled with step-by-step color photos help you understand the various projects the author undertakes, be it choosing the right boat or varnishing that new companionway ladder.
The book deals mostly with Naujok's personal journey of fitting out his Carl Beyer 33 sloop. One of my favorite parts of the book is the well-diagramed and photographed chapter on laying a teak deck. This should lessen the trepidation most of us have when undertaking a project of this size. Another aspect of the book that I appreciate is Naujok's constant attention to matching the wood's color and grain. This is one of those small, but important, details that is seldom dealt with in other texts on boat joinery.
The reader should be cautioned that this text was written in Europe where the metric system dominates, and boatbuilding practices differ somewhat from those here in North America. Furthermore, with 36 chapters packed into 176 pages, the book is bound to leave out a great deal of necessary information. It would be no surprise if the reader still hungers for more after completing the book. For example, the chapter titled "The Electrical System" is only four pages . . . hardly enough to describe the installation of a new electrical system.
As a stand-alone text on fitting out, I feel that most chapters lack the depth and detail the average boatbuilder needs to master the projects within it. It could certainly benefit from the use of a glossary of terms. However, as an adjunct to other books such as Boat Joinery, by Fred P. Bingham; This Old Boat, by Don Casey; and Upgrading the Cruising Sailboat, by Daniel Spurr, Boat Interior Construction would be a valuable addition to the do-it-yourselfer's library.
Boat Interior Construction by Michael Naujok (Sheridan House, 2nd Edition 2002; 176 pages)