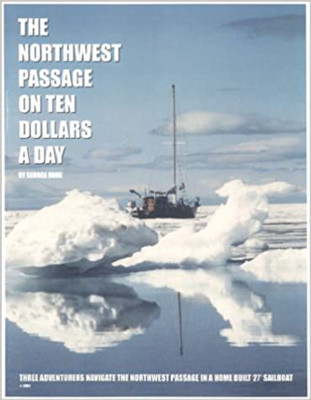 "Life is either a daring adventure or nothing at all." This is a famous Helen Keller quote and also the "why" behind George Hone's story of how he and two other men in a home-built boat, with no real sponsorship or support, became the fourth vessel to transit the Northwest Passage in a single season. The Northwest Passage is defined here as "a water route through the Arctic, north of the Canadian mainland, from the Atlantic Ocean on the east to the Pacific Ocean on the west."
Beginning with the dreams of two dockmates, the author carries the reader through this entire adventure from concept to design and fabrication of Dove III (a steel-hulled, 27-foot sloop with a 4-foot draft) to launch in Nanaimo, British Columbia, through many adventures to a successful conclusion in Pagnirtung, on Baffin Island. Although the author's description of ice conditions, villages visited, the landscape, and the seascape ar e revealing, they are not as vivid as I would have hoped for. Even though George Hone is obviously in awe of the harshness and variety of landscape, as well as the ice he encountered, I found it difficult, at best, to visualize what the crew must have seen and experienced. The artistic renderings are numerous and well done, but they are of such subjects as villages visited, the crew, and life on board, not the surroundings.
The Northwest Passage on Ten Dollars a Day would benefit from photographs or even more sketches of the ice flows, the tall cliffs of some areas and the barren bleakness of others. Hone's book would also benefit from better editing. There are typographical errors and incomplete sentences.
Though interesting and informative, I found the book to be written in the style of a daily diary or ship's log. There is such a story to tell here of excitement, of terror, and of tedium – the author truly hints at it all, but that is where it ends. The book reads like a cruising guide: it is not the type of book that you would stoke up the coals in the fireplace, sit back in your favorite easy chair, and open the cover to enjoy. If they were planning such an adventure, this might be a good book for the reference library. Otherwise, I would not recommend it to my fellow sailors.
The Northwest Passage on Ten Dollars a Day by George Hone (Nighthawk Marine Ltd.;2001; 138 pages)