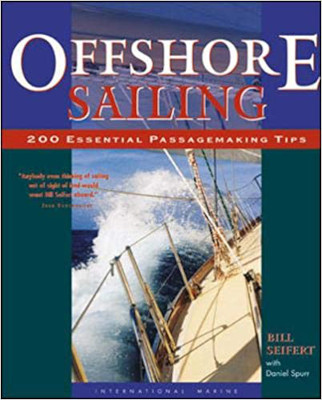 Part of the joy of sailing is messing about with our boats — all those little improvements that make sailing and living aboard easier, safer, and more fun. Having read a number of books containing hundreds of improvement tips, and just about everything written by the Dashews and Nigel Calder, I wasn't really expecting to encounter anything I hadn't seen when I opened Bill Seifert's new collection of tips, Offshore Sailing: 200 Essential Passagemaking Tips. But I was wrong. By the time I finished I had Post-Its on a dozen pages and at least six new projects on my to-do list.
The emphasis of this book is on setting up a boat for offshore passagemaking. So while you won't find advice on how to keep birds from pooping on your deck, you will learn interesting and effective ways to secure the deck and hatches. Like how to modify your dropboards to allow you to lock them while on deck or below (Tip #70). Or how to keep a jib sheet from getting wedged under the corner of the forward hatch by installing toilet bumpers on the hatch-frame corners (Tip #10 in the book and #3 on my to-do list). Or that cockpit speakers should be mounted inside Beckson deck plates so you can install the plates and seal the holes during foul weather. If you have hatches with reversible hinges, did you realize the easily removable hinge pins could be an invitation to thieves? Replacing the hatch pins with bicycle locks solves the problem (Tip #21).
In the chapter on rigs and sails there is a description of how to rig a flag halyard so you can hoist a radar reflector without having the side of the reflector chafe on the halyard (Tip #54). If your boom has tack hooks for mainsail reefing you will be interested in Tip #51, where Bill shows how to keep the hooks from snagging on the sail by covering the hooks with a loop of fuel line hose (also on my to-do list).
How many sailors have dutifully tied a softwood plug near each through-hull in case a fitting fails? The idea behind this is that the softwood plug will swell when wet, and provide a watertight seal after driven home. But if you store the plug near the fitting, where it will probably get wet, it can swell before being used. Better to store the plugs in a watertight bag (Tip #151). And finally, as every reader of Good Old Boat already knows, the way to secure the toilet seat and keep it firmly in place when used while underway is to screw chocks into the underside of the seat (Tip #79 and Good Old Boat, January 2001).
There are also chapters on boat design, safety gear, and suggested spare parts – all of which are good, but perhaps not as original as many of the tips, which are the real gems of the book. It will be a rare skipper indeed who doesn't come away from reading Offshore Sailing with a few new items for his own to-do list.
Offshore Sailing: 200 Essential Passagemaking Tips by Bill Seifert with Daniel Spurr (International Marine, 2002; 240 pages)