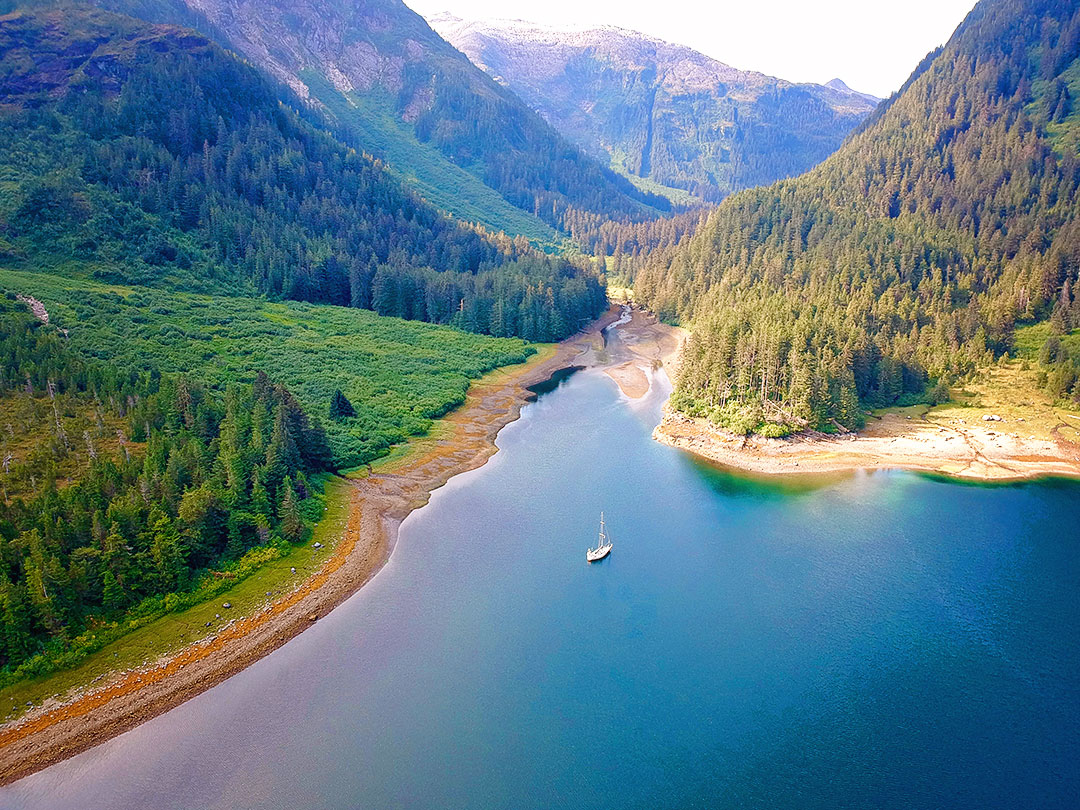 Baranof Island's wild beauty and singular towns open a summer-long journey through Southeast Alaska.
Two hundred miles from the nearest point of land, it's 11 p.m. on the summer solstice, and I'm peering out across the expansive Gulf of Alaska. To be smack in the middle of this storied and notorious body of water on the longest day of the year is stunning. All around our 1984 Grand Soleil 39, Yahtzee, the calm North Pacific Ocean is lit up like I've never seen before—light is slowly fading through soft shades of oranges, reds, and finally cool blues as midnight approaches. Throughout the night it never truly gets dark at this latitude. Instead, a dusky combination of lingering sun and moonlight lies gracefully on the horizon. The experience is almost like a dream.
We'd slipped Yahtzee's docklines two and half days earlier on Kodiak Island and pointed east on the 560-mile rhumb line toward Baranof Island with a planned landfall at Goddard Hot Springs near Sitka. Even in summer, weather windows to cross the gulf can be few and far between. But, having sailed the opposite direction from Sitka to Kodiak Island several years earlier, in 2017, we knew what we were getting into. When the opportunity to cross presents itself, you go.
Light winds were expected for several portions of the passage and, thus far, that's how it has panned out. We've been chugging along under power through most of the first couple days with rare patches of wind coming and going. It's frustrating, but we'll take it. Finally, a southerly breeze trickles in after the magical solstice show, and by midmorning we're shooting eastward at a pleasant 6 to 9 knots under our big blue spinnaker. All the while, Jill helps our boys Porter and Magnus with schoolwork in the cockpit, and we listen to music, read books, and tell jokes.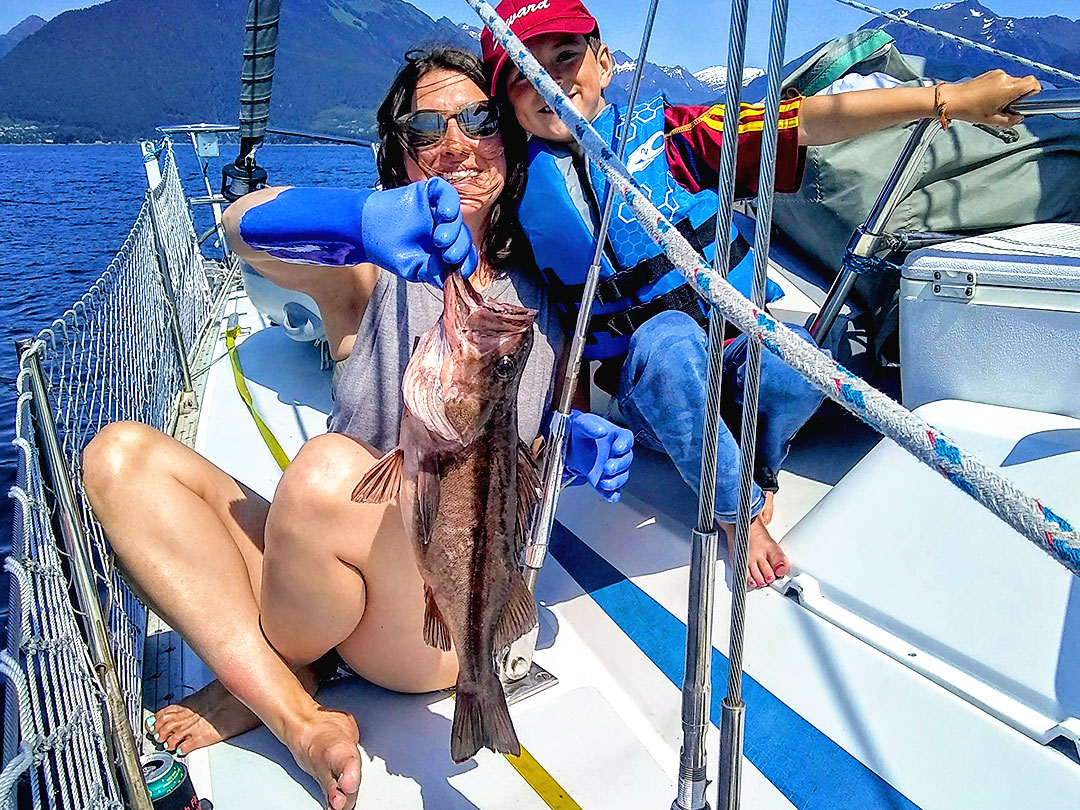 After 12 hours of gorgeous spinnaker sailing, the wind goes light again. Down comes the sail, on goes the engine, and we continue plodding eastward through another beautiful night at sea. Only light zephyrs appear until a bank of clouds arrives on the southern horizon. Sure enough, this is the wind we've needed, and Yahtzee gets hit with a 15- to 20-knot southeasterly that puts her into a close-hauled gallop.
Soon, heavy rain squalls pass over, and the seas quickly go from smooth to a sloppy chop that is, by all accounts, annoyingly uncomfortable. Fortunately, as night approaches, so does landfall. It's a mere 12 hours away, and we can almost feel our reward—soaking in hot springs and exploring one of our favorite places on earth, Baranof Island.
In the middle of the night, as if on cue, the wind makes an abrupt change from the southeast to southwest, and we ease the sheets for a long broad reach toward Sitka Sound. When the morning light filters through the dark clouds, a faint bit of volcanic Mount Edgecumbe becomes visible on the horizon and our excitement builds. On our approach to Goddard, our first landfall, the skies alternate between sun, clouds, and rain. And then, nearly four days to the minute after leaving Kodiak Island, we pick a spot off the beach in Hot Springs Bay and set the hook.
My last log entry of the passage gives the overall stats but most importantly conveys the mood: "564 miles, 95 hrs 55 min, 5.9 knots average (with a big smiley face written beside it). Back in Southeast Alaska and we're happy to be here. Time for a soak."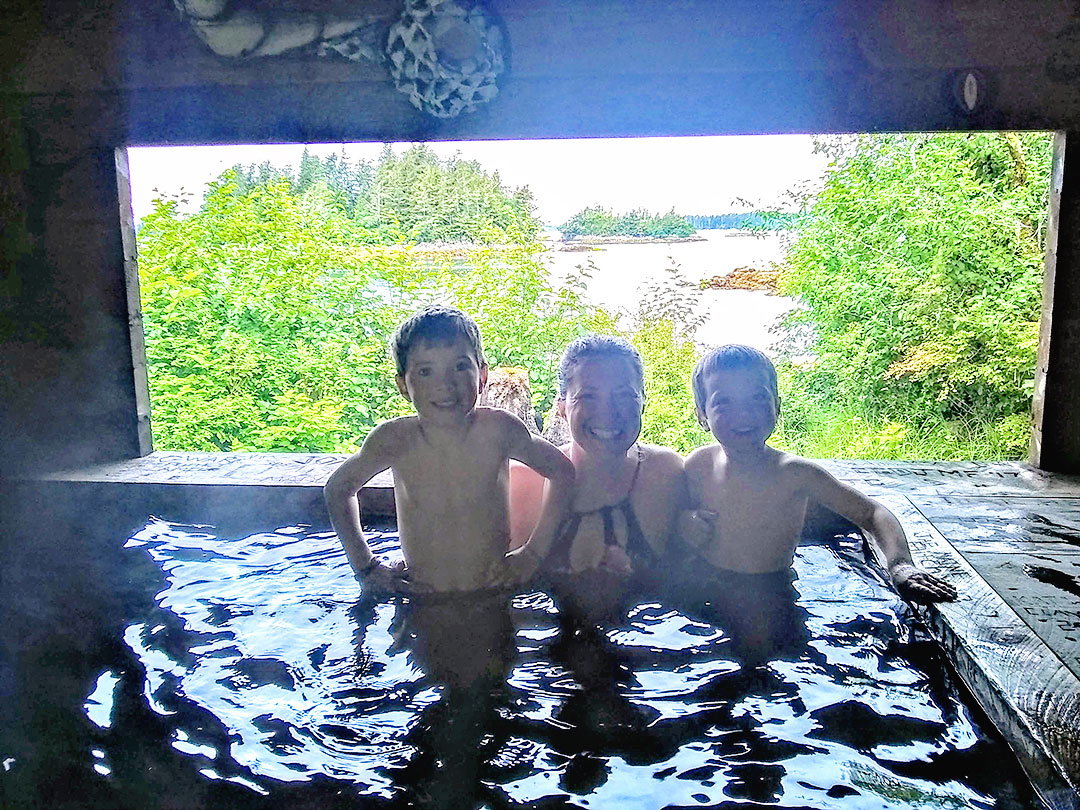 An embarrassment of riches, Baranof Island has dozens of incredible places to drop the hook, and Goddard is a perfect place to start. When the anchor is snubbed, I scramble to get the dinghy off the foredeck and switch Yahtzee from offshore to cruising mode. Our crew can't get ashore fast enough and the reward is sweet. Alternating between the beach at Goddard and two hot tubs that are plumbed with hot water from the springs, we bask in our new surroundings and hug friends from Arctic Monkey, a buddy boat.
With no pressing reason to be in Sitka anytime soon, we pass another day at the springs before moving over to nearby Kidney Cove to prolong the fun. Rain continues as we sail through a cluster of islands, and when we arrive, clouds cling to the green mountainsides hanging above the cove.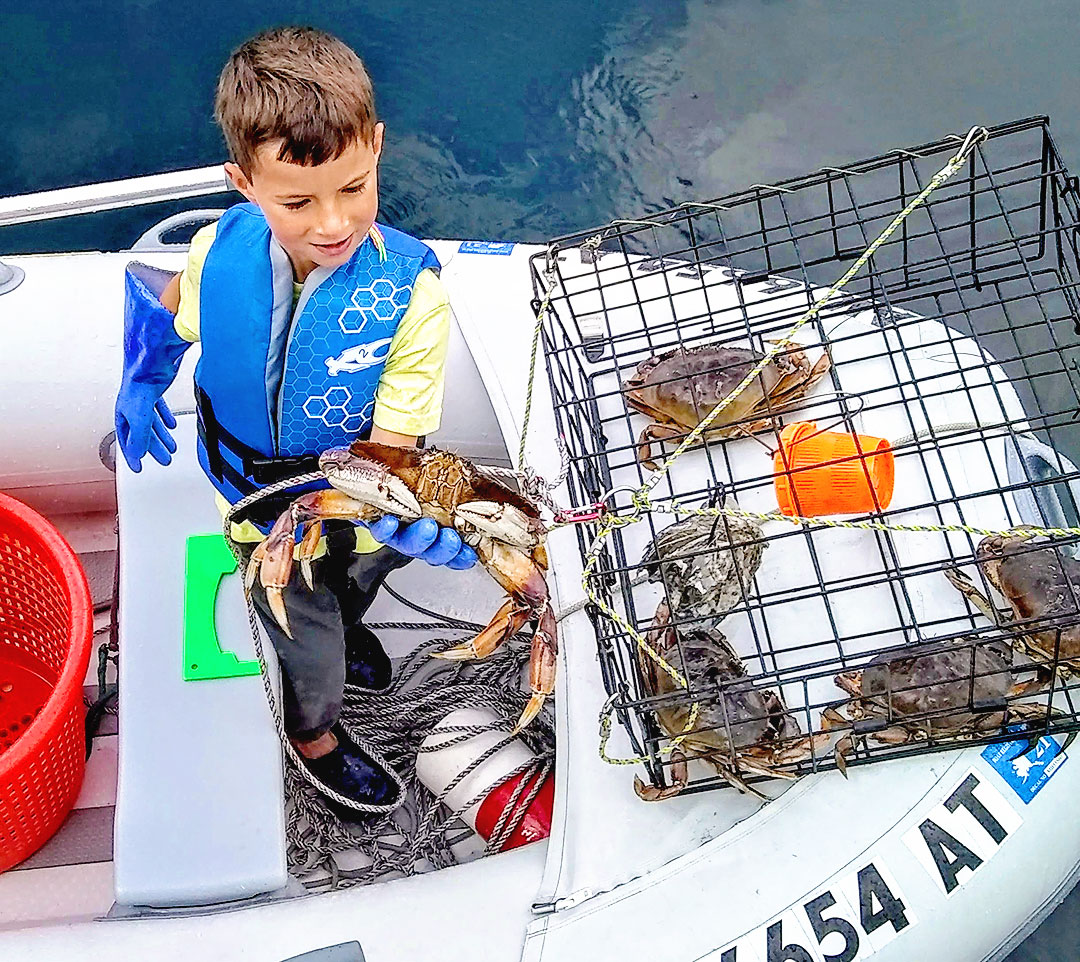 Southeast Alaska—or simply "Southeast" as it's called by Alaskan residents—is recognized for these breathtaking mountain views, abundant wildlife, countless islands, and scenic anchorages. It's also known by sailors and locals for its typically rainy weather, even in the summer. This particular season, though, we're about to get lucky.
While roasting hot dogs and marshmallows for s'mores over a beach fire later that evening, we watch as the once sedentary clouds start to move and then fracture to reveal a pale blue sky. This is the beginning of what turns out to be a gorgeous stretch of sunshine and warmth that lasts off and on throughout most of the summer.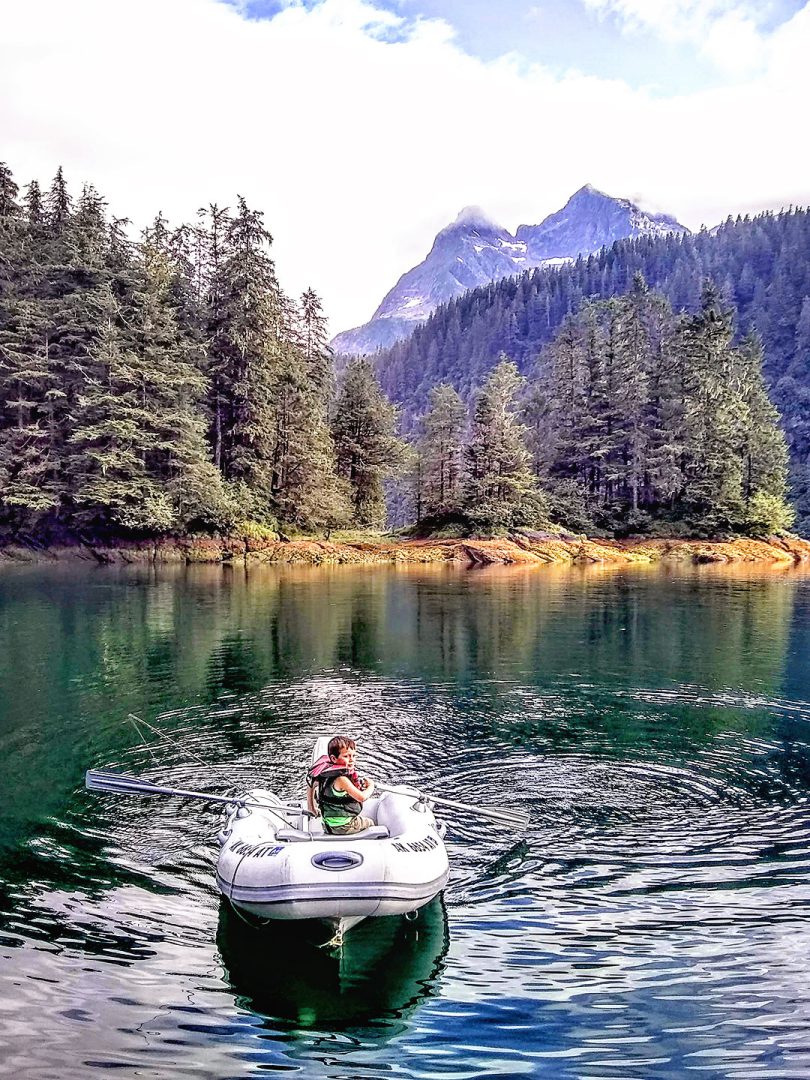 The following morning, we awake to brilliant sunshine and decide to move closer to Sitka and anchor in Leesoffskaia Bay. A long, shallow bay that snakes its way from west to east just a few miles south of Sitka, we find surprisingly warm water and a mid-70- degree day—hot by Southeast standards. Swimming, fishing, hiking, berry-picking, and beachcombing take up most of the next three days before we reluctantly peel ourselves away and make for the city to reprovision and get fuel.
Savoring Sitka
Pulling in through the harbor's northwestern breakwater, we can instantly feel the vibe of this quaint Alaskan city where mountains meet the sea. With sun gleaming off craggy, snow-capped peaks that seem to shoot straight up from the city's subdued skyline, and tall, green conifers growing thick underneath it all, there is something about this scene that instantly captures the senses. Truly, it is a special place.
One of our favorite aspects of cruising in Southeast Alaska is that for all the solitude and wilderness that we revel in, visiting the unique communities nestled among it all can be equally as rewarding. With a population of roughly 9,000 Alaskans, Sitka is on the larger end of these locales, which means an expanded selection of eateries, boating and fishing supplies, boutiques, and shoreside activities.
With Yahtzee snug into Eliason Harbor among the rustic and hearty North Pacific fishing fleet, we set about with a mix of chores and fun. The boys scurry onto the dock and are soon met by members of the Sitka Coast Guard Auxiliary who pass them coupons for free ice cream cones at McDonald's (yes, there's even a McDonald's here) for wearing their lifejackets. Given the warm day, that seems like an appropriate place to start.
With drippy ice cream cones in hand, we head downtown, which is a modest 10-minute walk. Along the way we find ourselves passing through a working waterfront where seafood processing facilities and marinas perfectly showcase the town's deep roots in the sea. Sitka's downtown is a quaint mix of storefronts, restaurants, parks, historic sites, and a beautiful library. All look out over the water or up at sweeping mountain views. The only thing that changes the complexion of its streets is when a throng of tourists descends from a cruise ship onto the city's sidewalks. But it's only a minor annoyance. After all, they're enjoying Southeast Alaska, too.
While the conveniences of the city are pleasant, we particularly enjoy exploring the beautiful Sitka National Historical Park and Castle Hill, the former site of old fortifications and the home of the first Russian governor. Sitka and Baranof Island are the ancestral home of the Tlingit people, who lived full and imaginative lives here for thousands of years until the Russians came in 1799 in search of more fur and forced them from their land, only to sell Alaska to the United States in 1867.
The town was later a hub for those seeking fortune in the Alaska Gold Rush. Storyboards throughout the park illustrate the fascinating history of the area, and we also use the space to enjoy the stunning views and burn off some of the kids' energy. Another popular attraction in Sitka is the Raptor Center, a rehabilitation facility for eagles, hawks, and owls.
Though we're enjoying the town, our crew is also excited for the next part of our voyage. The plan is to round the top of Baranof Island to explore some favorite spots and discover others. Indeed, being larger than the state of Maine, Southeast is so big that you can't see it all in one summer. Not anticipating another stop in port for several weeks, we change the engine oil, fully stock the fridge and cupboards, buy extra fishing gear, and top up on fuel and water.
Baranof Found
On our list of haunts from 2017 that we want to revisit are Appleton Cove on the north side of the island and then Baranof Warm Springs, Red Bluff Bay, and Gut Bay on the east side.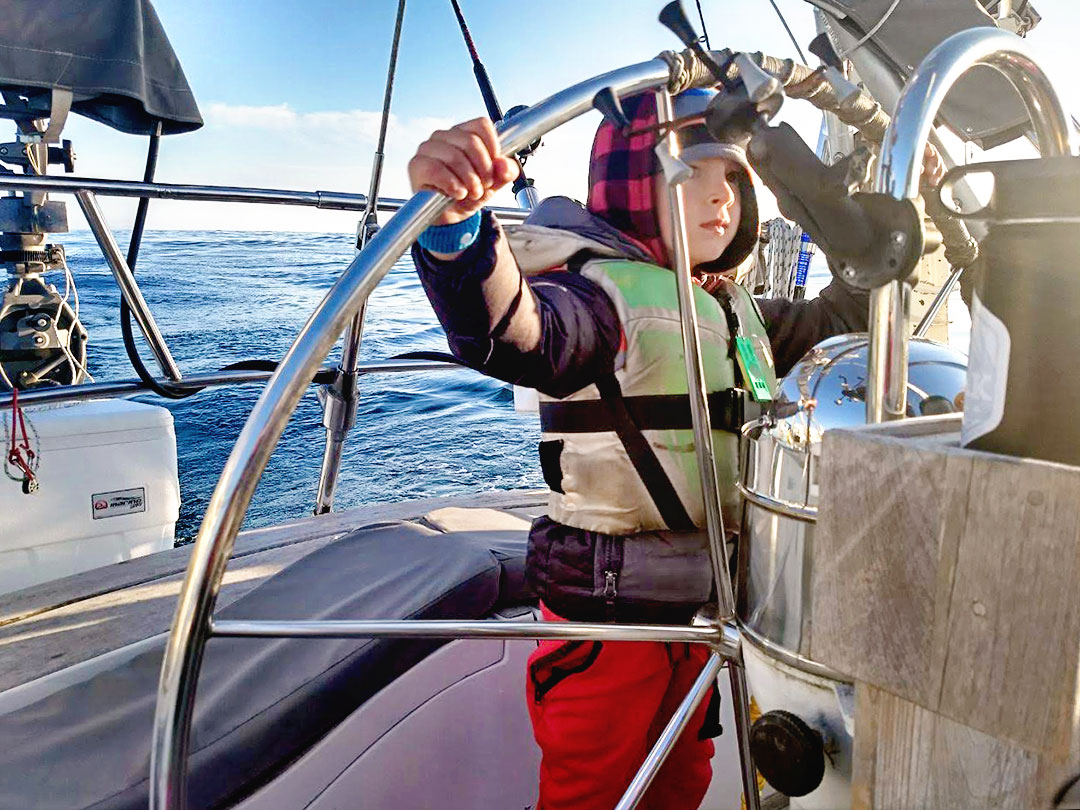 While rounding the top of Baranof Island, we happen upon a brown bear swimming across a narrow expanse of Peril Strait. I don't know who is more surprised by the encounter, us or the bear. Brown bears are native to Baranof and the neighboring islands of Chichagof and Admiralty. We prefer to view them from the safety of our boat and do so often. But when we venture ashore, we take precautions such as being loud and carrying bear spray and/or a flare. Should we accidentally encounter a bear closeup, our plan—which most experts prescribe—is to fight the urge to run and to talk to the bear calmly. Easier said than done, I suppose.
Soon after the (thankfully distant) bear encounter, we watch humpback whales feed close to shore and drop the hook in nearby Appleton Cove. A known hotspot for Dungeness crab, we bait our crab trap with the remains of a decent-sized ling cod, and Porter catches nine monster crabs that keep us fed for days.
Pulling ourselves away from Appleton, we sail into Chatham Strait toward one of our favorite places in all of Alaska, the glorious hot springs at Warm Springs Bay. Chatham is a relatively narrow, 150-mile-long body of water that extends from the junction of Icy Strait and Lynn Canal, in the north, all the way to the Pacific Ocean in the south. It can be notoriously boisterous, but on this day it's quiet, with puffs of breeze working down from the north. Shortly after turning into the strait, we come across more whales—a female orca with what appear to be two calves, and a pod of humpbacks.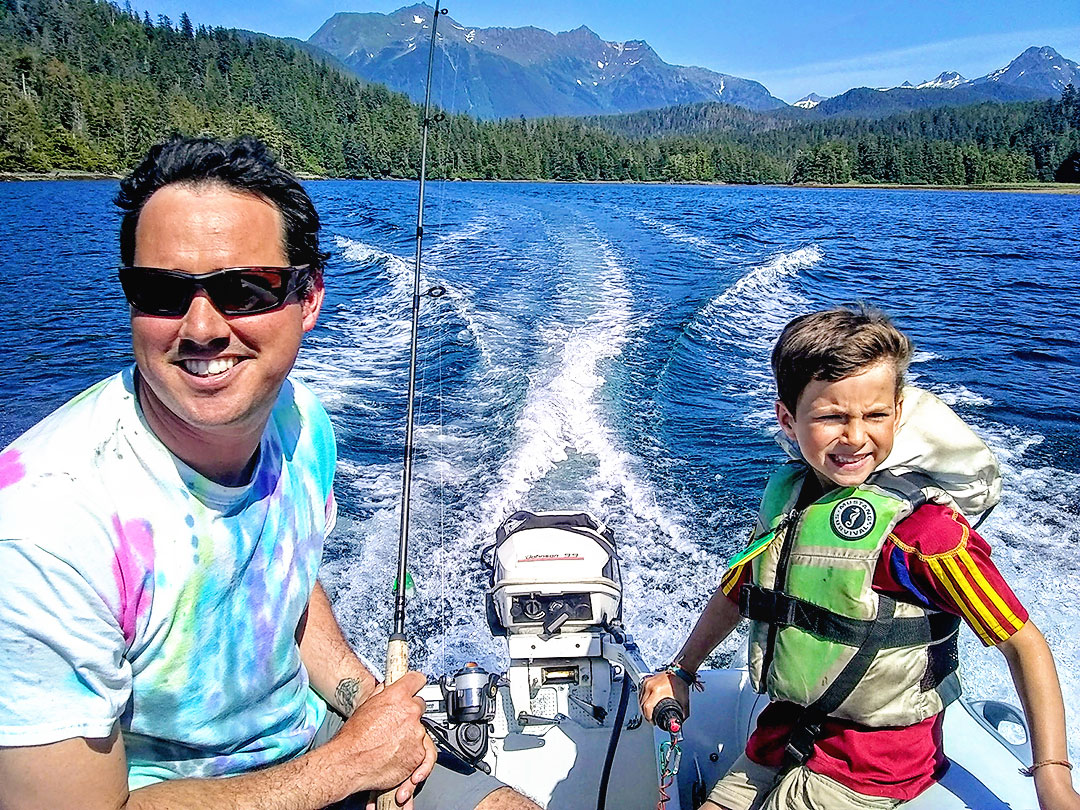 As we move south, a public bathhouse and natural pools at Baranof Warm Springs sing their siren song. These are our main preoccupations once Yahtzee is tied up at the free dock where we plan on spending the night. But there's fishing ashore as well, next to a nearby waterfall or by climbing up to a picturesque alpine lake. It's hard to fathom that the hustle and bustle of Sitka is only 15 miles from here as the crow flies. Yet, because of Baranof's mountainous interior, there is no road connecting us.
Later that evening, I push the window curtain aside in the bathhouse, look out to my right, and take a few seconds to watch the massive waterfall tumble into the bay. To my left, Yahtzee sits at the dock with a mishmash of other cruising boats and rugged Alaskan fishing craft. Behind me, hot spring water is filling a tub, and as I reach down to test its temperature, I can't help but crack a wry smile. Baranof Warm Springs is one of our most cherished stops, and it's so good to be here again.
After one final morning soak with sunshine filling the bay, we finally pull ourselves away from the hot springs and meander south toward Red Bluff Bay and Gut Bay, our final stops on Baranof Island before crossing Chatham Strait. Only 10 miles apart, Red Bluff and Gut weave directly into the mountainous heart of the island with 2,000- to 4,000-foot peaks and glaciers hanging above. Steep rock walls grace the sides of the inlets until the few anchoring spots reveal themselves. We get a strong sense of the true pristine wilderness we're in and try hard to hang on to every experience we're having together.
In Gut Bay, we are anchored to the west of a tall mountain peak rising vertically from sea level; the sun is up but not quite extending all the way to Yahtzee. Rowing toward a sun-splashed beach, we soon feel the warm rays and scurry ashore to bask in the morning light.
With the tide nearly 15 feet out, the beach is basically a massive science laboratory for us to explore. Crabs, clams, mussels, urchin, limpets, sea stars, and more fill the tidal zone, while four species of salmon jump just feet from shore. Above the high-tide line, a grassy meadow of verdant greens stretches toward the base of a mountain and a trickle of cold spring water snakes its way down through tall conifers and past huge boulders. I climb atop a particularly flat one and scan the meadow for brown bears before sitting down, stretching my arms overhead, and letting the warm sun hit my face. Perfection.
This is our last stop on Baranof, and our landfall from Kodiak Island seems like it was a year ago, not a month. Now, with a limited amount of time left in Southeast Alaska before summer ends, I start to envision the next few weeks ahead. While I don't like to think too far forward while cruising, it's inevitable—and bittersweet. We have more places to see in this breathtaking place but, until then, I decide I'll just enjoy this moment. 
Andy Cross is exploring the western Pacific coastline, from Alaska to Panama, with his family aboard Yahtzee, their 1984 Grand Soleil 39. He is the editor of 48˚ North magazine and former managing editor at Blue Water Sailing magazine.