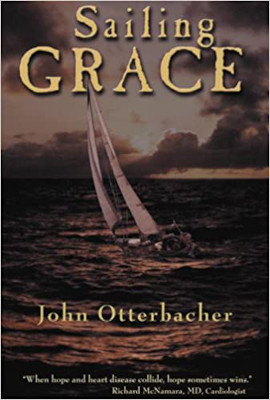 Extended worldwide ocean cruising is a dream of many sailors. Yet a very small percentage of sailors ever turn their dreams into reality. Lack of money, busy jobs, limited time, the inability to adequately prepare for such a venture, concerns over safety and other obstacles, real and/or self-imposed, get in the way. The dream just fades away.
Meet John Otterbacher, a Michigan clinical psychologist, state representative, later a senator, sailor, and owner of Grace — a 50-foot Bill Tripp-designed cutter-rigged ocean cruiser. John, his wife Barbara, and their three children return from a 16-month cruise on the Great Lakes with the burning desire to go "out-there" again, ' . . . only for a longer time."  Two years into the planning and preparation phase of their cruise, John is working out on a Stairmaster when he experiences the pressure on an elephant stepping on the center of his chest. A rush trip to the hospital, angioplasty, and a diagnosis of severe coronary heart disease changes John's live forever.
Sailing Grace is the story of a courageous man, with either an unbelievably strong will or incredible stubborn streak, and a love of sailing. Eighteen months before they are scheduled to leave on their ocean cruise, John and his wife confront his life-altering illness head-on. The first half of his book is an open, brutally honest discussion of how a formerly healthy man faces a life-threatening illness, and what his illness means to him, his wife and children. The surprise in this book is when John and his wife, decide to continue with their plans and take the entire family cruising on the world's oceans.
This is a well-written book and a pleasure to read. The author has an engaging style of writing that enables the reader to identify with the very real crisis occurring in his life. The actual sailing that is undertaken in the book only happens in the second half and is somewhat limited. This is not a book about sailing; it is about the dream of world cruising, and keeping that dream alive. After finishing the book, the reader can follow the sailing adventures of John and his family through their website at http://www.sailing-grace.com. Having recently encountered my own life-altering illness, this book was an inspiration to me.
Sailing Grace by John Otterbacher(Samadhi Press, 2007, 254 pages)