Electrified
Last month, I put it to the readers about electric propulsion in sailboats—I wanted your take, and I got it. As a whole, there are strong feelings and a strong desire for information.
I hinted that we're planning a future issue of Good Old Boat centered around the topic. Don't hold me to it, but that's looking like our May 2021 issue. Seems like a long time away, but I'm working now on the January 2021 issue, so it's practically around the corner. I appreciate all the perspectives and info we received from this query.
I'm going to give Adam Cove the first word, he shares some practical information…
—Michael Robertson, Editor
***
Ben-Varrey, our '69 Luders 33, has been running on electric auxiliary propulsion for the last two years. It's a 10kw inboard system that is a combination of our own ingenuity and some help from a few equipment manufacturers. Prior to that, we were engineless for three years and used a sculling oar to maneuver when the wind evaded us. We're on a mooring when we aren't out exploring, so shore power isn't an option. Our battery bank for the engine is topped up by renewables: solar and wind. We love the clean concept and enjoy not carrying any diesel or gasoline on board. We row the hard dinghy. So, none is needed there either. It is enjoyable exercise, keeps us connected to the ocean in a way that is tough to explain, and allows for peaceful transport for us (and any neighbors).
Just like anything on a boat, electric propulsion carries some tradeoffs. To make it work, you need to have the right mindset (or a very large battery bank that can be easily recharged). We never need to stop our voyaging to refuel or deal with fuel spills or leaks. The energy that we use is generated cleanly through our environment…borrowed to give back later. The instant torque of electric motors is impressive, which makes maneuvering far superior to using any fossil-fueled alternative. Maintenance is practically non-existent and the boat always smells clean (including the cockpit when powering downwind). We're sailors though. And, again, we were engineless for years. So, this was an upgrade to have some level of power. We drop and weigh anchor under sail and maneuver through tight passages under just canvas. We rarely use the electric motor. This out of preference. However, we also recognize that if our preference changed, we would be limited in how much we could use it anyway. The power density of diesel or gasoline far exceeds that of any battery technology that we have today. Even if we did have a massive electrical storage capacity, we would still need to recharge it. While our solar panels and wind generator work hard for us, their output is limited. We could add more, but that eventually hits limits too. We maintain a balance that works well in an area that is infrequently becalmed.
Electric propulsion isn't yet for everyone. We'd recommend it to those that truly enjoy sailing and have no problem ditching a hard schedule. Alternatively, it is a great platform for anyone that day sails and returns to a dock with shore power. I anticipate that all boats will go electric soon, but with a generator to compliment any renewable systems. The versatility of this type of system is hard to resist and has existed on the commercial marine side for some time. It is worth reviewing if repowering.
We still have our sculling oar on board and even pull it out occasionally when our wind dances are unsuccessful. It is better to enjoy the journey and stay in tune with the ocean. We keep extra food stores on board and let any obstacles just become part of the adventure.
—Adam Cove, CEO, Edson International
We made the switch a while ago on our good old Alberg 30. We did it in 2012, while in Halifax, Nova Scotia, and put it to the test on our late summer trip up the St. Lawrence on our way home to Toronto the following year. The challenges we faced were mostly of our own making.
We chose the easiest way to convert, purchasing a system from Electric Yacht. Why reinvent the wheel? We love our electric motor. Economical to charge, far less maintenance, and quiet!
—Margaret Mair, Into the Blue, Alberg 30
We bought our latest boat, Minerva, in May 2020 and have spent the last couple of months going through all her systems carefully; the first major upgrade was the electrical system. The diesel engine is original and has over 7000 hours on it, but it was serviced recently and still purrs like a kitten. However, when it's time to replace it we will definitely be considering making the switch to an all-electric propulsion system. Every upgrade we make now bears that in mind and so we continue to choose our materials carefully with an eye towards the next round of power improvements. The diesel tankage on this boat is significant and I'm fairly sure with the space I save there I might actually have room for a real freezer or perhaps (gulp, dare I hope?) even an air conditioner.
However, it's working well for now, and the longer we can keep it running as it is the more efficient the solar, wind, and batteries become, so when we are ready to make the switch we'll buy into the latest and greatest technology. For now, we maintain, watch, and wait.
—Shawna & Lance Smith, Minerva, Amel Maramu #135
For me, gotta stick with diesel. We do most of our sailing offshore, distance cruising.
Have watched Uma and others do their conversion, [in the end] they talked about having one hour's worth of range in their elaborate setup. I'd be afraid of being 'out there' with no wind and no battery left. Love my diesel engine. Electric engines are for toy boats on small ponds.
—Brad Brenner, Tartan 37, Southwest Florida
As much as I would love to go electric, the range problem would be impossible for me. I keep my boat on a mooring when stored, and at anchor when cruising, and I have many times had to motor hundreds of miles to get someplace in calm weather. My 38-footer carries about 115 gallons of diesel, so I can go a long way. I've done the ICW probably 30 times. Been to South America and back. Frankly, I don't see how electric will work for most sailors, unless they are daysailers/weekenders and keep their boats in marinas. And even if they do, the per-slip monthly cost of electricity (110-volt) in the marina near me is $600; that would buy a lot of diesel. Here in New England most of us can't keep our boats in marinas—way too expensive, assuming we could find a slip to rent.
—John Kettlewell, Vineyard Haven, Massachusetts, 1978 Finnsailer 38 motorsailer
On an emotional level I love the idea of electric propulsion, the freedom of the evil stinking beast that lurks in the bowels of the boat and terrifies me with thoughts of imminent failure and all that goes with it (although to be fair my 1983 Yanmar 3GM has been 100% reliable with a minimum of love and attention, and now I've offended it. Damn).
Pros:
cleaner
quiet
more reliable/less difficult to work on (I'm more comfortable with electrons than fuel injectors)
Cons:
For someone who uses their boat for harbor jaunts and uses the motor to get out to the start line of the race, probably a workable solution. Keep it in a marina and plug it in daily. But if the wind isn't cooperating and one has to motor for 8 hours the electric system is a no-go. So one would need a generator, which is less efficient, more $$, and more space.
—Graham Collins, Secret Plans
One of the criteria for the next boat will be that it have an electric auxiliary. I feel the tech is already good enough, with generator back-up, solar panels, and regenerating prop, and it will only get better and cheaper. It is called an auxiliary for a reason, otherwise get a trawler and sniff the poison. I've been watching this area for the past 3 years and it's incredible how fast things are changing. Right now, I'm bottom-fishing for a solid bluewater center-cockpit cruiser with a spent diesel. Will swap it out in my spare time and know the system before I take off. I look forward to Good Old Boat reporting on the status of available electric propulsion options, as well as the community that evolves out of this new technology.
—Steve Lerner, Boston, Massachusetts
As a sustainable energy engineer, it was an easy decision: In 2012, I replaced the original Atomic 4 in my 1976 Ranger 33 with an electric motor. The A4 was still working fine, but I used very little gasoline and thus got tired of dealing with fuel growing old in the tank and guessing how much I needed. I was motivated and felt able to research, plan, and perform the repower.
Being much simpler, the electric motor requires nearly no maintenance. When I planned the conversion, my boat lived on a mooring. So, for recharging power, I installed a bimini covered in solar panels. Now that I am on a dock, I rarely plug in because the solar panels' automatic charging/refueling is sufficient. The boat smells better and is very quiet when motoring. I appreciate that the single lever for throttle and forward and reverse with a neutral detente makes docking simpler and calmer. The prop is the biggest source of inefficiency in most sailboat drivetrains, so upgrading is necessary for reasonable range. I switched to a bigger prop with more blades and more surface area. Because the electric motor allows the prop to spin very slowly, it screws through the water instead of drags, reducing drag a bit.
Range is a consideration. For my boat, on Lake Champlain, a short range is perfectly compatible with how I use the motor. It's more appropriate than firing up the old engine to run for less than 5 minutes. That was not a good situation for the gasoline engine, but the electric motor doesn't mind. I'd be concerned if I sailed in a river, or narrow tidal area. My boat can motor at about 2 knots using just the amps produced by the solar panels on an average sunny midday in Vermont. That's better than nothing when becalmed, and further south (or with newer solar panels) a little extra speed could probably be had without drawing from the batteries.
—Damon Lane, Stray Cats, Burlington, Vermont
I would absolutely go for an electric-auxillary sailboat. In fact, I'm shopping for a good old boat now, one with either no engine or an engine that's shot, with the intention of installing an electric auxillary.
I commute 50 miles a day (pre-COVID-19) in a 2019 Chevy Volt and have used just over 60 gallons of fuel to drive over 15,000 miles. It has an 8-gallon gas tank for when I want to drive hundreds of miles and only have to worry about finding a gas station. I'd go for anything even remotely comparable in a boat (understanding that I'm not expecting to use the boat's motor much beyond getting in and out of the marina or to beat a sudden storm back to safety) and would hope to be able to keep it going with a solar panel recharger or shore power.
I think the market is there and hope the manufacturers are paying attention.
—Barry D. Yatt, Arlington, Virginia
I would ditch my diesel for electric if I could afford to do so. Most of my engine use is limited to short duration when there is no wind. A wind generator and a solar panel or two would likely provide all the power I would need to keep things topped up.
—Jeff Nelson, Muir Caileaq, C&C 30, Armdale Yacht Club
I am considering the conversion to all-electric. The price of LiFePO4 cells has declined to the point where the math makes sense if your diesel is on its last legs. Currently, a DIY 48V 400 AH ( 19.2 KW) pack will cost $5800 USD. Electric motor, controller, wiring, mount bracket, reduction gear costs approx. $3200 USD. Add labor. Subtract selling used diesel engine and/or parts.
PROS:
Far less maintenance
Instant power available without having to start a diesel first (great for emergency maneuvers)
Instant torque (great for boat handling in a marina)
Quiet
Far less vibration
No diesel fumes
No oil in the bilge
Frees up space in the engine compartment
Reduces overall weight of the vessel
Possible power regeneration if sailing over 5 knots
LiFePO4 chemistry is relatively safe (Due to their comparatively volatile chemistry, I wouldn't recommend higher-energy-density used electric vehicle cells)
CONS:
Range! Depends on your use case.
You lose the feeling of pride when the diesel engine finally starts after spending hours and $$ fixing it.
The heavier the boat the power requirements grow exponentially.
Reduces the resale price. Best done to a fully depreciated boat.
For me, the pros outweigh the cons.
—Rick Naus
I am interested in articles on electric motors. I still have a 50-year-old 2-stroke O/B for my 24-footer, but I have investigated electric motors and their batteries in the past. Depending on cost, this option may be the future replacement for my O/B. In my opinion, electrics will begin replacing the gas O/Bs first. I hope you address this subject because in terms of content, I think Good Old Boat tends to concentrate too much on bigger boats.
—Tim Baetz, Midland, Ontario
My boat lives on a mooring so shore-power charging of a battery-powered system is out of the question. Also, the gasoline cost for the occasional need to maneuver under power is truly negligible; especially compared to the cost of buying and maintaining a solar battery-charging system. The only significant motivation to replace my old, extremely reliable 2-cycle outboard is that of water pollution.
—Paul Goldan, Pearson 26 on Colorado lakes
I've owned my 1979 Bristol 32, Sapphire, since 1991. When it came time to repower in 2006, I considered switching to electric, but ultimately decided that the technology was not sufficiently advanced at that time. I installed a 25-h.p. Beta diesel.
Last year I decided to buy a boat to race in the local Friday night PHRF races. I tracked down a 1983 Tartan 10 that had been sitting on the hard in Chicago for 5 years. The boat had a Universal diesel that was raw-water cooled, and I would be moving the boat to the brackish waters of the Chesapeake Bay. I didn't like the idea of operating a diesel without a heat exchanger on the Bay. I was also concerned about the state of an engine and fuel system on a boat that had been sitting for 5 years. Moreover, I would only be racing the boat locally; it would not be used for cruising. So, I pulled the diesel and replaced it with a 10-kilowatt electric motor from Electric Yacht Co.
Once the diesel, fuel tank, and old plumbing were out of the boat, installation of the motor was straightforward, especially because the motor weighs only 65 pounds. No new motor mounts were required; it bolted directly on the existing beds. It's a 48-volt system, so we needed to install 4 batteries to run the motor. My marina fabricated a new battery box, installed the throttle and key switch, wired and installed the special, 48-volt battery charger, connected the motor to the prop shaft (after installing a new Shaft Seal), and we were in business.
I'm sold on electric power for the way I am using this boat. The Tartan 10 moves well in light air, so we get the sails up as soon as we leave the marina. I don't run the motor more than about 15 minutes each outing. I connect and run the charger about once every three weeks, and the batteries fully charge within an hour or two. I don't have to worry about warming up the motor, I don't have to buy (or worry about not using) fuel, and there are no oil or fuel filters to worry about.
In my view, if you keep your boat at a dock with access to electric power and use the boat for day sailing or the occasional overnight, electric power is the way to go.
—Arthur Dent, Wilmington, Delaware
I am looking forward to your stories on electric propulsion. I am in the process of removing a diesel from my boat, a King's Cruiser 29. I understand that giving up the superfluous range that a diesel provides is disturbing to many. As a day-sailor it is not much of a concern. For me, the scales tip in favor of electric because I give up smell, noise, and vibration.
Some questions I hope to see addressed are: What size electric replacement motor relative to original diesel? How slowly can I turn the prop? What is a simple DIY and what cost can I expect? Can I charge batteries with a small gas generator?
—Don Riley, Ceridwen, 1971 King's Cruiser 29, Owen Sound, Ontario
We are new to cruising and have had only a single experience with electric propulsion. At 11:00 p.m. in a quiet anchorage, the boat next to us turned on their diesel engine. We mistakenly assumed it would be for an hour or so to recharge their batteries and were not concerned. They ran their engine all night and the sound came right through the hull and into our berth. Earplugs helped, but the vibration and rumble was still heard and a peaceful nights rest for everyone in the anchorage was not possible. At about 8:00 a.m. they packed up, turned off their diesel motor, and electrically motored quietly away for a lovely day (for them) on the water.
I will stick with my regular diesel propulsion if that is what can be expected from electric propulsion. The peace and quiet, especially in the evenings and through the night is one of cruising's great pleasures. It is clear that some with electric propulsion do not care about ruining the peace and quiet for cruisers anchored nearby. I am afraid that electric propulsion may ruin cruising for us.
—Monica Thomas, Mariposa II, 1984 Union 36, Calgary, Alberta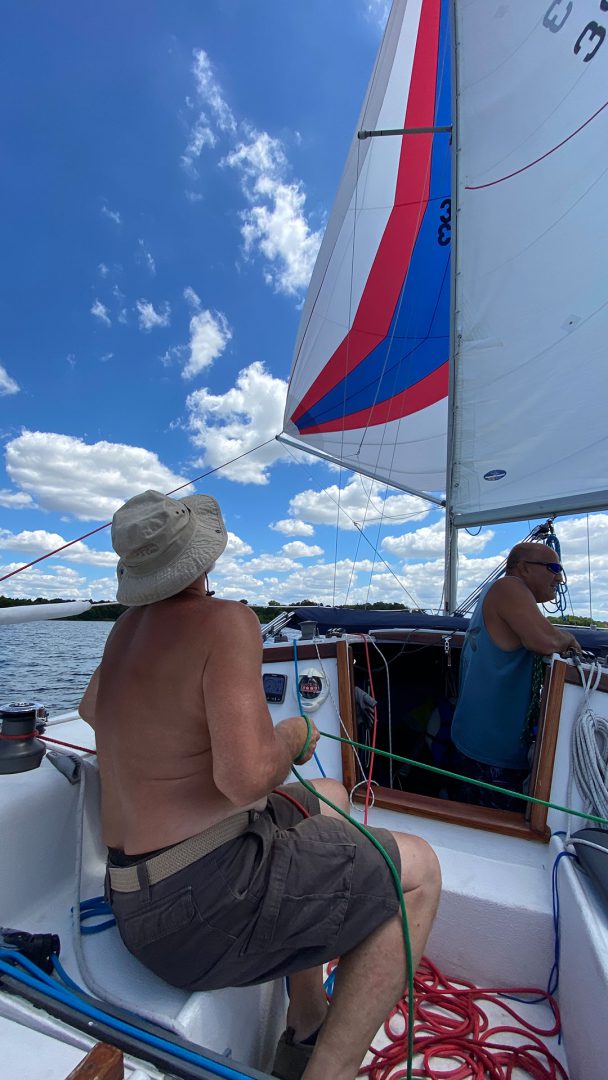 We have a Capri 25. After my heart attack, I couldn't reach over the transom to engage forward or reverse on the gas-powered outboard, so we upgraded to have an electric start and remote shifter.
That added 40 pounds to the transom weight and I had to add a spring to the motor mount so that I could raise and lower the motor. It was still very difficult to manage, so I sold it all and replaced it with a Torqeedo Travel long-shaft electric outboard motor.
We were very happy with the electric propulsion, but I learned that I do not want to run full-throttle for prolonged periods. Thus, we always carry a spare charged battery so that if I get distracted and run out of power, we can still get in.
We have looked at larger boats for sale, boats with bad engines, thinking we could retrofit with electric drivetrain and battery bank with a charging system. We believe the change would be good and the system reliable. We look forward to learning more.
—Randy Thomson, Location, 1983 Catalina Capri 25, Indianapolis Indiana
I wouldn't rip out a working diesel engine, but if I was re-powering, I'd prefer electric because solar and wind technologies have become practical, along with good battery tech. I'd love never having to buy fossil fuel again.
—Chris Griffin, Shearwater, 1989 Ericson 38-200
Its not that electric propulsion is not a fine idea, because it is, but we cruise full time aboard our Bristol 29.9 and we don't begin to have the space for a sufficient number of batteries. Our 16-hp Beta diesel with a 70-amp alternator and two 100-watt solar panels, keeps our two Group 31 firefly carbon foam batteries happily charged for our cruising needs. There are days we need to power into head winds all day long, and my concern is that an electric auxillary wouldn't allow for that prolonged use.
—Jeff Boneham, Pegu Club
I am considering electric propulsion. I know what a diesel can do and why people need one, and why people don't need or want one. I don't have an existing inboard and so would have to run a shaft through the hull to install an electric auxillary, which is slowing me down. It would be informative if you reported on Thunderstruckmotors, as they are a practical choice of electric drives. Not a black-box affair. A major consideration installers face with and an electric drive is choosing transmission, reduction, or direct drive.
—Denis Roux, O'Day 23, North Shore, Massachusetts
My Balboa 20 has electric propulsion. I bought a 55-pounds-of-thrust trolling motor and rigged a deep-discharge battery to power it. It works just fine. I use it to maneuver in the marina, mostly. One day I went out in somewhat heavy winds, coming right off the harbor. After beating (and beating, and beating) in close, I dropped the sails, crossed my fingers, and headed into the wind under auxiliary power. It worked just fine, bringing me through the pass with no problems.
I have a small digital voltmeter on a fused circuit with a table that gives the remaining capacity of the battery in terms of voltage. My big worry is running the battery down too far and having no backup. I should buy another battery for relief, or possibly a small generator.
—Chas. Hague, Des Plaines, Illinois
Long ago, I lived aboard an old Pearson Triton with an awful atomic 4. I toyed with going with an electric drive, even got a 48V system and solar installed. Things changed and I ended up on a homestead on the prairie before I could finish. I ended up going totally off grid on our farm for power and was it an eye opener. I would have never been able to produce enough power to keep the batteries up on the boat and barring some major advances in technology, the required bank would have to be too big to fit in the hull without taking too much space. You're either going to be tied completely to marinas or have to carry a decent sized genset that will be running all the time. Lithium would maybe be up to it ($$$), lead-acid no way. We now have a boat with a diesel and I really don't think an electric drive could come close to its range and reliability.
—Ron Johnson, Aquarius 23, Binford, North Dakota
I'd consider electric power if my primary usage was local, such as in the river outside my house, or maybe for a short coastal trip. The other obvious application would be docking and/or maneuvering through an anchorage. I think it would be absolutely necessary to have a conventional fossil-fuel backup, there's just no assurance that a charging facility would be available if you were gunkholing up and down the coast.
I've long been tempted to experiment with installing an electric drive in a small solo kayak. I don't see this happening any time soon.
—Pete Heinlein, Mathews, Virginia
I had an early electric motor in my previous sailboat, and I loved it! The availability of a better boat made me sell that one. And since this one has a good diesel, I won't be switching any time soon. But yes, I'd go back in a heartbeat, give an unlimited budget. It's less noisy. It's less maintenance. And it's more green.
A few things I would change, though. I didn't have an unlimited budget before, so I went cheap on the batteries. Most of the time, the engine was just to get me out of the slip and out of the channel, then I'd sail. But the smaller batteries were an issue if I got into trouble and needed the extra motor time. I'd also have solar panels that would free me from having to plug in to charge.
—Anne Racel, Down Home Blues, 1996 Sun Odyssey
I would love all-electric, with a solar and wind charging system.
—Jim Reeves, Hunter 26, Havelock, North Carolina
I looked into going electric in 2011, when I was looking to repower. I was exploring a hybrid system of some type, to accommodate our type of sailing. Sailing the Gulf Islands and points north along the British Columbia coast requires the ability to power distances on windless days. I contemplated a small diesel genset and an electric drive unit. The genset would live under the v-berth and the electric drive unit and battery bank would live in the existing engine room. The theory was that for getting in and out of anchorages or docks the electric drive and batteries would suffice. For those days when distance had to be covered without any wind, the genset would fire up. It would also charge the battery bank.
At that time there was a pioneering electrical company in Seattle advertising marine drives. The engineer I spoke to said that what I envisioned was exactly what they were creating, but not in the size I was looking for. Their systems were for larger boats and they hadn't scaled down to a size that would fit a 30-foot sailboat. And the cost would be prohibitive! Somewhere around $ 25,000 to $ 30,000 for the motor, controller, batteries, and genset to match. I ended up going with the Beta on a saildrive (which I'm very happy with!). But a part-time electric drive would be perfect! For the number of times I use the engine just to get away from the dock for a day sail, or while out cruising, the house batteries would be more than sufficient to do that task. The genset would never get started, saving a lot of wear and tear on the engine. I just logged 48 days on the water during which I sailed for more than 70% of the time. If I discount the time used to get to or away from docks and tight anchorages, that number would be closer to 80%. For me, a hybrid system would be very successful! But I can't see a purely electrical system working sufficiently for our type of environment/sailing. Unless you only go day sailing and plug in every evening, you'll run out of power long before your destination is achieved. I've read articles on such installations in local sailing magazines, as well as having seen actual electric conversions, but I have yet to see or hear of successful, long term, experience with a electric-only setup.
Looking at what technology advances have produced since 2011, I think a hybrid system is probably now very feasible. Unfortunately, I think the costs would still be prohibitive. But it sure would be tempting!
—Bert Vermeer, Natasha, Sidney, British Columbia
I am very interested in the concept and intend to seriously research adapting it to and installing it on my good old boat (Pearson Vanguard, family-owned since 1967). So far, I see the following potential pros, cons, and questions:
Pros:
Eliminate liquid fuel on the boat, with accompanying fumes, diesel fungus, need to get fuel, etc.,
Many fewer moving parts, particularly high-precision parts such as diesel injectors. No transmission. Less maintenance. Potentially more reliable.
Quieter.
Simpler and faster to start.
Adds capacity for conveniences such as a small microwave, in-cabin cooling fans, and hot-water heater, but see Con #1.
Potential Cons/Questions:
Fuel capacity: I haven't fully researched this, but it seems pretty evident that the size, weight, and cost of enough battery power to match even 5 gallons of diesel may be prohibitive. Running at 4-1/2 knots in calm water with a clean bottom and clean propeller, I use about a quart of diesel an hour. I cruise on the Chesapeake Bay and generally put up the sails if there is any wind, but there are times when "We have to get there" and end up motoring all day in zero wind.
Torque: A diesel produces a lot of torque, which can be very important for safety when facing a strong headwind and waves in a tight spot. From my work experience, I know there are electric motors that can match this torque, but, relating back to Con #1, using that torque may drain the battery very quickly.
Electrical hazard from high amperage with water all around. This is controllable, but must be carefully addressed with relatively new system designs.
Time required to refuel: Unless there is some technology I don't know about, it will take longer to recharge a battery than to fill a fuel tank, but how much longer?
Method of and reliability of recharging system. I will consider a generator, but having one on board eliminates most of the pros.
No longer can heat water with the engine cooling system.
Other Questions:
If there is a malfunction, will the batteries give off explosive or poisonous gas? If so, how will this be controlled?
Will the batteries give off excessive heat? If so, how will this be controlled?
Will freezing in the winter damage the batteries?
Will the batteries be affected by the motion of the boat in heavy seas?
A sailboat under sail is the equivalent of an electric car going downhill, and may be able to generate some electricity without significantly slowing the boat. Is this feasible?
What type of variable-speed electric motors are available. Will any rpm reduction be needed to optimize torque while minimizing current draw?
I am sure there are many other questions/details to consider. As with all power systems such as this, whether it is diesel, gas, or electric, any one weak or poor-quality part can render the whole system useless. "The Devil is in the details."
—Peter Hickok, Contessa, Pearson Vanguard (hull #1), Maryland
I love the idea of electric propulsion: quiet, vibration-free, fume-free, low maintenance. What's not to like? Well, recharging the batteries. I'm not overly concerned about range, I tend to motor only as a last resort, but without access to shore power, how long will it take solar panels to recharge the batteries? I don't have room for 20 acres of panels. I'm not interested in a genset (if I'm going to have a gas/diesel burning engine aboard, why mess with the electric stuff?). For now, it's much simpler, cheaper, and less-space-consuming to stick with diesel propulsion.
—Gord Phillips, Lord's Cove, New Brunswick
I am not aware that an electric propulsion unit would offer adequate range for cruising. As much as I resent Old Stinky, if I must motor for 12 hours, it is up to the task. When electric unit range is better, I will reconsider.
—Randall Walford, Swell Skimmer, Saltspring Island, British Columbia
If it had the solar panels and batteries to keep it going.
—Robert Pleasanton
My new-to-me Montgomery 17 came with a small Honda outboard. I have no plans to launch my boat with that outboard attached to her stern.
While many people speak of "range anxiety" I have "start anxiety." The new Torqeedo outboard I plan to launch with needs only a twist of the handle to spin the prop up and produce thrust. This will relieve my anxiety as I transit New Jersey's ocean inlets, which are best described as challenging. (My home port's inlet has so many shifting bars that the Coast Guard cannot keep track of them to add or move markers.) I know that I will not find myself in a bad spot and fighting with a cantankerous engine hanging off the stern.
As a sailor, I am used to going slow, I do not need full-time full-throttle like many of my powerboating friends. I need just enough speed for steerage and forward momentum, happily trading speed for range. The 1103 has plenty of range at slow and half speed to get me anywhere I need to be. If on occasion I need full speed to overcome the tide, I do not see myself taking 45 minutes to traverse any of the inlets I normally would encounter. With speed not an issue, even longer runs—such as the C&D canal—can be motored safely with this quiet little outboard.
Quiet is the other thing. I have very sensitive ears and as a sailor I am not accustomed to the constant drone of an engine, this is one of the reasons I also bought a battery-powered lawnmower, I love the sound of silence. The fact that both the Torqeedo and the lawnmower are as green as my local powerplant allows, is just icing on the cake. Nobody will miss the smell of unburnt hydrocarbons carried forwards by a breeze across the stern.
—Art Haberland, Montgomery 17, #406