CAN OVERBOARD!
The American Sailing Association (ASA) published an informative and interesting piece on their site that addresses this scenario:
"You crack open a cold one after a long day of sailing. Your buddy Jim finishes his first beer (rather quickly) and tosses the can overboard. When prodded about the environment, he confidently responds, 'It's just metal, it will break down naturally.' A debate starts, and you want it to stop so you can enjoy the sunset and your beverage in peace. Does Jim have a point?"
Find out on the ASA website.
---
SURVIVING ON THE WATER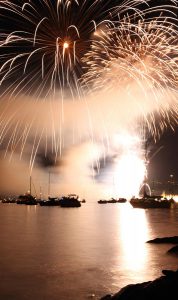 According to BoatUS, the July 4 weekend is the busiest for recreational boating. Hopefully you and your family and friends enjoyed a sail. While July 4, 2019 is gone, it seems appropriate to review these safety tips for next year, and for any day you're out on the water. There are only seven of them, so take the time to read them:
Boaters will host thousands of guests aboard their vessels this holiday period – many with no boating experience. Before you head out, give a short orientation to guests, not only about essential items, such as how to move about a moving vessel (with one hand always connected to the boat) or how use the head, but also show them how easy it is to use the VHF radio and safety gear, especially life jackets.
For that unexpected young guest without a life jacket, the non-profit BoatUS Foundation's free Kids Life Jacket Loaner program gives boaters a chance to borrow child-size life jackets for the day, afternoon, or weekend. Nearly 600 locations across the U.S. ensure that there's a location near you.
Don't overload the boat. Be careful about adding extra passengers, coolers, and gear, especially with small vessels that are more prone to swamping. It's also important to keep everyone in the boat and avoid allowing passengers to ride or sit anywhere other than designated places while underway. Riding with legs over the side or on gunnels and seat backs is considered unsafe operation.
According to the U.S. Coast Guard, alcohol use is the leading known contributing factor in fatal boating accidents. Wait to celebrate with alcohol until after you've safely returned to homeport for the night. Added to the effects of sun, wind and waves, alcohol lowers situational awareness and slows reaction times.
After viewing fireworks from the water and pulling up anchor, you may have the urge to rush home. Don't. Slow down. Opt out of taking that tricky, shallow shortcut home. Be cautious and patient – especially at the launch ramp – and the odds for a safe return home increase.
Avoid the two biggest mistakes. The TowBoatUS on-water towing fleet reports that battery jumps, as a result of running music or other accessories all day, and anchor-line entanglements that occur at crowded fireworks show anchorages, are common requests for on-water assistance over the holiday. Monitor your battery drain, go slow while hauling anchor line, and be super vigilant so you don't run over someone else's anchor line after the fireworks show ends. As a backstop, boaters can prepare for the holiday period by downloading the free BoatUS App to summon on-water assistance. Purchasing a BoatUS Unlimited Towing Membership before the holiday begins could save you from a hefty towing bill.
The more lookouts you have aboard at night, the better. However, after dark, white lights in the cockpit or on deck can interfere with your crew's night vision and their ability to see boating traffic or hazards. Turn off or dim the lighting, especially if using a cell phone, or consider using only red helm or accessory lights on the boat. Portable LED headlamps with red lenses can help your crew get around the boat and preserve their sight for spotting traffic.
---
HAVE YOU READ THIS FAR?
It's not too soon to be talking about the 50th annual US Sailboat Show in Annapolis (or as we say it, the Annapolis boat show). We're talking about it. We're getting ready for it. This will be at least the 20th year that we've been at the show. Won't you stop by and say hello?
If you've read this far, I have a special message for you.
Just you.
Stop by the Good Old Boat booth in person, say hello, and renew or purchase a 3-year subscription to Good Old Boat magazine. You'll get a free hat or shirt for sure, but I know myself. I know that I will be so pleased with your commitment to Good Old Boat that I will almost certainly be moved to reach into the cooler behind our counter and hand you a free, ice-cold ale from my personal stash — and one for your partner if they're there with you. Try me. I'll be waiting for you. October 10, 11, 12, 13, or 14.
---
NAUTICAL TRIVIA
You've probably heard the term limey to refer to a Brit, yeah? (We've got our own limey on the Good Old Boat masthead, the venerable Jeremy McGeary, our senior editor.) Apparently, limey was at one time used to refer only to British sailors, not British people in general. And the reason for that? Well, before scurvy was completely understood, but when sailors were being treated for it prophylactically, successfully, every nation's navy had their own approach. The British navy issued lime juice to sailors. Hence, limeys.
---