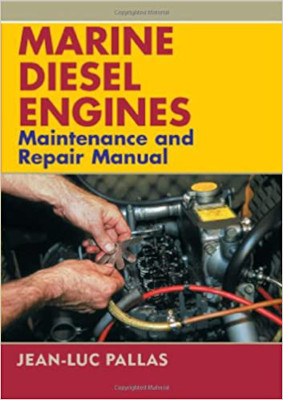 In this lavishly illustrated volume, Jean-Luc Pallas, professor of Recreational Marine Mechanics at La Rochelle Technical College in France, has produced what I would regard as a "must-read" reference for owners whose boats have diesel auxiliary propulsion systems. I say this from the perspective of one who has owned sailboats for 70 years and who now (after an academic career) runs a small-scale solo business repairing sailboats on Chesapeake Bay.
Replete with diagrams, drawings, and photographs, this volume is suitable for owners who do serious maintenance work themselves and also for those who farm out this work but who need to be well informed.
The volume begins with a section on theory: diesel operation, fuel and air supplies, lubrication, cooling, propulsion, and electrical systems and includes many explanatory diagrams, graphs, and explanations of how things work.
Theoretical matter is followed with a thorough section on maintenance, including schedules, tools needed, and a listing of multiple tasks within the ability of any reasonably adept diesel owner. Information is included on batteries, stuffing boxes, and shaft seals in addition to maintenance guidance for the engine itself. This section, too, is profusely and usefully illustrated. Though the pictures may not be of a particular owner's engine, the basic operations are clearly shown. The wise diesel owner will also invest in manuals for her/his specific engine model to supplement this general guide. Generally, factory repair manuals can be purchased to supplement the basic, but often minimal, information provided with engines installed by boatbuilders.
For the more skilled and/or adventurous do-it-yourself owners, there follows an excellent repair section, with pictures of typical operations ranging from valve adjustment to engine rebuilding and replacement. Much of this may be beyond the ken of most owners — but being well informed can avoid misunderstanding and unnecessary expense when dealing with mechanics and boatyards.
A section on breakdowns includes an extensive table of symptoms and solutions and is followed with an excellent essay on winterizing, then restarting a diesel engine after winter storage.
There is much meat here. The price seems quite reasonable for such a useful compendium of information.
Marine Diesel Engines: Maintenance and Repair Manual by Jean-Luc Pallas (Sheridan House, Inc., 2006; 208 pages)