Moving On
Hello Michael and Good Old Boat team! We take our responsibility to live lightly on the planet seriously. Whether living off-grid on land or cruising on our Alberg 30, eco-values drive our decisions. On my recent trek to the mailbox, I reached in expectantly—fabric samples for a new dodger and bimini should have arrived by now—and felt only glossy pages, likely junk mail. Disappointment that my winter sewing project would be further delayed turned to delight when I realized that Good Old Boat had arrived. Not only is it our favourite magazine, but it had travelled to us in its naked state. No more wasteful plastic packaging!
—Shirley Jones, North Bay, Ontario
Thank you for the note, Shirley, and the winter-appropriate photo from January 2020. We made the deliberate decision to eliminate the plastic, accepting that it would mean individually replacing a tiny percentage of magazines that are damaged in transit, and we're happy you and others are pleased, but we have to acknowledge that many readers are equally displeased, and theirs is a fair position too. We're in a bit of a no-win situation, but that's the reality. We will move forward, continuing to produce the sailing magazine we want to read, confident enough other sailors feel the same way. —Michael Robertson, Editor
Quick Takes
Last month, I put it to readers about how you came to sail. I told you my story, in 25 words ("Attracted to the idea of living aboard a sailboat, I taught myself to sail, aboard the boat I bought to liveaboard, a 1980 Newport 27.") and invited you to tell me yours, using up to 50 words. (Many of you stuck to the 25 words of my example.) I hope you enjoy reading all of them as much as I did.
I promised a Good Old Boat hat or shirt to the submission I feature first. This month, I'm going to give Erik Filkorn the first word…
—Michael Robertson, Editor
***
Marching back and forth and getting yelled at in the parking lot of the launch ramp in my Sea Cadet uniform, I look over, past the docks, where the Sea Explorers were actually sailing. I changed sides.
—Erik Filkorn, Aylwin, 1985 Ericson 32-3, Lake Champlain
I bought a 22-foot Sunchaser swing keel, lying in a snowbank during a Minnesota winter. I learned to rig on the first warm zero-wind day.
—Lee Anderson, Owatonna, Minnesota
Lusting to sail around the world, I took every sailing course I could find, then took off.
—B. Howard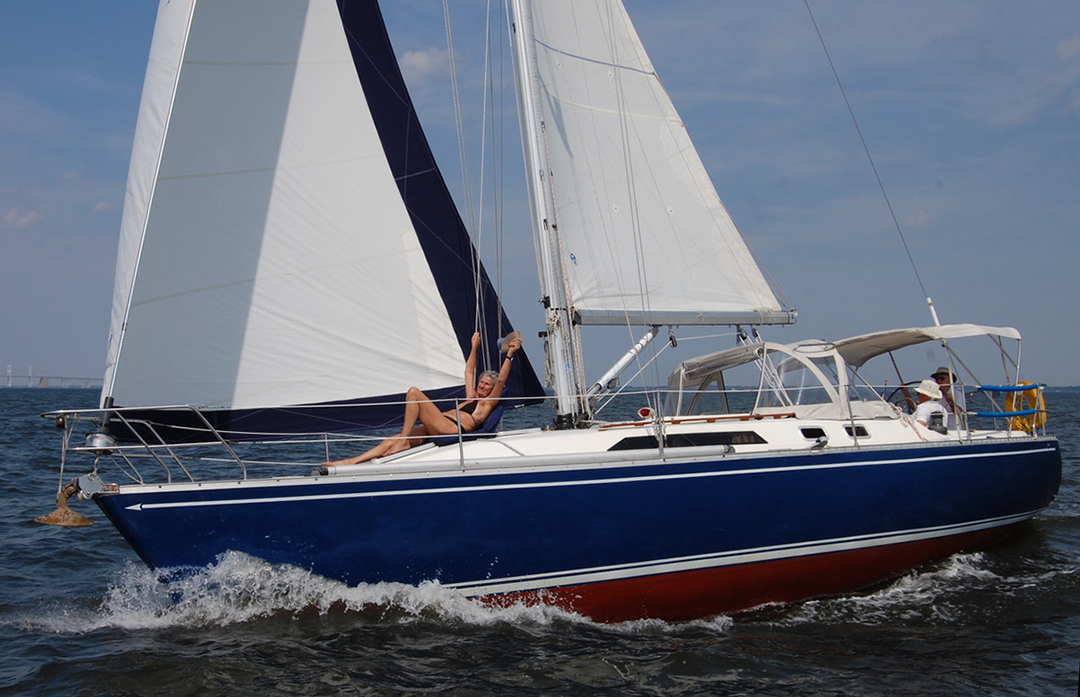 Despite a few boyhood sails in small boats, nothing registered until, at age 30, I helped deliver a 46-foot ketch from New York to Chesapeake Bay. The moment I saw the sun come up off Cape May, I knew what I wanted to do with the rest of my life.
—Ken Ringle, Winsome, CS40, Chesapeake Bay
Our sons discovered sailing. We had moved to Cleveland and, inspired, decided to give sailing a try, late starters! We bought our first practice boat, a 1990 Hunter 28, and bought a Tartan 40 six months later. We've sailed the Great Lakes and charter the Caribbean almost every year.
—Walter Payerl, Mentor Harbor Yachting Club, Mentor, Ohio
I'm five years old, newly aboard the sailboat of my father's friend. "Coffee?" the friend says, opening the companionway hatch. I peek inside. My eyes explode. I want one. It takes 60 years. It was worth the wait.
—Delbert Patterson, St. Joseph, Michigan
Son of a father possessed of paradise dreams, manifested in plywood eight feet long; El Toro, the Bull. Above azure seas beneath trade wind skies, a sudden solo sail; the son was hooked. A lifetime later, the dream remains sailing Kailua Bay and tropical isles yet unseen. I sail on.
—Dave Lochner, Second Star, 1993 Sabre 362, Little Sodus Bay, Lake Ontario
In 1965 I bought a styrofoam boat from Spiegel's for $75.00. Lateen rigged with a polypropylene sail. It wouldn't point 80 degrees windward. I learned to sail on Maryland's Magothy River. It was the beginning of a long-lasting relationship with sails. I like the quiet on the water.
—Norman J. Stringfield, The Lusty Slogger, Ocala, Florida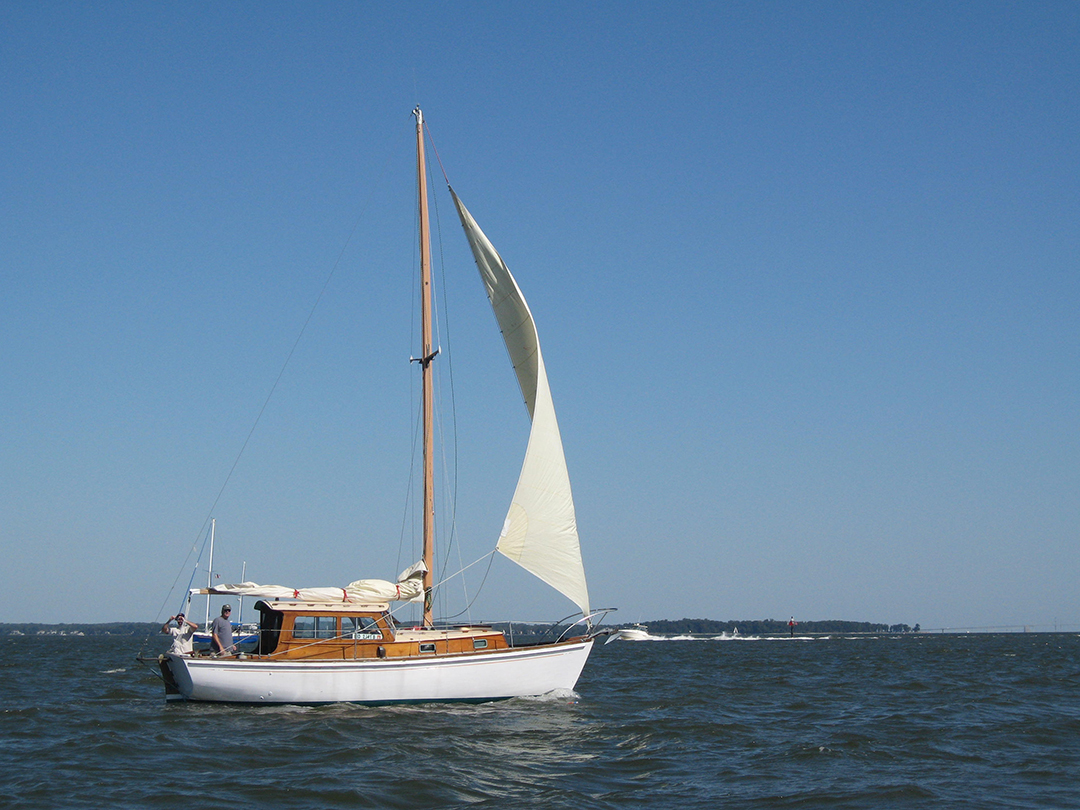 October 2009. A buddy took me for a sail. By chance, we crossed wakes with another friend. There were happy waves, photos, smiles. The next Monday, he was diagnosed with terminal lung cancer. A year later I had a boat; the other sailor was across the bar. Life is short.
—Rick Schmidt, Rockville, Maryland
For all my working days my office overlooked Prince Arthurs Landing and all the sailboats. I retired and bought a Tartan 28. Now, I'll never be free from work.
—John Watson, Grand Cru, Thunder Bay, Ontario
At the Willow Run Airport, flying back to college, I ran into a favorite former teacher. He was coming from the Annapolis Sailing School, with plans to open a franchise operation. How about a summer job? A job, outdoors, with boats? Over the next four summers, I became a sailor.
—Chris Campbell, Traverse City, Michigan
When I was 16, my dad purchased a Dolphin Sr. for the family to learn sailing, because he was about to begin manufacturing them. 46 years later, I am the owner of The Flying Lady, a 28-foot Southern Cross, previously my dad's.
—Terry Ryan, Merritt Island, Florida
I learned to sail along with my 1200 midshipmen classmates the very first week of our incoming Plebe (freshman) summer at the U.S. Naval Academy in Annapolis. We all sailed 24-foot wooden knockabout sloops—great fun!
—George DeVore, Neptune's Car, Sausalito, California
I was in my 20's, moving myself and stuff around every few months. Met some sailors in Honolulu, sailors from all over the world.
"How'd you get here?"
"In this boat."
So I built a boat, have been moving my stuff around the world the easy way ever since.
—Tom Olson, Ambler, Guam