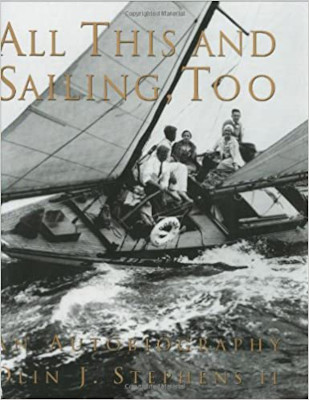 Olin Stephens is a brilliant and largely self-educated designer who nevertheless became one of the past century's most distinguished and revered naval architects. In 1927, at the age of 19, with his partner Drake Sparkman, he founded the prestigious firm of Sparkman & Stephens. Later Olin's brother, Rod, joined them to look after things in the field, and together they reigned supreme in the world of ocean racing and the America's Cup contests for more than 50 years, from the early 1930s to the 1980s.
Stephens-designed yachts were second-to-none in the racing field, whether they were inshore 6-, 8-, and 12-Meter sloops or bluewater cruiser/racers. Olin's designs ran the gamut from the little Lightning sloop to the lovely schooner, Brilliant. So many famous yachts have come from his fertile imagination that there is room here to mention but a few: Dorade, Stormy Weather, Baruna, Finisterre, and, of course, the famous 12-Meter yachts, Vim, Constellation, Freedom, and so many, many others.
Not only were the S&S yachts fast, they were strong and beautiful as well, being designed in an era when ocean racers were also cruisers between races, and their crews were enthusiastic amateurs, rather than paid professionals. The numerous photos and drawings are testimony to a past era when yacht design was as much art as science. In Olin's words, ". . . I feel doubt whether our technological and scientific learning has given us a better sport or a happier world. I fear we have lost." I agree wholeheartedly with him as, I'm sure, do many other sailors.
The book is a wealth of information about many S&S designs and a virtual history of ocean racing and America's Cup challenges over the years. It took me back to my days with Bill Luders in the 1960s when I met so many of the men mentioned in the book and began my practical education in yacht design. A very pleasant surprise for me was when I turned to page 128 and saw that Olin Stephens and I had the same taste in cars; I still think fondly of my old Riley, despite its faults.
I cannot remember when I have enjoyed a yachting book more. This is history that reads like a Tom Clancy novel, and it contains a wealth of wisdom and insight as well. Every yachting enthusiast should put this book in his library. I guarantee it will be read and reread many times.
All This and Sailing, Too by Olin Stephens (Mystic Seaport Museum, 1999; 280 pages)