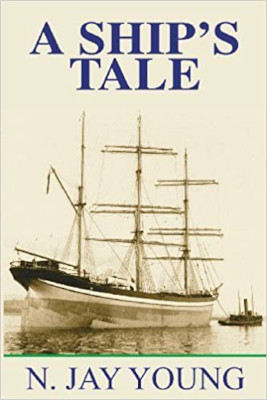 High seas adventure, piracy, kidnapping, political intrigue, an Irish Sea gale, and even a bit of romance…all this and more awaits the readers of A Ship's Tale
Jay Young tells a story about a group of tall-ship sailors who had more years at sea than a lapstrake dory has copper rivets. These stalwarts were led by Captain Bowman and aided in their adventure by two Royal Navy sailors just released from service after WW II. Add an enticing barmaid and an entire orphanage of teen-aged boys and you have the cast of characters for A Ship's Tale.
The story revolves around Captain Bowman and his crew, who were determined to save the Bonnie Clyde, a true good old boat! The Clyde was a 300-foot, three-masted bark that the local politicians determined was a relic of the past and needed to be scuttled in order to clean up the waterfront. What the politicians did not know was that Captain Bowman and his band were planning to abscond with the Clyde and sail her to the boatyard in Scotland where she was built. She was to be rebuilt there and preserved as a museum ship.
The rescue involved a 1,000-mile voyage in waters that were notorious for bad weather. The Clyde was crewed by young, inexperienced boys sailing a ship that had been provisioned by felonious acquisitions of ship's stores from the area Royal Navy yard and the local circus. Along the way they were caught in a powerful gale, offered aid to the U.S. Navy and, in return, were aided by a U.S. submarine. An entire network of ham-radio operators also came to the Clyde's assistance.
Was the Clyde safely delivered to her home port or was the entire crew arrested for piracy? The answer to those and many other questions awaits the readers of A Ship's Tale. Jay Young has created a wonderful sea adventure that is exciting, believable, and a real page-turner.
A Ship's Tale by N. Jay Young (Boston Books, 2006; 358 pages)