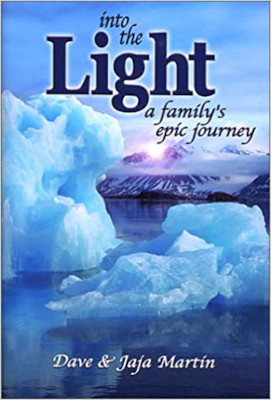 Thirty-somethings Dave and Jaja Martin were in the midst of what they termed their "midlife cruising crisis." They had already sailed around the world in a Cal 25, and Jaja had just given birth to their third child. Restless, they were looking for a new direction for their lives. They found it in a rough, 33-foot steel boat perched on jackstands in a weed-infested North Carolina boatyard in 1996.
Into the Light begins with the Martin family departing Bermuda in 1998 on what would become a two-year journey to Iceland, the Faroe Islands, Norway, and remote Spitzbergen, an island group in the Arctic Ocean pack ice only 600 miles from the North Pole. They departed with three children under the age of seven on a daring odyssey wintering over on their boat, Driver, in remote villages in Iceland and the Lofoten Islands of northern Norway. They enrolled Chris and Holly in the local schools, forging close personal bonds in these Viking communities.
This book is much more than a sailing voyage into the high latitudes. It is first and foremost a study of the personal dynamics, growth, and development of an enchanting family on their voyage of discovery to untamed and unspoiled nature.
The Martins are not mainstream cruisers. They are unconventional in their choice of destinations and thoughtful in their approach to how they live their lives and raise their children. They take pains to explain why they relentlessly seek adventure while demonstrating how they responsibly manage the risks inherent in their radical choices through careful planning and skillful execution.
The use of flashbacks and witty dialogue enliven and delineate their distinctive character. Despite an emphasis on the psychological aspects of cruising, Into the Light has page-turning moments of dry-mouthed terror and danger, which test the courage and mettle of this young family.
The book could be improved by displaying the Martins' fine photography, which can be seen in the Sailors' Logs section of Steve Dashew's superb cruising website at <http://www.setsail.com>. Sadly, the pages of the text are entirely bereft of photographs. Only the dust jacket has a few tiny thumbnails. The few black-and-white silhouette maps at the end of the text are of poor quality, making reference cumbersome. Good-quality charts and photographs in the body of the text would improve readability.
The Martin family returned to Norway in the summer of 2002 to retrieve Driver, returning via Greenland. The story will continue to unfold for this inspiring, intrepid family.
Into the Light by Dave and Jaja Martin (Beowulf Press, 2002; 330 pages)