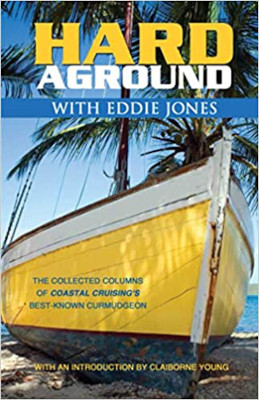 Eddie Jones – devout sailor, veteran columnist, computer guru – is a very funny guy. He also has a reservoir of wisdom that has little to do with learning and lots to do with living. "Time," says Eddie, "is the only contraband we carry into this life, and what we don't spend on others, we should exchange for memories."
Well, Eddie, thanks for the memories. And the guffaws, the chortles, and the snickers. Hard Aground with Eddie Jones: Selected Sailing Essays for the Navigationally Challenged is filled to capacity with some of the best material about life with boats that has bobbed to the surface anytime recently.
Eddie's new book is a collection of cruising and boating columns that originally appeared in Carolina Cruising and Coastal Cruising magazines. The stories are written for the navigationally challenged, by the navigationally challenged so the author claims.
In the book, Eddie recalls his first boat show: "Like some nautical neophyte tripping over docklines and trailer hitches, I was easy prey for the barracudas in blue blazers. They exploited my enthusiasm and ignorance and were helped, I suppose, by my mistaken belief that I could steer a sailboat toward some fixed point across a body of water by means of a wooden tiller and soiled sails."
About a year after Carolina Cruising published its first issue, Eddie was at another boat show, this time in Raleigh, where he met editor Bert Quay. "At the time I thought all boating publications made lots of money and paid their writers exorbitant fees. I was a little disappointed my bride didn't share my enthusiasm for this new vocation, but I knew she would come around to my way of thinking once the paychecks started adding up. Besides, I'd finally found gainful employment on the strength of my two greatest assets — laziness and ignorance."
As his articles appeared in print, Eddie developed a loyal following of fans. Folks stopping by the booth at the Annapolis boat show didn't want to talk subscriptions, chat with the editor, or offer to write an article for publication. All they wanted was to meet Eddie Jones.
Eddie is a "land-cuffed" cruiser: though his heart is on the water, the rest of him is home in Carolina. As his inner sailor beam reaches along the banks of the Abacos, the family man is earning a living, teaching Sunday school, and dreaming of the day when he and his wife will sail off in a boat that is "bigger than her wingspan."
Eddie has a glorious gift for finding humor in the mundane, for painting cruising calamities with a bilge-flavored brush, and for evoking word pictures that tug at the hearts of all who are currently anchored to family, homes, and jobs as yet another flotilla of sailors make their way south for the season.
Hard Aground with Eddie Jones: Selected Sailing Essays for the Navigationally Challenged by Eddie Jones (Writer's Club Press, 2003; 152 pages)