Two famous boatbuilding names — and a line of classy bluewater voyagers
Hallberg-Rassy has the longest standing and strongest North American presence of any Swedish boatbuilder, with two dealers on the East Coast and one on the West Coast. All European imports to this country are high-end, and Hallberg- Rassy's line of cruising boats is no exception. Regarded as one of the top European builders, Hallberg-Rassy has always enjoyed a good reputation, but much has changed since the first Hallberg-Rassy sailboat reached American shores in 1972.
The name Hallberg-Rassy combines those of the two men who had a hand in its founding 30 years ago. It is a common misconception, however, that Harry Hallberg and Christoph Rassy were partners. How their names became connected is a story of simple business practicality.
Harry Hallberg (1914-1997) began building wooden boats in 1928, when he was just 14 years old. In the early 1940s he opened his own boatyard in Kungsviken on the Swedish island of Orust. His customers explained their particular needs and desires to him, and he built them boats mainly by instinct. He had no formal training and did not feel the need for drawings or blueprints. These boats were, to say the least, custom designed. He is reported to have said, "Someone who cannot build a boat without drawings cannot call himself a real boatbuilder."
As time went on, he began to build boats in series, that is, production- model wooden boats in which many identical hulls are laid up in the same mold. Hallberg's first series-produced model was the famous Swedish Folkboat. Production commenced in the 1950s. It was followed by the Kungskryssaren, or King's Cruiser (the Swedish design, not the Finnish design by the same name). Other boatyards also manufactured the same classes of boats.
Wooden superstructures
In 1963, Harry Hallberg became a pioneer in the construction of fiberglass hulls with wooden superstructures. Soon he produced the P-28, which he designed himself, the Misil 24, the Mistress 32, and the Mistral 33. The last three were designed by Olle Enderlein, one of the leading Swedish yacht designers of that time. The Mistral 33 was the first Hallberg boat to be sold in the United States, for the whopping sum of $33,000 in 1972.
Christoph Rassy was born in 1934 in Bavaria near a lake called the Starnberger See. He had a natural interest in boats, buildng many model boats and expanding into full- sized boats. As a young man, he apprenticed at a small yard in southern Germany building wooden boats. His interest grew, and he decided to move to Sweden, a seafaring nation that he knew to have many fine large boat- yards. In 1962, he found employment at the Karl Erik Andersson Yard making Vindo boats. He arrived at the yard in Nötesund empty-handed; a bicycle was his only possession.
Magnus Rassy, Christoph's son, says of his father, "In Southern Germany, at the age of 12, having always dreamed about yachts, he started with small models, and later as an apprentice at a small local boatyard. He wanted to build bigger and more stable boats. This didn't exist in Germany."
In his spare time, Christoph built boats for himself. He enjoyed racing these boats, often winning, which enabled him to sell them at a profit, as people always want to own a winner.
This success prompted him to set out on his own. As it happened, Hallberg had outgrown his boatyard and put it up for sale. The timing was providential for Christoph Rassy, who managed to purchase it in 1965. Hallberg moved his operation to a new yard in Ellös, just 10 kilometers from Kungsviken.
Conversion to glass
From 1965 to 1972, Harry Hallberg and Christoph Rassy ran their respect- ive businesses as competitors, even using the same designer, Olle Enderlein. At first, Christoph began designing custom one-off boats, but soon turned to more profitable production models. The first of these was the Rasmus 35. The first two boats were made entirely of mahogany. Each took a year to build.
The powerful engine, center cockpit, and windshield of the Rasmus 35 made it rather unusual. The windshield was a new innovation on a sailboat, and its popularity led to its incorporation into the current line of Hallberg-Rassy yachts. A logical extension of the windshield is the fiberglass hardtop, an option on some models (HR 42F to the HR 49 of the current line).
Construction of the Rasmus 35 was soon converted to fiberglass. Of this change Magnus Rassy says, "There was a period of several years with both GRP (glass-reinforced plastic) and wood. It was early understood that this change was a condition to survive for the long term. We have always loved working with wood and still do today. The Mistral, with GRP hull and mahogany superstructure, was a typical boat of the overlapping time with a bit of both worlds."
In 1972, Harry Hallberg retired, and Christoph Rassy, looking for new and larger quarters, bought his yard once again. Hallberg's company had four boats to its name, while the Rassy yard had just one, the Rasmus 35. Christoph named his new company, which offered all five boats, Hallberg-Rassy.
The first design crafted under the Hallberg-Rassy name was the Monsun 31, introduced in 1973. This boat proved to be very successful, with 900 manufactured over the next 10 years. By 1975, the demand for boats was so great that the yard doubled in size. The next model was the HR 41, which the company claims was the first aft-cabin sailboat with a bow-to- stern walk-through. For its time, this boat was splendidly outfitted, with heated pressure water, a shower, an electric anchor windlass, a furling headsail, and two heads. The production run of the HR 41 lasted from 1976 to 1981, with 105 boats delivered.
Trademark stripe
The HR 38 was designed in 1976 and 1977. It was the first with the trade- mark blue hull stripe. The HR 352 arrived in 1977, and by the time production ceased in 1989, more than 800 had been sold. Like the HR 41, it also had an aft cabin and walk- through interior plan, a difficult feat on a 35-footer. The HR 312 also ran up impressive numbers during its production years of 1979 to 1991 with 700 sold. The queen of the fleet, the HR 49, was designed in 1982.
In 1983, Magnus Rassy built an experimental 26-footer using Aramid fibers and Divinycell foam core. It featured an external lead keel and a reverse counter with a bathing platform. Rassker was fast and won many races. In 1987 he built another high-performance boat, the 35-foot Rassker Magnum, which also raced well. These two boats were never mass-produced, but they did lead to design innovations in later boats. The company says they also showed what future models "should not look like."
In 1985, two armchairs were added to the saloon of the HR 49, purported- ly a first in the sailing industry.
For years, Hallberg-Rassy subcon- tracted the fiberglass work to another company, which it bought in 1987. This company was named Hallberg- Rassy Marinplast AB. This wholly owned subsidiary produces hulls exclusively for Hallberg-Rassy, giving the yard control of the complete construction cycle.
In 1988, Hallberg-Rassy teamed up with yacht designer German Frers from Argentina, well-known for his Whitbread and America's Cup designs. He is equally at home designing fast, seaworthy cruising boats, and his Hallberg-Rassy designs have been winning races all over the world. "We instantly loved his good eye for lines and proportions," Magnus says. "He was exactly the right man we were looking for. He combines the best of performance, nice lines, and the tradition Hallberg-Rassy stands for. He knows the difference between cruising and racing. He also designed other boats at the time, and his family even had their own boatyard in Argentina."
More than 8,000
To date, German Frers has designed 10 boats for Hallberg-Rassy. In chronological order they are the HR 45, HR 36, HR 34, HR 42, HR 39, HR 31, HR 53, HR 46, HR 62, and HR 43. Hallberg-Rassy has delivered more than 8,000 boats, about 2,000 of them designed by German Frers.
According to the company, Hallberg-Rassy boats are "built to Lloyd's specifications for 'Certificate of Hull Construction,' and under the personal supervision of a Lloyd's surveyor."
The company recently introduced the HR 40, also designed by German Frers. The hull is solid fiberglass below the waterline and insulated above the waterline with Divinycell PVC foam. Where some older models, like the HR 42, had iron keels, the new 40 has a lead keel attached with stainless-steel bolts. Masts are deck- stepped, which might seem at odds with the traditional wisdom that favors keel-stepped masts, the idea being that if the rig comes down there's a better chance of a stump being left with which to jury rig some sail. Hallberg-Rassy's opinion is that keel-stepped masts leak at the partners, allow water into the bilge, and obstruct the interior.
Interior woodwork on all Hallberg-Rassys is matte-finished mahogany.
When asked which models are his favorites, Magnus Rassy says, "All are favorites in a way. Which one depends on how you like to sail for the moment. I love the HR 34 for local cruising and racing and occasional longer distances. For cruising long distances, the HR 62 is a dreamboat."
As for the future, Magnus said, "We prefer not to talk about the future."
A Hallberg-Rassy comes all inclusive, in ready-to-sail condition. They are so popular that there is a two-year waiting list. As they say, "Good things come to those who wait."
Hallberg-Rassys on the go
John Neal, who runs Mahina Adventure Charters with his wife, Amanda, out of Friday Harbor, Washington, owns a German Frers-designed HR 46. He and Amanda take people cruising all over the world on Mahina Tiare III.
After John's South Pacific wanderings in the 1970s aboard a Vega 27, he bought a Monsun 31, which he sailed 44,000 miles over the next 11 years. His next boat was an HR 42, called Mahina Tiare II, designed by Olle Enderlein. He sailed it 70,000 miles in seven years, including six Cape Horn roundings and a visit to Antarctica. John and Amanda's current boat, Mahina Tiare III, purchased in January 1997, has taken them 58,000 miles, including two visits to Norway and Russia above the 80th parallel. They are currently undertaking a trip to Tahiti, through the South Pacific to New Zealand, a trip of 8,000 miles.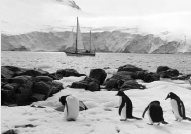 The Neals feel that the Hallberg-Rassy's bluewater capabilities are "hard to beat." Better yet, the boat's value appreciates over the years. John says, "The last two Hallberg-Rassys I've owned have appreciated, selling for more than I paid, even after 44,000 and 70,000 miles."
Since the Neals live aboard seven to 10 months a year, they find comfort and convenience, as well as seaworthiness, to be important. They teach bluewater sailing, and find the boat easy to handle and to teach in under varying conditions at sea. John says, "If we could find a better boat, we would." So far, he and Amanda have stuck with Hallberg-Rassy.
Hallberg-Rassy Varv AB
Häällavgen 6
SE-474 31 Ellös Sweden
+46-304-54 800