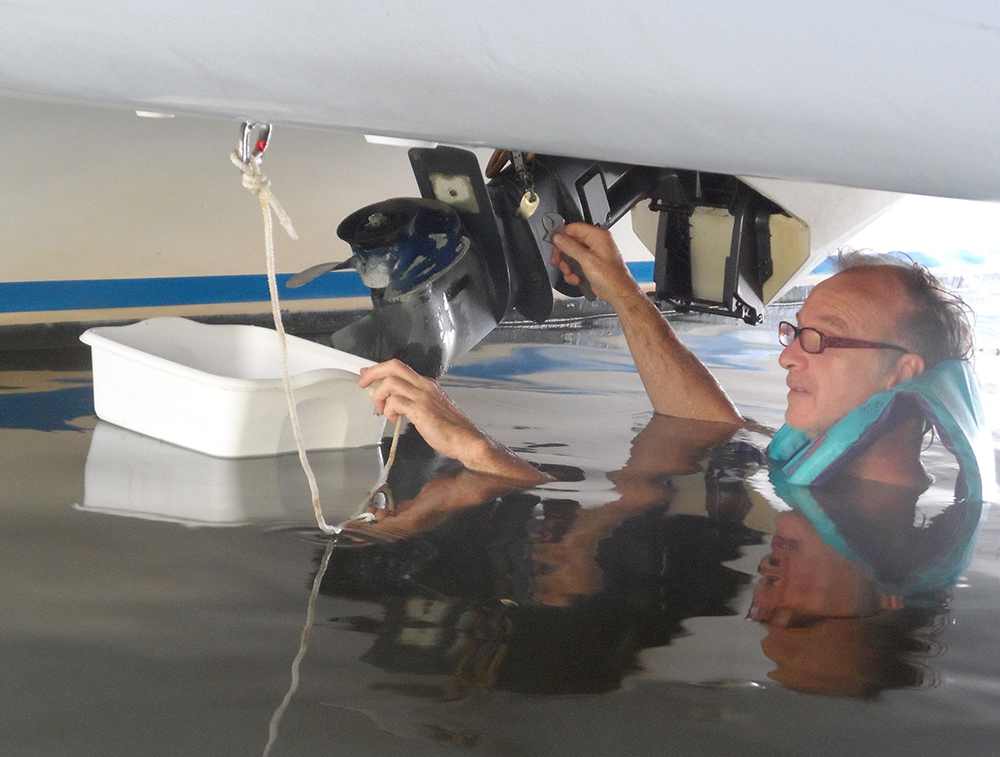 Need to replace a prop? Pull the lower unit on an outboard without pulling the engine? How about installing an external strainer without pulling the boat? Working on most anything below the trampoline or bridge deck of a multihull, or near the waterline of a monohull (replacing the screws on a transom-mounted swim step, or the bolts that attach a transom-mounted swim ladder?) you're going to be in the water and going to need tools. After finding swim trunk pockets ineffective, after being unable to work because no topsides helpers were available to hand me things, and after giving too many wrenches to Neptune, a floating tool tray joined my list of favorite solutions.
I started with a good-sized dishpan and I drilled a ¼-inch hole in one corner before I attached a 4-foot length of parachute cord with a bowline. To the bitter end, I attached a small snap hook to use for clipping the tray to the toe rail, outboard, or dock line. Once afloat, the tray is stable supporting several pounds of tools and parts, saving me the frustration of wondering where to put something or where I put that screwdriver; it's in the tray, it can't be anywhere else. For larger jobs (the lower unit I was talking about) a mortar mixing tray creates a monster tool tray.
When I'm done, I rinse the tools in freshwater and spray with corrosion inhibitor after they're dry. Piece of cake.
Safety Tips for Working in the Water
Before getting in, check that you've got a good ladder for egress.
When preparing to work in fresh or brackish waters, be aware of electrical hazards. Even minor stray current from faulty electrical installations can paralyze the muscles, making it impossible to swim. Electricity-related drownings occur every year.
Dress for the water temperature (wet suit or dry suit as needed).
Wear a PFD while working.
Stay near the boat to avoid traffic.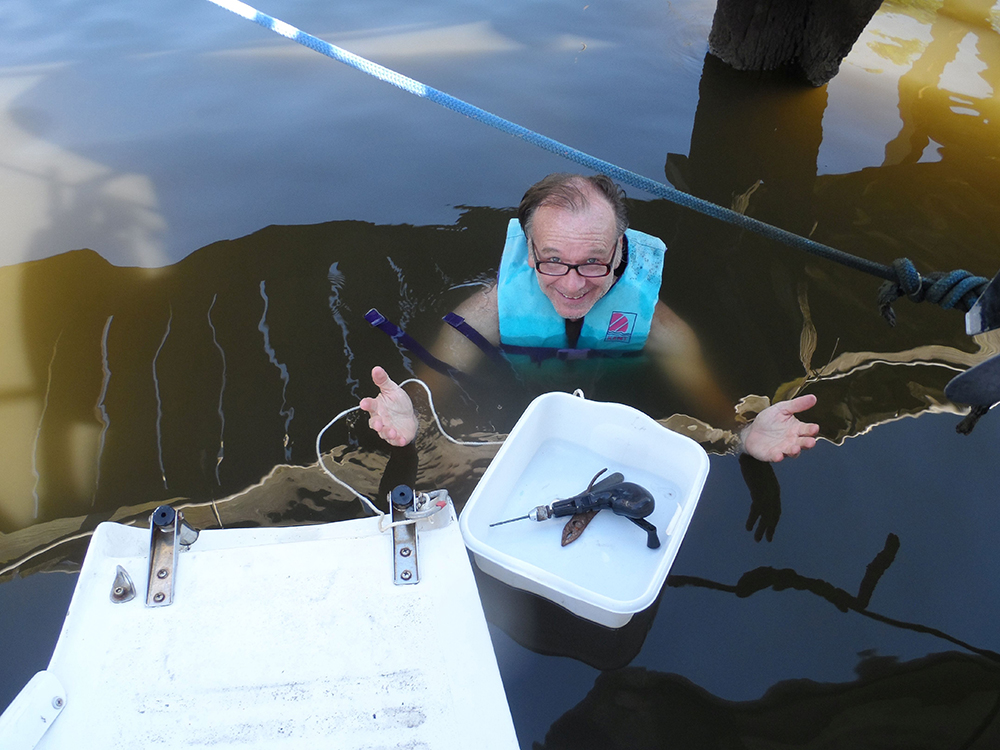 To solve boating problems, Drew Frye draws on his training as a chemical engineer and his pastimes of climbing and sailing. He sails Chesapeake Bay and the mid-Atlantic coast in his Corsair F-24 trimaran, Fast and Furry-ous. His book, Rigging Modern Anchors, was recently published by Seaworthy Publications.