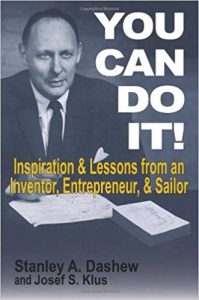 I recently opened my latest issue of Time and saw on their Milestones page that Stanley Dashew passed away at the age of 96. As a young man growing up during the Great Depression, Dashew started a number of small business endeavors, several of which were successful, and some that were not. As an adult he continued to explore business opportunities and, according to Time, ended up holding 40 patents. Perhaps his most visible invention was the machine that embosses those numbers we all have on our credit cards. In his 90s, Dashew wrote You Can Do It; Inspiration & Lessons from an Inventor, Entrepreneur, & Sailor to help motivate people to follow their dreams and pursuits with the same passion he did. And by adhering to his "you can do it" attitude, he tells us that the chances of success are still pretty high, in spite of our current political and economic climate.
The book is supposed to be a motivational piece, but I found it to be more of an autobiography. Dashew writes about how he got started, some of his early successes and failures in the professional and personal arenas, and some of his sailing exploits, which is why the book is being reviewed here, although the sailing is a minor portion of the book. On virtually every page there is a little box with some witticism from Dashew meant to encourage, inspire, and advise. For example, in business matters: "Don't shy away from challenges that seem beyond your abilities. Stretch yourself, and try. You may fail. But if you do not try at all, you are sure to fail." In his personal life he learned that "Love, in our society, is often treated as a disposable commodity. It is not. When you find love, do not hesitate to move mountains to merge your lives together." These sound like common sense, but it's worthwhile to hear them from time to time.
If you're looking for a real page-turner, with adventure around every corner, this book won't do it for you. But if you want to learn how one man succeeded by trying, and trying again, you'll find something worthwhile here. Although the writing is somewhat dry, the book may prove to be a worthwhile look into the mind of one of the premier inventors of the twentieth century.
Editor's note:
Stanley Dashew, inventor and sailor, should not be confused with his son, Steve Dashew, the designer of a number of sailboats. Wikipedia states:
Shortly after marrying Martha Grossman in March 1938, Dashew took an interest in sailboat ownership and cruising. At the same time, from the late 1940s to early 1950s, he started writing short magazine articles about the sailor's skills and travels, published in magazines such as Outdoor Life and Motor Boating & Sailing. In 1949, he and Martha outfitted a 76-foot schooner, Constellation, and set sail with their young family. They sailed from the Great Lakes, up the St. Lawrence Seaway, down the East Coast, through the Caribbean and West Indies, through the Panama Canal, and up the Mexican Pacific to finally arrive and settle in Los Angeles, California. Their voyage was notable — making headlines across the Americas — because of its duration, the tall ship's masts and sails, their visit to a Haitian voodoo ceremony, and the fact that crew included their seven-year old son, Skip (Stephen), and their three-month-old baby daughter, Leslie.
You Can Do It: Inspiration & Lessons from an Inventor, Entrepreneur & Sailor by Stanley A. Dashew and Joseph S. Klus (Constellation Press, 2010; 275 pages)