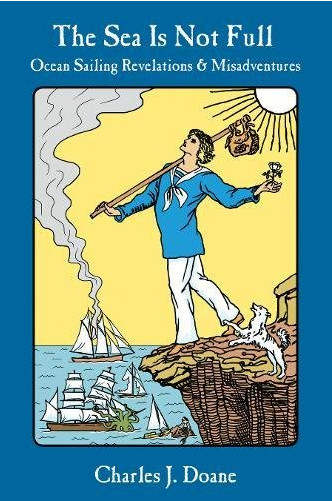 Many a young scion of Maine's summer people has enjoyed a boyhood spent messing about in boats, and the experience has no doubt caused some to drift off their expected career course. That seems to have been the case with Charlie Doane. He tried to meet his family's expectations, and even practiced law for a while, but in the first chapter of The Sea Is Not Full, we find him in Key West, Florida, sea bag on his shoulder, after answering a "crew wanted" advertisement in a magazine.
That adventure disintegrates into a tragi-sit-com, but our vagabond soon finds himself aboard Constellation, a run-down Alden schooner whose owner is committed to participating in Jimmy Cornell's 1992 America 500 rally celebrating the 500th anniversary of Columbus' 1492 transatlantic voyage. First, though, Constellation, with her assorted and variable crew, must sail to Spain, where the rally will assemble. So begins, after much labor and emotion expended in restoring Constellation to some semblance of seaworthiness, Charlie's offshore sailing career.
In the years since, he has compiled a full resumé of refitting sailboats to suit his own cruising whims and of passages sailed. He has also written in magazine articles and books about many of his experiences and maintains a commentary on all things sailing on his WaveTrain blog. Throughout his writing, Charlie's interest in sailors and their motivations is clear, and he seems to have a knack for running into individuals with unusual hopes and ambitions. One of the most unforgettable is Papa Neutrino, who forces us to examine our concept of seaworthiness.
In The Sea is Not Full, Charlie catalogs his ramblings, cerebral and waterborne, in four parts. The first is his vagabond phase. In the second, he ruminates on humans' fondness for, and theories about their attachment to, the sea, and presents practical knowledge, some of it hard-learned, about offshore sailing. Part three is about his fitting out an Alberg 35 and sailing it to Africa, where he finds himself drawn into the spirituality of denizens of the Gambia River. Part four is about some of the people he's sailed with.
Bookending these memoirs and musings is Charlie's analysis of the abandonment of the catamaran Be Good Too in the Atlantic in January 2014, for which Hank Schmitt, as the skipper, and Charlie especially, as a well-credentialed sailing writer and longtime cruising editor for Sail magazine, took harsh criticism from sailors, both armchair and genuinely salty.
Charlie's writing style is lucid, unpretentious, and humorous, all of which I appreciated in the short time (full disclosure here) he and I spent together in the editorial department at Cruising World during one of his attempts to stay moored to a desk. The reading is easy, whether he's riffing on Moitessier's philosophy on being one with his watery planet, analyzing an emergency as it evolved at sea, or exploring the characters of his many shipmates, some of whom he'd fallen in with by chance on his travels and some, like Don Street and Jimmy Cornell, he'd sought out for their influence on contemporary sailors.
The Sea Is Not Full by Charles J. Doane (Seapoint Books, 2017, 356 pages; $24.95 print)