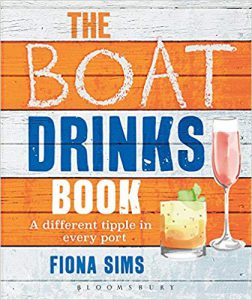 I read the title, The Boat Drinks Book: A different tipple in every port. I expected I'd find inside a cold and factual catalogue of all of the boat drinks I'd ever tasted, and perhaps a couple of new ones. As soon as I begin to read it, I remembered how very wrong first impressions can be.
Fiona Sims has crafted a marvelous guide that indeed gave me a comprehensive summary of the best in boat drinks, but she also took me on a world wine and food tour. The book is 176 pages long, but I didn't get to the cocktail recipes until page 120, and getting there was an enjoyable journey.
Fiona begins by describing what every sailor should have aboard to best enjoy the journey, and also helped me to understand a bit more about wine and spirits. Then, starting along the south coast of her native UK, she took me on a veritable wine, beer and spirits tour of each region. Europe and the Med, South Africa, Australia, New Zealand, the U.S. Coasts, the Caribbean – she gave each their due. The pages are interspersed with great local recipes for food and snacks to add to the tour.
Once I did finally reach the cocktails section, she right away taught me the basics on mixing a proper drink and explained each term. She then took me through the five main types of liquor I'd be using: rum, gin, whiskey, vodka, and tequila. She begins with a history and description of each and then describes the best cocktail recipes for that particular spirt. She even includes a section on non-alcoholic cocktails and then caps it all off by describing the processes involved in making beer and wine.
I am familiar with, or have tried, most of the cocktails she describes, and while my own proportions may vary a bit, her recipes are accurate to a tee.
Don't judge this book by its cover alone, putting it on a shelf with other recipe books. If you do, you'll miss a very enjoyable and educational read. Having The Boat Drinks Book aboard will enhance my boating experience.
The Boat Drinks Book: A Different Tipple in Every Port by Fiona Sims (Adlard Coles Nautical, 2017; 176 PAGES)