Memoir of a Skipjack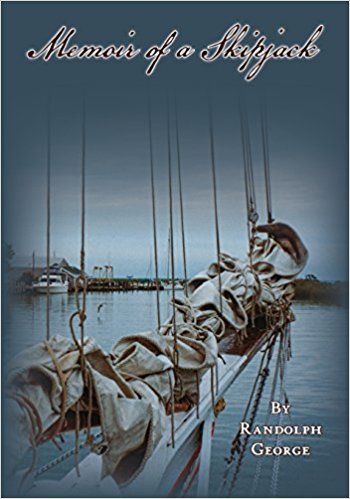 by Randolph George
(Salt Water Media, 2017; 188 pages; $21.95 print)
Review by Wendy Mitman Clarke
It is probably inevitable that a memoir of a skipjack is going to leave one feeling a little melancholy. There are so few of these working sailboats left on the Chesapeake, our very own indigenous species slowly going extinct before our eyes. All the more reason, then, that we're lucky Randolph George has written Memoir of a Skipjack, a thorough accounting of the life and times of the skipjack Martha Lewis and the families and people whom she touched.
A retired neurosurgeon, George fell in love with the Bay's working sail while driving around Maryland's Eastern Shore with his brother-in-law, boatbuilder Allen Rawl, trying "to discover what was left of the one-mighty skipjack fleet."
"In the process, my regard for skipjacks grew from mere curiosity into mission," George writes. "Maybe it came from not wanting to watch something die, to hold onto something of worth, while there was still time. Anyway, one night, over beers, we decided to save one skipjack, to keep it from its likely fate of rotting in the mud in some creek along the Bay."
In 1993, George purchased for $30,000 the Martha Lewis. In the process of restoring her, George says, "she shared with us a rich lore from her past and introduced us to the people who had created her and depended on her for a living."
The book, then, is that history of the intertwined families, builders, captains, and crews who were part of Martha Lewis's life. In that sense, it is less a memoir than an oral history and priceless gathering of many stories of a time and a place that is long gone.
That history begins, appropriately, in the boatyard of Martha Lewis's birth, owned and run by the storied builder Bronza Parks of Wingate, Maryland. As he does with each main character in Martha Lewis's story, George uses first-person interviews with family members and friends to give us a rich picture of the people who were part of the skipjack's life. Bronza, for instance, tried to hire as many young men in town as he could, and even if there wasn't much work, he "would throw nails around the yard when he finished up at night, so that they would have something to do the next day. On Sundays, he would give one of the boys a quarter to wash his Model A Ford."
Some of the best sections are the word-for-word interviews, rich as they are with the cadence and accents of the Eastern Shore. Interviewing Captain Dan Dize, who bought Martha Lewis in 1967 "against the advice of his wife and friends," George lets us hear him talking about working the water:
"I was a bowsplit [bowsprit] man from the time I ever start a'goin' on boats. The bowsplit can get slipp'ry as a greezed eel. You go out there when it's a-sleetin' or snowin' and rainin' or whatever, wi' her bow snuttin' down, you can imagine what!"
These wonderful interviews, many of them with people who've since passed, along with rare family photos, give this memoir its richness and enduring value. They are supplemented by appendices detailing Wingate family genealogy going back as far as the late 1700s, and a detailed listing of every single skipjack, alive or dead, that George and Rawl were able to document.
The restoration, described in Rawl's logs, takes us through the painstaking work of pulling apart an old wooden working craft and rebuilding her while staying as true as possible to the original. A detailed glossary helps the reader understand some of the more archaic terms.
In all, this book is a treasure, rich in stories, poignant detail and memory, and straight-up information about the restoration of Martha Lewis and the state of the "once-mighty skipjack fleet."
Wendy Mitman Clarke has been sailing on and writing about the Chesapeake Bay (and elsewhere) all of her life. You can see more of her work, including reviews of her new novel Still Water Bending, at www.wendmitmanclarke.com.